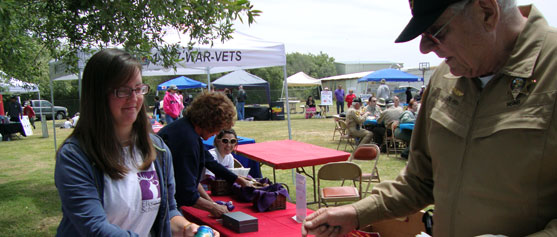 Remembering Jeffrey E. Patterson
Posted 5/24/2017
Jeff Patterson lived and breathed scholarships. He loved hearing the top scholars speak at Convention and interacting with them and other scholars at the Foundation's donor events.
Working Hand in Hand
Posted 12/13/2016
Meet Rick and Patti Baccus of Bristol County, R.I., Lodge No. 1860, who together help enhance the power of Lodges through their charitable support of the Elks National Foundation.
True Grit Elks: Tom 'Tex' Tracy
Posted 11/9/2015
Tex is an ENF Chair and is also involved with the Hoop Shoot, Drug Awareness, Veterans Service Committees and the Soccer Shoot. A recipient of the Purple Heart, Tex exemplifies grit, read on to learn how.
True Grit Elks: Danniele McKnight
Posted 10/20/2015
Danniele McKnight—a member of Frederick, Md., Lodge No. 684 for 13 years—has served Elkdom in various capacities, including as the ENF Fundraising Chair for her Lodge. Danniele exemplifies grit. To read how, check out her True Grit Elks bio below.
True Grit Elks: Bill Oakley
Posted 10/15/2015
Elks know they can make a difference in their communities and that they can influence the next generation in a positive way. The Elks National Foundation has the privilege and responsibility to help Elks do that by developing programs and providing grants. Bill Oakley is an Elk making a difference in his community. Read more about his story here.
Recruit, Retain, Repeat
Posted 8/4/2014
You recruited a new donor. The next step is to get this donor to give again. Easier said than done! Read Lodge ENF Fundraising Chairs Carolyn Coburn and Earl Schellman's top five tips on retaining donors.
Fundraising Keys to Success
Posted 4/1/2014
Are you looking for ways to improve your fundraising efforts in the upcoming fiscal year? Maybe you'd like some words of wisdom as you pass the fundraising torch in 2014-15. Read some advice from fellow ENF Fundraising Chairs!
Brian Lawrence
Westbrook, Conn., Lodge No. 1784
Posted 3/5/2014
After seven years as Lodge ENF Fundraising Chair, Brian Lawrence knows that stronger communities start with a winning team. Read about his strategy.
Tom Conlon
Fullerton, Calif., Lodge No. 1993
Posted 2/4/2014
State ENF Fundraising Chair Tom Conlon promotes the ENF Fidelity Club in his state. Read how he encourages members to sign up for this safe, reliable giving program.
Susan Markle
Hesperia, Calif., Lodge No. 2646
Posted 1/7/2014
To show members how donations to the ENF build stronger communities, Lodge ENF Chair Susan Markle champions Community Investments Program grants. Read her story.
Matthew Holmy
Long Beach, Wash., Lodge No. 1937
Posted 12/5/2013
Knowing important ENF information, using ENF reports, and updating their ENF in Our Lodge poster help Lodge ENF Chair Matthew Holmy keep members excited in support of the ENF. Read more about Holmy's three keys to success.
Patricia Millinghausen
Mount Holly, N.J., Lodge No. 848
Posted 11/5/2013
By educating and including new, lapsed and repeat ENF donors, Lodge ENF Chair Patricia Millinghausen has helped her Lodge meet many of its fundraising and service goals for the 2013-14 fiscal year. Read what else she attributes to this success.
LeRoy Olson
Fallon, Nev., Lodge No. 2239
Posted 10/7/2013
Halfway through a successful first year as Lodge ENF Chair, Olson looks forward to his Lodge's October Murder Mystery Dinner fundraiser. Read about the fundraiser and Olson's plans for the Fallon Lodge.
Aaron Smith
Oak Harbor, Wash., Lodge No. 2362
Posted 9/10/2013
As Lodge, District and State ENF Chair, Aaron Smith stays busy. He relies on online remittances as an easy, reliable way to send in donations to the ENF. Read more about Smith and the state of Washington's success in supporting the ENF.
David Winner
Wooster, Ohio, Lodge No. 1346
Posted 8/6/2013
For completing all the courses in the ENF Learning Center, ENF Chair David Winner received his 2013-14 Chair Certificate. Read what Winner learned and how he plans to put it to use in the future.
Mike Carroll
Bessemer, Ala., Lodge No. 721
Posted 5/2/2013
Congratulations to ENF Chair Mike Carroll and Bessemer, Ala., Lodge No. 721, the winners of the 2012-13 Chair Challenge! Read about Carroll's successful fundraising program in support of the ENF.
Jacqueline Gaudet
Missoula 'Hell Gate,' Mont., Lodge No. 383
Posted 4/10/2013
In late 2010, Missoula 'Hell Gate,' Mont., Lodge No. 383's per-member-giving total barely equaled a pocketful of spare change. This year, with the help of ENF Chair Jacqueline Gaudet, the Lodge holds the top per-capita spot in the state!
Lisa Berthiaume
Manchester, Conn., Lodge No. 1893
Posted 3/11/2013
Berthiaume Battles for a Top Spot in Conn. Ten years ago, Manchester, Conn., Lodge No. 1893 barely surpassed $1 in per-member giving. Today, with ENF Chair Lisa Berthiaume leading the charge, the Lodge is close to holding one of the top per-capita spots in the state!
Charles F. Boyle PER
Bennington, Vt., Lodge No. 567
Posted 2/4/2013
After eight years as ENF Chair, Charles Boyle knows how to motivate the members of Bennington, Vt., Lodge No. 567. His hard work is paying off! Bennington Lodge leads the state of Vermont in ENF giving so far this year.
Russell Gerace
Plaquemine, La., Lodge 1398
Posted 1/8/2013
Last year, Plaquemine, La., Lodge No. 1398 placed first in overall per-member giving with a grand total of $121.175. This year, the Lodge is holding strong in third place with a total of $63.280 per member through December 31. So, what does it take to achieve such a high per capita? Lodge ENF Chair Russell Gerace has a couple of secrets, and after some persuasion, decided to share them to help other ENF Chairs succeed in raising their Lodges' per-member-giving totals.
Gil Vale
Manassas, Va., Lodge 2515
Posted 12/7/2012
This year, Manassas, Va. Lodge No. 2512 has already raised more than $1,400 and reached a per capita of $10.57! Lodge ENF Chair Gil Vale contributes to this success in a big way.
Jerry Goodale
Sand Springs, Okla. Lodge 2533
Posted 11/14/2012
Jerry Goodale, long-time ENF Chair, is the ENF's raffle winner for the new iPad for earning his ENF Chair Certificate prior to October 15.
Jeff Miller
Rice Lake, Wis., Lodge No. 1441
Posted 10/29/2012
Last year, Rice Lake, Wis., Lodge No. 1441 set out to raise money for the ENF and bowled their way to a perfect 300! With the help of ENF Chair Jeff Miller, the Lodge threw a 9-pin bowling tournament to raise funds and honor a longtime member. The fundraiser was a big success with a lot of community support and enthusiasm. Here's how Miller helped bring the big idea to life.
Rose Lavay
Marathon, Fla. Lodge No. 2139
Posted 10/22/2012
Last year, Marathon, Fla. Lodge No. 2139 was transported back to the 1950s with the help of ENF Chair Rose Lavay. The Lodge's third annual Sock Hop Fundraiser in celebration of ENF Month was a huge success. Here's how Lavay and the Marathon Elks rock and rolled to raise funds for ENF programs.
Thomas Spagnoli
Red Bank, N.J. Lodge No. 233
Posted 10/15/2012
Last year, Thomas Spagnoli, Lodge ENF Chair for Red Bank, N.J. Lodge No. 233, hosted the Lodge's annual Oktoberfest celebration as it's ENF month fundraiser. The event was a success, and a good time was had by all who attended. Read on for Spagnoli's description of the event as well as his advice to fellow ENF Chairs.
Richard Stolte
Greeley, Colo., Lodge No. 809
Posted 10/5/2012
While he doesn't live in the Mile-High City, Lodge and District ENF Chair Richard Stolte has had mile-high results fundraising in his Lodge.
Chris Graves
Marshall County, Ala., Lodge No. 2869
Posted 9/10/2012
ENF Chair Chris Graves and his Lodge make the most of his employer's matching program. They match both Graves' donations and his volunteer hours for the ENF!
Susan Ketchum
Mountain Home, Idaho Lodge No. 2276
Posted 8/6/2012
It's not always easy to get Lodge members to donate to the ENF, but Mountain Home Lodge ENF Chair Susan Ketchum has found a way.
Don Gehring
Ormond Beach, Fla. Lodge No. 2193
Posted 4/13/2012
After five successful years as ENF Chair of Ormond Beach, Fla. Lodge No. 2193, Don Gehring is retiring from the position. As one of his final acts as ENF Chair, Gehring shares some advice for selecting and training a new ENF Chair.
Leo Shiel
Woonsocket, R.I., Lodge No. 850
Posted 3/7/2012
ENF Chair Leo Shiel and the Rhode Island Elks motivate ENF support from many of their members. Gain some insight into their method for success.
Jim Gislason
Vincennes, Ind., Lodge No. 291
Posted 2/1/2012
Read how a bet Jim Gislason made 16 years ago continues to pay off for the ENF.
John Markiewicz
Jacksonville, Fla., Lodge No. 221
Posted 1/6/2012
As an ENF Chair, a dedicated veterans' advocate, an ENF donor and a member of the John F. Malley Society, John Markiewicz of Jacksonville, Fla., Lodge No. 221 is truly committed to furthering the mission of the Elks National Foundation. We caught up with him this month to discuss his experience as an ENF Chair and a proud Elks member.
Doyle Roller
Oklahoma State ENF Chair
Shawnee, Okla., Lodge No. 657
Posted 12/7/2011
If you're an officer at your Lodge, Doyle Roller, Oklahoma's State ENF Chair, has a message for you.
Patricia Gille
Apache Junction, Ariz., Lodge No. 2349
Posted 11/4/2011
A spark of energy shines from Apache Junction, Ariz., Lodge No. 2349, thanks to Patricia Gille, the Lodge's new ENF Chair. Read how Gille motivates members to give.
Tadeusz Krupa
Lakewood, Colo., Lodge No. 1777
Posted 10/4/2011
Tad Krupa raises money for ENF the old-fashioned way: by being friendly toward members, expressing gratitude for their donations and respecting their check books.
Pedro Rosa
State Capitol, N.Y., District No. 6480
Posted 9/6/2011
For members and Lodge ENF Chairs in State Capitol, N.Y., District No. 6480, raising money for the Elks National Foundation is fun. That's because Pedro Rosa, their District ENF Chair, has taught them to be a community of fundraisers. Whether promoting recurring gifts or leveraging the impact of Community Investments Program grants at his Lodge, Rosa always keeps the ENF in mind and makes certain that Elks members and their communities do, too.
Willis Schiller
Waukesha, Wis., Lodge No. 400
Posted 3/14/2011
As Lodge ENF Chair for 12 years and a member of the Elks for 30, Willis Schiller of Waukesha, Wis., Lodge No. 400 keeps the ENF on everyone's mind.
Russell Cramer
Newport, Ky. Lodge No. 273
Posted 1/28/2011
When members of Newport, Ky., Lodge No. 273 want to donate to the ENF, they know to approach ENF Chair Russell Cramer with their money and a bar napkin.
Margaret 'Peggy' Lamb
Ticonderoga, N. Y. Lodge No. 1494
Posted 1/7/2011
Peggy Lamb's fundraising efforts have earned her high marks in the Chair Challenge. Find out what strategies have worked for her Lodge!
Raymond 'Tom' Root
Westminster, Colo. Lodge No. 2227
Posted 12/9/2010
If you live in Colorado and ever have questions related to the Elks National Foundation, chances are you'll turn to Tom Root.
Norman Garrison
Morganton, N.C. Lodge No. 1852
Posted 11/8/2010
Learn how Norman Garrison's loyal support of the ENF inspires other Lodge members to give.
Bill Kellogg
Springfield, Ore., Lodge No. 2145
Posted 9/10/2010
As a former recruiter in the Marine Corps, Bill Kellogg has some experience motivating others. This skill serves him well in his role as ENF Chairperson of Springfield, Ore. Lodge No. 2145!
Jon Shennett
Sitka, Alaska, Lodge No. 1662
Posted 8/5/2010
Take a Jon Shennett's advice for success as an ENF Chairperson.
Raymond Edge
Lubbock, Tex., Lodge No. 1348
Posted 4/16/2010
Learn how Raymond Edge encourages his Lodge members to commit to monthly support of the ENF!
Tom Wojnar
Melbourne, Fla. Lodge No. 1744
Posted 3/10/2010
Take heed of Tom Wojnar's warning: Time is running out to submit ENF donations for 2009-10!
Roni Griffith
Apache Junction, Ariz., Lodge No. 2349
Posted 2/4/2010
Roni Griffith encourages members to celebrate St. Patrick's Day by supporting the Foundation!
Cullen Downing
Claremont, N. H. Lodge No. 879
Posted 1/14/2010
An ENF Chairperson leaves a legacy through the John F. Malley Society!
LaDonna LaCroix
Worland, Wyo. Lodge No. 1908
Posted 12/8/2009
LaDonna LaCroix has organized two creative ENF fundraisers in her two years as ENF Chairperson. Read on to learn about her success!
Conn Nave
Elizabethton, Tenn. Lodge No. 1847
Posted 11/9/2009
When Conn Nave joined the Elks in 1972, he was looking for a place to relax and socialize. More than 35 years later, he is still "hanging out" at the Lodge, and fundraising for the ENF!
Tom Nesvig
Owatonna, Minn., Lodge No. 1395
Posted 10/15/2009
Tom Nesvig is a man with a plan. He tells us, in his own words, how he's made the ENF a priority in his Lodge.
Mark Thomas
Denver, Colo., Lodge No. 17
Posted 4/21/2009
Mark Thomas, an Elk for 12 years, followed the lead of some strong examples.
David Blankenship
West Virginia State ENF Chair
Posted 4/21/2009
When David Blankenship sets a goal, he doesn't take it lightly. That's why in the state of West Virginia last year, every single Lodge met the GER's per-capita goal.
Bruce Royal
Athol-Orange, Mass., Lodge No. 1837
Posted 4/21/2009
Bruce Royal joined the Elks in 1990 and started giving to the ENF right away.
Carolyn Shupe
Santa Barbara, Calif., Lodge No. 613
Posted 4/21/2009
About two years ago, Carolyn Shupe decided to join her local Elks Lodge and with her experience as a teacher, was immediately assigned to maintain the Lodge's bulletin boards. When the Leading Knight at her Lodge asked her to take on the ENF Chairmanship, she gladly accepted.
Don Walker
Calabash, N.C., Lodge No. 2679
Posted 4/21/2009
ENF Chairs of larger Lodges face a challenge: how can I get more Lodge members involved with the Foundation when I don't even know all of their names? Don Walker, ENF Chairman of Calabash, N.C. Lodge No. 2679 identifies this as one of the biggest challenges of his position.
Bill Richards
Sheboygan, Wisc., Lodge No. 299
Posted 4/21/2009
Richards became the ENF Chair of his Lodge 30 years ago, when it came to his attention that members of his Lodge didn't know much about the Foundation.
Jerry Goodale
Sand Springs, Okla. Lodge No. 2553
Posted 4/21/2009
We've all heard the phrase "practice makes perfect," and after more than 20 years of practice, many Elks would argue that Jerry Goodale has perfected the role of ENF Chair.
Greag "Butch" Meriwether
Kingman, Ariz. No. 468
Posted 4/21/2009
With a lofty goal of $15 per capita at the beginning of this year, Meriwether planned a number of ENF fundraisers to attain his goal.
Linda Rogers
Rio Rancho, NM Lodge No. 2500
Posted 4/21/2009
When she accepted the position of ENF Chair at her Lodge, Linda Rogers knew that she needed to become an expert on the Foundation, and fast.
Kevin P. O'Shaughnessy
Victorville, CA
Posted 2/21/2008
Enthusiasm goes a long way. So does a bit of friendly competition. Both of these are helping the ENF in the Lodge and District of ENF Chair Kevin O'Shaughnessy.
Jerry Oltman
Sebastian, FL. Lodge No. 2714
Posted 2/21/2008
Lodge chairperson Jerry Oltman of Sebastian, Fla. Lodge No. 2714 took on the job with a goal: He wants his Lodge to give $5000 to the ENF this fiscal year, which results in approximately $12 per capita.
Scott Lyman
MI State Chair
Posted 2/21/2008
Sometimes old methods work best, but sometimes fresh ideas mean big success!
Roger McQueen
Shenandoah, IA Lodge No. 1122-
Posted 2/21/2008
Whoever came up with the saying 'talk is cheap' didn't know Roger McQueen and his fundraising success.
Don Behnke
Fond du Lac, WI., Lodge No. 57
Posted 2/21/2008
Lodge ENF Chairperson Don Behnke knows the importance of leading by example, which explains his most recent fundraising idea.
Jodie Graves
Green Cove Springs, FL, Lodge No. 1892
Posted 9/18/2007
For her birthday party, ENF Chairperson and Exalted Ruler Jodie Graves of Green Cove Springs Lodge was thinking about the presents – but not for herself.
Janet Rasmussen
Poway, CA, Lodge No. 2543
Posted 9/18/2007
When Janet Rasmussen first joined, she knew nothing about the Elks. Now a very busy District ENF Chairperson, Rasmussen is also the Exalted Ruler for Lodge!
James Johnson
Fort Pierce, Fla., Lodge No. 1520
Posted 10/19/2006
As the Fort Pierce chairman for more than five years and currently leading the state for per capita, James Johnson knows a thing or two about fundraising.
Arlene 'R' Boothby
Casa Grande Valley, AZ Lodge No. 1957
Posted 9/7/2006
When 'R' Boothby was assigned the ENF chair position, she was unsure what the job entailed or where to even start!
Charles Tynes
Marietta, Ga., Lodge No. 1657
Posted 8/7/2006
Although it's been a while since Charles Tynes was last a student, the ENF chair of four years still relates to college hopefuls.
Dennis Jones
Worland, WY Lodge No. 1908
Posted 4/10/2006
Still relatively new to the Order, Dennis Jones' interest in the ENF first sparked because he enjoyed making a difference. The Worland Lodge member of just two years took that motto to heart.
Alice Phillips
Palm Springs, CA, Lodge No. 1905
Posted 3/8/2006
Alice Phillips takes on her role as ENF chair as she would with any job-exuding pride and optimism. She's a strong believer in each program, and is more than willing to go the extra mile for what she believes. "I welcome the challenges of meeting goals and increasing the per capita. I truly enjoy working with the Elks," says Phillips.
Julie Dieu
Aberdeen, WA, Lodge No. 593
Posted 2/10/2006
Julie Dieu's work as ENF chair began last year, following a five-year term on her Lodge's Board of Trustees. "I like being involved with the charitable portion of the Elks," Dieu says. "Once I got off the board, I wanted to do my part for the Lodge and our local community."
Keith Barker
Clovis-Portales, NM, Lodge No. 1244
Posted 1/11/2006
Eight years after his Initiation, Keith Barker first discovered the ENF. At the New Mexico State Convention, he saw an ENF presentation and decided to change the existing attitude at his Lodge.
Linda Averill
Everett, WA Lodge No. 479
Posted 12/13/2005
As Washington state MVS chair and ENF chair for her Lodge, Linda Averill holds the scholarship program close to her heart.
Nels Christianson
Wyoming State Chair
Posted 9/8/2005
Wyoming ENF Chair Nels Christianson joined the Elks three years ago with a genuine respect for his fellow Elks and a desire to support their charitable works. Hes been involved ever since.
Clarence Ed Carter
WA State Chair
Posted 8/4/2005
Washington state ENF chair Clarence Ed Carter leads a very active life. In addition to his state chair duties, Ed is on the state Ritual Committee and is Secretary for his Lodge. If these responsibilities weren't enough, he also attended the convention in Reno and took part in the "Share Your Ideas" seminar.
Gary Sharp
Albion, MI Lodge No. 1798
Posted 4/15/2005
After joining the Elks 24 years ago, Gary Sharp wasted no time getting involved. He became an officer one month after his initiation and hasn't stopped since. This past year, he took on the challenge of serving as his Lodge's ENF chair.
David Sieker
Elyria, OH, Lodge No. 465
Posted 3/8/2005
Three years ago, as his Lodge was struggling to meet the GER's per-capita goal, Dave Sieker volunteered to take over as ENF chair. Since then, their per capita has jumped from $1.01 per member in 2002 to more than $30 per member this year.
Amy Bykkonen
Calumet, MI, Lodge No. 404
Posted 2/9/2005
When Amy boasts about the ENF's scholarship programs, take her word for it. It wasn't long ago that she was struggling to afford college, so she knows firsthand the pressures many scholarship recipients face. That's why she gladly serves as her Lodge's ENF and Most Valuable Student scholarship chair.
Georgiana Gersley
Tempe, AZ, Lodge No. 2251
Posted 1/13/2005
Present Georgiana with a challenge and she'll tackle it. This no-nonsense ENF Lodge and District chair welcomes the hard work required to motivate Elks to donate.
James M. Bateman
Summerville, SC Lodge No. 2719
Posted 12/13/2004
Every year, James Bateman can count on at least three people to set an example and donate to the Foundation early-his wife, his sister, and himself. He believes it's important to support the Foundation annually and he challenges the officers and PERs in his Lodge to live up to this belief.
Martin Rosenthal
Islip, NY Lodge No. 2533
Posted 11/10/2004
Autumn, wine, a festival and food were the winning ingredients cooked up by Martin for his ENF Month fundraiser.
Lance Pliml
Wisconsin State Chair
Posted 11/10/2004
With Lance marketing the ENF as, "the engine that drives everything the Elks do," you'd think he sold cars for a living.
Earl R. Green
Boulder City, NV, Lodge No. 1682
Posted 9/7/2004
Prior to his retirement, Earl Green was a salesman for 25 years. "I know how important it is to truly believe in what you are trying to sell," he explains. "I strongly believe in the ENF, and I intend to do everything I can to inform my Lodge of its importance."
Carol Lee Carlin
McKees Rocks, PA, Lodge No. 1263
Posted 8/9/2004
When it comes to raising money for the ENF, Carol Carlin isn't afraid to try new things.
Maroon Nemer
Skowhegan-Madison, ME Lodge No. 2531
Posted 4/15/2004
When the Elks of the Skowhegan-Madison Lodge see ENF Chairman Maroon Nemer marching into their lodge, they clutch their pockets and shout, "Hide your wallets he's here."
Richard Hart
Manila, PI Lodge No. 761
Posted 3/8/2004
The motto of Richard Hart's alma mater, Kings Point, is "Acta Non Verba" or "Deeds or actions without words."
Pat Gindhart and Committee
Greater Wildwood, NJ Lodge 1896
Posted 2/6/2004
"It has been a team effort from the beginning and we are truly blessed because not only are we doing something good for our Lodge and community, but we have a great time together."
Dave McMurrin
Ouray, CO Lodge No. 492 and CO West District
Posted 1/8/2004
Dave McMurrin joined the Elks 15 years ago, and has been working hard for the Foundation ever since. Frustrated by his Lodge's giving record, Dave made it a personal goal to improve his Lodge's ENF standing. Luckily, he stuck around even after his Lodge rose to the top!
Dennis Bagley
Albany, NY Lodge No. 49
Posted 12/9/2003
For Dennis Bagley, Elkdom is a family affair. His father was a member before him, and his brothers, wife and sons all currently belong to Albany Lodge. He's been helping out at the Lodge since he was young, and two years ago he took over the position as ENF Chair for his Lodge.
Cathy Engelking
North District, MN
Posted 11/10/2003
Although Cathy Engelking has only been serving as District ENF Chair for a couple of years, she's been familiar with the job for years. She worked closely with the previous district Chair, helping him organize records, writing reports, and gathering information from the website. When her predecessor passed away in 2001, Cathy was a natural fit for the job.
George Kellerman
Sonora, CA Lodge No. 1587
Posted 10/8/2003
Before he retired, George Kellerman's work involved managing foundation and endowment money. After retirement, working for the Elks National Foundation seemed a natural fit for him
Mary Alcorn
Waynesville, NC Lodge No. 1769
Posted 3/11/2003
Three years ago, Mary Alcorn noticed that her Lodge wasn't having much success raising money for the Foundation. Driven by her strong belief in the ENF and its good works, she took over as ENF Chairperson and set her sights on improving her Lodge's record of giving.
Norman Gervais
Rochester, NH Lodge No. 1393
Posted 2/5/2003
Having served as ENF Chairperson for his Lodge for more than 20 years, Norm Gervais knows what it takes to keep members committed to the Foundation.
John Johnson
Kingsville, TX Lodge No. 1926
Posted 1/9/2003
John Johnson took over the position of ENF Chairperson for his Lodge because he wanted to improve on his Lodge's past record of giving. He certainly kept his word.
---