It All Boyles Down to Community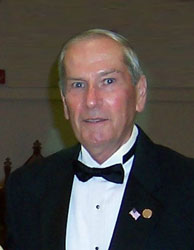 After eight years as ENF Chair, Charles Boyle knows how to motivate the members of Bennington, Vt., Lodge No. 567. His hard work is paying off! Bennington Lodge leads the state of Vermont in ENF giving so far this year with a generous $5,984.17 through January 29. The Lodge ranks second in state per-member giving at $6.785. These totals have helped Boyle reach the seventh spot in the national Chair Challenge. Boyle attributes much of this success to the Elks community coming together to reach its charitable goals.
Every year, Bennington Lodge sets a goal for both donation totals and the percentage of members donating. These goals are published in the Lodge bulletin on a monthly basis. This year, the Lodge plans to have 25 percent of its membership donating, and it is nearly there with two months left in the fiscal year.
"I am sure we will exceed 25 percent this year, and then next year we will add 2 percent to the goal," says Boyle. Boyle pushes toward the goal by encouraging a sense of pride in the ENF's charitable mission.
"The key is to get members to donate, not just once, but year after year," he explains.
Bennington Lodge strongly promotes the ENF at orientation, and then publicizes ENF programs to encourage ongoing support. The Lodge sponsored many Emergency Education Grant recipients and Legacy Award winners.
"These students are not only the future of our country, but also the future of our Lodge," says Boyle.
In fact, the Lodge recently received a membership application from a college senior who won a Legacy Award. Boyle is happy to say that the Elks Lodge in Bennington is truly a center for the community.
"To secure a grant to help with veterans service programs, or to talk with a student who won an ENF scholarship, it makes you proud to be an Elk," explains Boyle.