October 2012 ENF Volunteer of the Week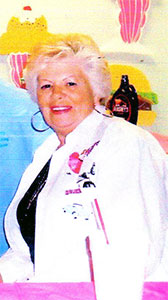 Last year, Marathon, Fla. Lodge No. 2139 was transported back to the 1950s with the help of ENF Chair Rose Lavay. The Lodge's third annual Sock Hop Fundraiser in celebration of ENF Month was a huge success. Here's how Lavay and the Marathon Elks rock and rolled to raise funds for ENF programs.
Fundraiser Description: On October 28, 2011 our Lodge held its annual 1950s Sock Hop. The members really got into the theme since many have fond memories of the 50s. Decorations included white and black checkered tablecloths along with malt glass centerpieces pulled together with dollar store finds. There were 50s era sweets scattered on the tables. A local florist donated her time to create Elks Café and Malt Shop signs. A member even brought in his motorcycle as a fun prop for photos! We sold malts, hot dogs, burgers and fries. We also had a silent auction to raise even more money.
Fundraiser Promotion: To create excitement, we put up posters in the Lodge, printed invitations, announced the event during meetings and in the newsletter, and sent out reminder emails.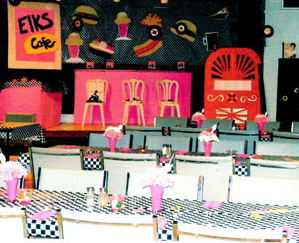 Fundraiser Successes:We raised $1,000 for the ENF! Attendees had a great time at the Sock Hop. People really got in the spirit of things by dressing up in poodle skirts and dancing the night away. The best costumes and dancers were awarded 1950s music CDs.
Suggestions for other ENF Chairs: Pick a time of year when you can maximize attendance. A large number of members come back to Florida after spending the summer up north, usually returning after Thanksgiving. We will probably host the event later this year to include as many members as possible. Also, this is a big undertaking, so start planning early!
---
Back to top