Fidelity Club…or Bust!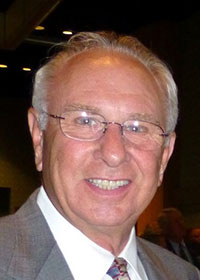 When he first donated to the Elks National Foundation through his Lodge—Fullerton, Calif., Lodge No. 1993—California State ENF Fundraising Chair Tom Conlon became the proud owner of an ENF red heart pin. This year, as a member of the ENF Fidelity Club in California, Conlon received recognition of his own design—a Fidelity Club ribbon.
After personally seeing the benefits of a recurring gift to the ENF, Conlon knew the best way to increase ongoing support from California Elks was to encourage members to sign up for a recurring gift and join the ENF Fidelity Club. To promote the Fidelity Club, Conlon created ribbons for the California State Midterm Conference and handed them out to each donor that joined the Fidelity Club that day.
"The Fidelity Club is an easy way to give because members don't have to think about giving each month," says Conlon. "One of my tasks this year was to raise funds by increasing the number of recurring givers in California."
Constant Contact
When not actively promoting the ENF Fidelity Club, Conlon keeps District and Lodge Fundraising Chairs up-to-date on ENF resources, the ENF Learning Center, and how ENF programs are helping build stronger communities in California.
"There are a lot of Fundraising Chairs pushing Lodges to donate," says Conlon. "Total communication is essential for us."
This constant contact has worked in his favor. At the fiscal year midterm, California Elks outdid their donations from last year. Conlon looks forward to finishing 2013-14 just as strong.
Click here for more ENF fundraising volunteers testimonials.
Donors who join the ENF Fidelity Club have their names listed on our website and receive a special gift. To learn more about participating in the Fidelity Club please visit www.elks.org/enf/FidelityClub.cfm.