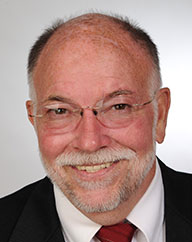 Winner Takes All
David Winner knows you never stop learning. After more than 40 years of being active with the Elks National Foundation, Winner went back to school at the ENF Learning Center. This school doesn't require textbooks or notebooks, just a few hours and the enthusiasm to build stronger communities as Lodge ENF Chair.
Studying the CIP
As ENF Chair at Wooster, Ohio, Lodge No. 1346 since 2004, Winner not only encourages Lodge members to donate to the ENF, he also helps them become engaged with the community—especially local youth—through ENF programs. Using Community Investments Program grants, the Wooster Elks encourage active lifestyles by supporting youth athletic teams. In 2013, the Lodge used its Promise Grant to hold a softball game for developmentally and physically challenged youth in the community.
"The Lodge enjoys the interaction between our members and the youth," says Winner. "Building the self-esteem and confidence of our youth will result in a stronger and more vibrant community."
More to Learn
Although Winner helped the Wooster Lodge become service-minded, he knew the Elks could do more to build an even stronger community. By taking the classes in the ENF Learning Center and earning his Chair Certificate, Winner gathered new ideas on how to engage Lodge and community members this year and in the future.
"The ENF Learning Center is easy to navigate and has great information," says Winner. "The process was very helpful in giving me ideas to put into play."
For Winner, the most important thing he took away from the ENF Learning Center can be summed up in one word—involvement.
"Involvement is key," explains Winner. "This year and in future years, I plan to develop better communications with the Lodge members and the community through newsletters and the local newspaper."
Further Education
To ensure success in the community again this year, Winner plans to encourage more members to get involved with the ENF through donations and grant projects. He also plans to reach out to the community by locally publicizing the Lodge's grant projects. Spreading the word within the Lodge and the community will continue to demonstrate the good works the Wooster Elks do.
Taking a note from the ENF Learning Center, Winner offers his own lesson.
"If you firmly believe in the principles of the ENF, show it, live it and be proud," Winner exclaims. "This is the kind of attitude that encourages members to join."