October 2012 ENF Volunteer of the Week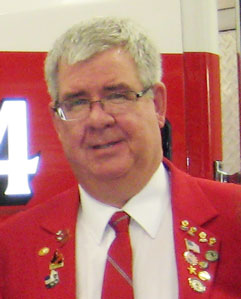 Last year, Rice Lake, Wis., Lodge No. 1441 set out to raise money for the ENF and bowled a perfect 300! With the help of ENF Chair Jeff Miller, the Lodge threw a 9-pin bowling tournament to raise funds and honor a longtime member. The fundraiser was a big success with a lot of community support and enthusiasm. Here's how Miller helped bring the big idea to life.
Fundraiser Description: On October 29, 2011, our Lodge held its first annual Herbert T. Zimmer 9-Pin Tap ENF Fundraiser. Zimmer was a 50-year member of our Lodge, and he served as Lodge Secretary for 28 years. He was a strong supporter of the ENF and loved to bowl. After he passed away, the Lodge decided to honor Zimmer and raise money for the ENF at the same time. In one short afternoon, we raised more than $1,200 with bowling and raffles. Nearly 100 people attended the fundraiser. The community support was great, and we had members and guests at the Lodge later that night for a buffet dinner and music. For the second annual Herbert T. Zimmer 9-Pin Fundraiser, we are already ahead in our registrations from last year. We have asked Kohl's Department Store, through its Kohl's Cares Program, for volunteers and a donation to ENF.
Promotion: Our fundraiser was advertised in our newsletter, and we put up flyers in the Lodge and at the local bowling alley.
Successes: It was a great tribute to one of our finest members. The community and the Lodge came together to have fun and enjoy the fellowship. Unfortunately, we were not sure how many to plan for, and we ran out of food for our buffet.
Suggestions: If one type of fundraiser doesn't work at your Lodge, don't give up - keep trying! Promote the ENF in other ways too, year round. We send out ENF information in each of our dues statements and include a line item on the statements for giving to the ENF. Also, we give information on the ENF to each new or prospective Elks member.
---
Back to top