Who Are the Elks?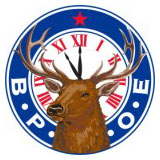 Elks Lodges bring so much more to their communities than just a building, golf course or pool. They are places where neighbors come together, families share meals, and children grow up.

Hon. Harry Bucharach Gives Valuable Property to Atlantic City Lodge
A birthday dinner was recently given Hon. Harry Bacharach at Atlantic City in which the city and county joined in paying tribute to the former Mayor who is a Past Exalted Ruler of Atlantic City (N. J.) Lodge, No. 276, and who served as Grand Esquire for three terms. Responding to the many eulogies of the speakers, Mr. Bacharach expressed his appreciation and then announced that he and his brother. Congressman Isaac Bacharach, also a member of Atlantic City Lodge, were marking the day by giving to the Lodge, free of all encumbrances, a property valued at $40,000 situated in Longport (N. J.) to be used as a home for the crippled children of Atlantic County. This generous gift was accepted amid the cheers of the guests, by Exalted Ruler Schwinghammer on behalf of the Lodge.
The property, which is ideal for its purpose, is a lot 150 feet on the bay and 400 feet deep. It includes a large house of 15 rooms, fully equipped, a boat house, tennis courts and garage. Atlantic City Lodge is probably the first Lodge in the Order to own such an institution and the uses to which it is to be applied will bring about restored health and happiness to many a poor unfortunate child of the community.