Midday with the ENF: 2019 (Season 6)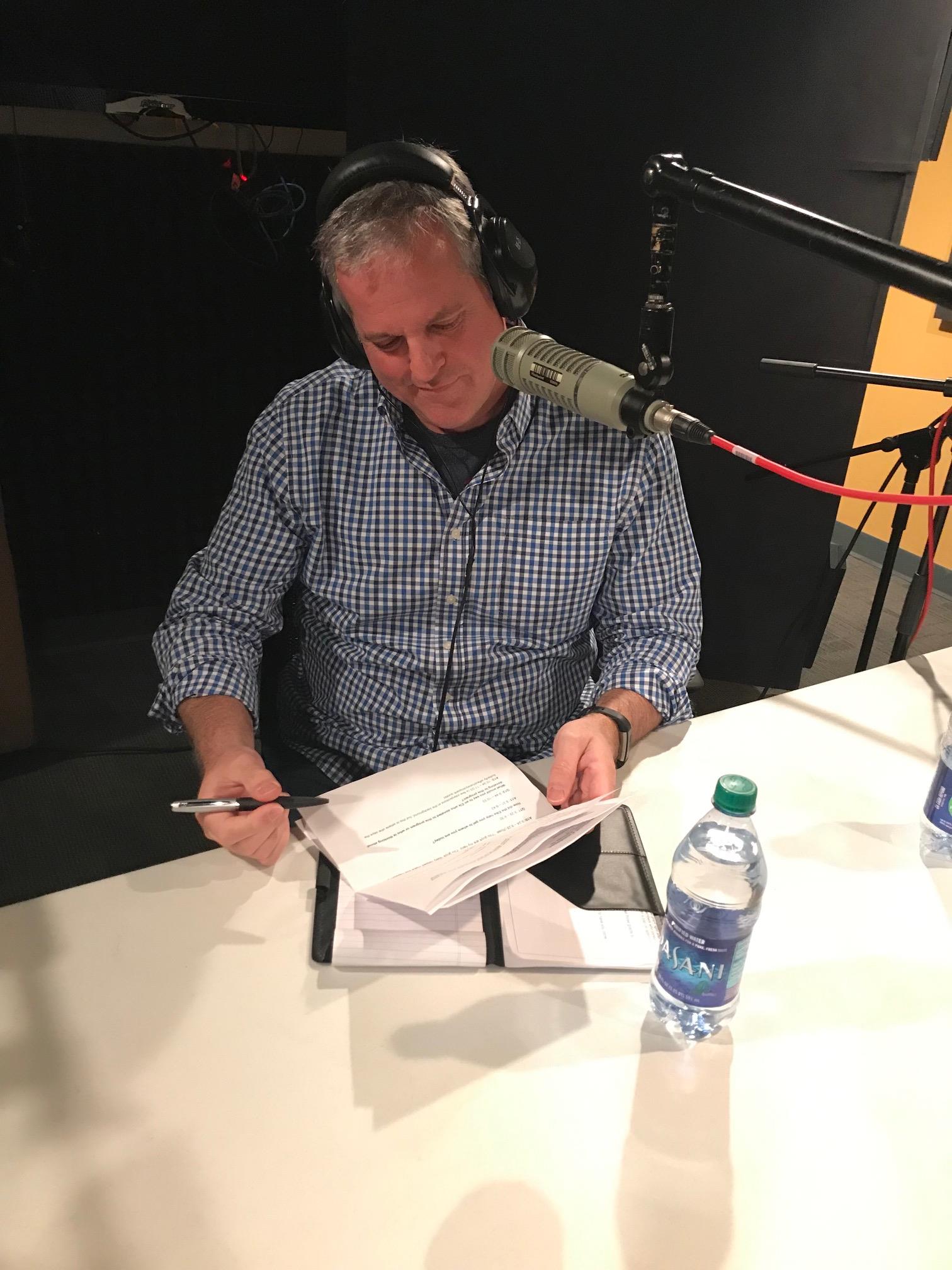 Join the Midday crew for their ground-breaking (maybe) sixth season! Don't miss a single pod as host Jim O'Kelley and sidekick Debbie Doles give you an insider's look at the Elks National Foundation and the programs we fund.
Have a question or comment? Send it to the Midday Mailbag by emailing enf@elks.org with the subject Midday. We love hearing from our Middies!
On the go? You can also subscribe to Midday with the ENF through iTunes or wherever you get your podcasts.
---
Episode 57: July 2019 | Three tomatoes are walking down the street ...
In episode 57, which is not sponsored by Heinz, we catch up. Join Jim and Debbie as they chat about all the things going on at the office.
Show Notes
Here are the links to web pages and videos mentioned in the June episode of Midday.

Flashpoint Chicago. (This episode was produced by students Savannah Victoria, Cris Solis and Reuben Enriquez.

Have you watched the first Midday Minute? Check it out! Don't forget to subscribe and hit the bell so you're notified every time we post new content. (And help us reach our goal of 1,000 subscribers!)

Email us at enf@elks.org to submit questions, comments, or concerns for the Midday Mailbag because it was empty for this episode, and that makes us sad.

Scholarship applications open soon, starting with the Most Valuable Student scholarship on August 5. Legacy Awards applications open September 1.

Last year's Hoop Shoot National Finals keynote speaker Kendall Coyne has been nominated for Sportswoman of the Year. Vote for her here by August 2!

The 2020 Hoop Shoot season is right around the corner! States with 100 percent Lodge participation in hosting Hoop Shoot contests will be recognized and given a prize.

GER Robert L. Duitsman's theme for 2019: Honoring the Past—Embracing the Future

2014 Most Valuable Student scholar Nathan Miller has attended every Leadership Weekend as a contestant, then a leader, and a judge. Join us in wishing our #ElksFamily member Nathan good luck on his move from Chicago to Milwaukee!

BREAKING NEWS: The Winter Elks Scholar Service Trip is heading to San Diego January 5-11, 2020! You heard it first Middies.

The five Lodges that won the Spotlight Grant Drive raffle were chosen! Click here to see the winners of a $4,000 Spotlight Grant.

Watch the new Spotlight Grant training video that premiered at the Community Investments Program workshop. (Runtime: 4 mins., 18 secs.)

CIP Stats: 1,705 CIP total grants, including 179 Spotlight Grants, and an additional 351 grants through the Veterans Service Commission have been approved since April 1. #ElksCare!

Impact Intents are due by July 31.

Grant applications close December 31, so get your applications in!

Visit elks.org/vets to learn more about the thousands of veterans the Veterans Service Commission have assisted, and how, in the Elks' mission to #EndVeteranHomelessness.

Our goal with veteran homelessness is reaching Functional Zero. Lake County, Illinois, is just the tenth place in the country to reach Functional Zero, and they credit the Elks for helping them get there.

The "Future Looks Like..." series will premiere on our Facebook and YouTube channels starting in August. Stay tuned for profiles on the 2019 Class of MVS scholars!

New Griteos will also premiere this fall! Lots of new content to look forward to in the next few months, so don't forget to subscribe to our YouTubechannel.

Watch Be the Spark: Positioned to Make a Difference, another film premiered at Convention. Nicole, an Army veteran and mother of two, who received assistance from the Emergency Assistance Fund.

Don't want to receive another round of appeal letters from the ENF? Sign up for the Fidelity Club, our monthly giving program. It's easy, safe, and appreciated.

Colleen Conrad, former CIPerstar, has officially moved onto the Scholarships Program! We've also welcomed a few new ENF staff members. Check out Who's Who.

See you next month on August 23!

---
Episode 56: Convention 2019 | The 2019 Convention Live Show!
This episode was recorded before a live studio audience in the Ferrara Theater at the America's Convention Center Complex during the Elks National Convention in St. Louis. It features a host of guests, including Rick Gathen, Mary Morgan, the top MVS winners, and more!
Show Notes
Here are the links to web pages and videos mentioned in the Convention episode of Midday.

---
Episode 55: June 2019 | Meet Me in St. Louis!
It's our convention preview episode! Kate Edsey, our meeting planner, visits the show to talk all about the upcoming reunion in St. Louis.
Show Notes
Here are the links to web pages and videos mentioned in the June episode of Midday.

Flashpoint Chicago. (This episode was produced by students Savannah Victoria, Cris Solis and Taylor Fitzjarrald.

Fact check Jim's stupid human trick with this list of all past Convention sites.

Watch a long-form interview with top two Most Valuable Students from 2003, filmed during the 2015 Leadership Weekend.

Meet the Scholar Advisory Board.

Here's a link to a list of all of our past Alums of the Year. We're currently on a Sean streak.

One of these days, we'll fix the link to the website for our other podcast, A Podcast of Ice and Fire. You'd love it.

We're so excited about the Elks' first membership gain since 1980! Hopefully this will be the beginning of a new streak of gains. We'll keep doing our part by sharing stories about the great work the Elks are doing, turning our scholars into champions of the Order, and increasing our investment in programs like the CIP!

Like our new Spotlight Grant? Well, bring new socks or a new or gently used children's book to our booth in St. Louis, and your Lodge will have a chance to double the value of its Spotlight Grant. Learn more here.

Find links to our Facebook page and other social media channels right here.

The Hoop Shoot booth is a Convention destination. Meet the Regional Directors, pose with the best overall male and female shooters, and try your hand at free throw shooting ... if you dare.

The top two Most Valuable Students will be our special guests on the Midday live show at Convention. After the show, they'll speak at Opening Ceremonies.

After the Opening, stick around for the Party Crashers, America's best cover band, presented by the Elks National Foundation.

Check out our complete schedule of Convention activities.

---
Episode 54: May 2019 | The Long Midday
Everyone is talking about Game of Thrones, and so are we (if inadvertently). Plus Jim and Debbie recap the Leadership Weekend and Hoop Shoot National Finals.
Show Notes
Here are the links to web pages and videos mentioned in the May episode of Midday.

---
Episode 53: April 2019 | The Podcast Jumps to Warp Speed
In a brisk episode, Jim and Debbie introduce the top 20 Most Valuable Students and then share some of the storylines for this year's Hoop Shoot National Finals. This one will get you pumped for the two big April events.
Show Notes
Here are the links to web pages and videos mentioned in the April episode of Midday.

Flashpoint Chicago. (This episode was produced by students Beau Falcon, Nikolai Stier and Savannah Victoria.)

Learn more about the Welcome Home initiative and the Emergency Assistance Fund.

Check out the videos and other great coverage from the Biloxi service trip right here.

Learn more about the Portland service trip right here.

Check out photo albums and short films from the first five Leadership Weekends right here.

Meet our Board of Trustees.

Okay, so maaaaaaybe the Top 20 finalists weren't as final as we led you to believe. Shortly after we recorded this episode, one of the 20 declined our invitation to attend the Leadership Weekend and accepted a $4,000 runner-up award instead. The actual Top 20 are listed here.

We've compiled some of the Nard Dog's greatest hits for you.

And speaking of great hits, this one goes out to one of the Top 20 finalists. (And, raspberries to Jim for botching the lyrics.)

Here's Anthony Thompson's Convention hype video from 2018. He's one of two returning champions in this year's Hoop Shoot National Finals field.

The other is two-time champion Camden Cowgill. Here is Camden's Convention hype video from 2016. We also did a Griteo about the Cowgill dynasty and Camden's rivalry with his legendary uncle. Watch Anything You Can Do.

Anthony and Camden will be joined by another champion from 2016, Samantha Griebel. Check out For My Sisters, a story about Samantha carrying her three older sisters to the finish line.

The Griebels joined the Fidelity Club. You should, too.

When we interviewed him at the 2017 National Finals, DeShun Coleman knew he'd be back one day. This year is that day. Here's DeShun in I'll Be Back.

Will Parkhouse, his brother and father appear in this Griteo from the 2016 contest, Hangin' Out. It speaks to the benefits of spending time with your kids.

Give your ears and eyes a rest after that battery of videos. Here's a web story about the Besonens of Michigan.

Explore the rich history of the Hoop Shoot program.

Okay, here's the Randy Eaton story that we stumbled through on the pod. In his very first year as the state director for Missouri, Randy had a national champion, Paula Corder. (... Debbie was right.) Paula went on to play at Southeastern Missouri University, where she led the nation in free throw percentages in 1999. She's still in the top 10 of highest free throw scorers in the NCAA.
This year, in Randy's final year as a state director, Paula is back with her daughter, Kaylee King. Feels like full circle for Randy.
Hoop Shoot lore is filled with great stories like that!

Fine, here's one more trans-generational Griteo: Bit by the Hoop Shoot Bug.

Check out the full field of 2019 National Finalists, and send some e-greetings to your favorites. We'll compile the greetings in a booklet and present them to the Finalists when they arrive in Chicago. We want their weekend to begin with the knowledge that their family, friends and the Elks are rooting for them.

Like this stuff? Then like us on Facebook and get a daily dose of feel-good stories.

And there are soooooooo many more videos like the ones we linked to here on our YouTube channel. Check it out and subscribe.

And finally, the website for Jim and Debbie's podcast about A Game of Thrones, A Podcast of Ice and Fire, is currently down. We'll get that fixed ASAP.

---
Episode 52: March 2019 | The Fast Track to Destruction
Jim and Debbie interview Nicole, a veteran who was on the fast track to destruction before getting help from the V.A. and the Elks. Plus CIPsters Colleen Conrad and Chelsea Dennis drop by to talk about the new Spotlight Grant. 
Show Notes
Here are the links to web pages and videos mentioned in the March episode of Midday.

---
Episode 51: January 2019 | Back on the Bayou
Just back from the Service Trip to Biloxi, Elks Scholar Fellow John Kavula joins Jim and Debbie on the big show. Episode 51 also features interviews with Rose, a veteran who avoided homelessness thanks to emergency assistance from the Elks, and Fischer Brown, a three-time Hoop Shoot National Finalist. 
Show Notes
Here are the links to web pages and videos mentioned in the January episode of Midday.

---
Archive
---
Back to top