Midday with the ENF: 2020 (Season 7)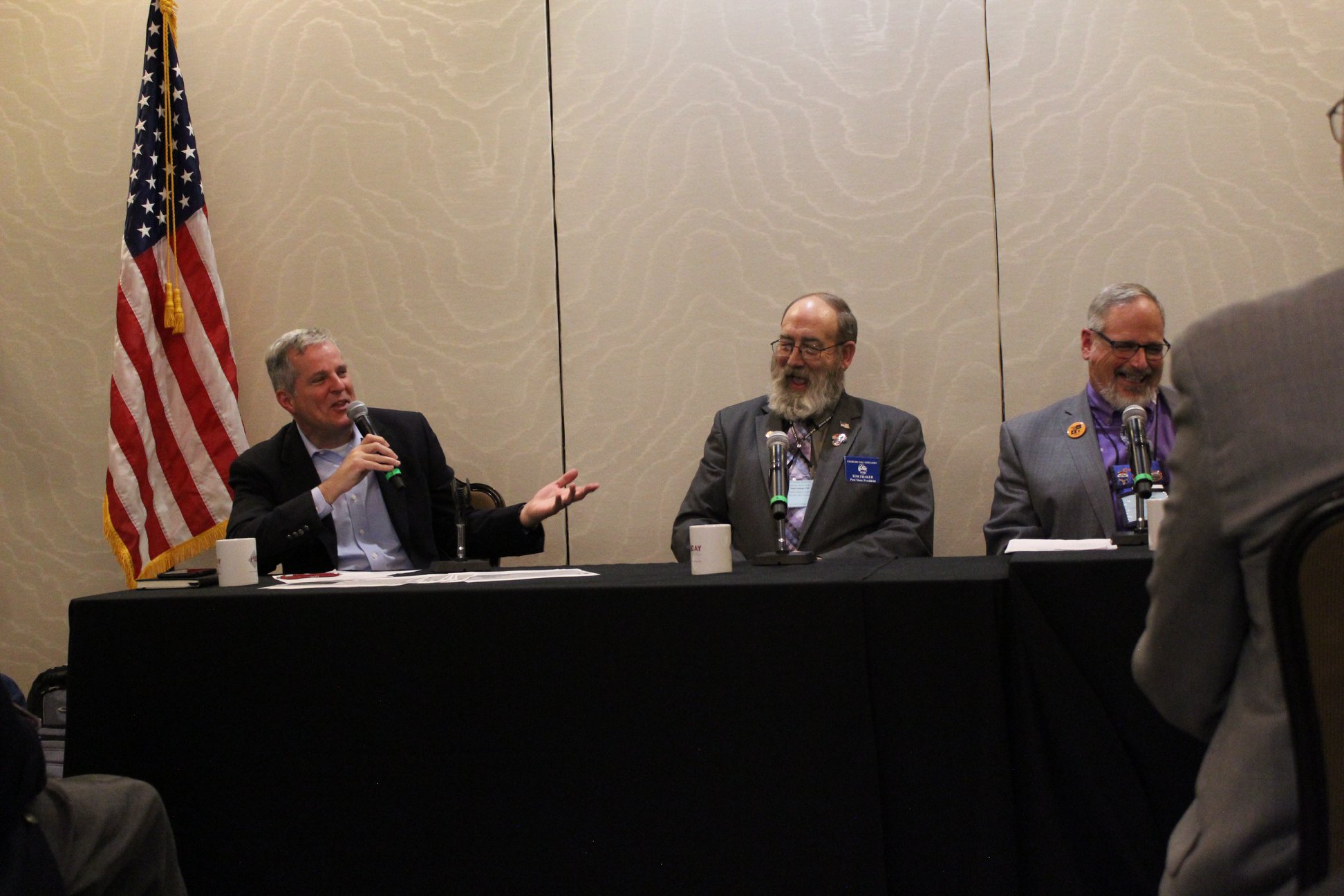 Midday opened its seventh season in the Rocky Mountains and will only go higher from there! Don't miss a single pod as host Jim O'Kelley and sidekick Debbie Doles give you an insider's look at the Elks National Foundation and the programs we fund.
Have a question or comment? Send it to the Midday Mailbag by emailing enf@elks.org with the subject Midday. We love hearing from our Middies!
On the go? You can also subscribe to Midday with the ENF through iTunes, Spotify, or wherever you get your podcasts.
---
The podcast has taken a break, but we're covering everything we would have on the podcast on our bi-weekly YouTube show, the Midday Minute.
You can watch here:
---
Episode 64: February 2020 | The Budget Breakdown
The ENF Board of Trustees just approved a massive $39.1 million budget for FY2021, and there's something new in it for every program. Jim and Debbie break it all down for you. Plus, Debbie benefits from some public therapy, and we hear from participants on last month's Elks Scholar Service Trip to San Diego. Tune in today!
Show Notes
Here are the links to web pages and videos mentioned on February episode.

Flashpoint Chicago. (This episode was produced by student Ben White.)
Scroll down to listen to the Midday Road Show, recorded live at the Colorado Elks Association's winter quarterly meeting in Colorado Springs.
We are currently marching toward 1,000 YouTube subscribers, which will unlock the ability to livestream on YouTube, giving you behind-the-scenes access to ENF events. Subscribe to the ENF's channel at enf.elks.org/YouTube for a chance to win an iPad Mini. Visit enf.elks.org/MarchTo1000 to learn more about the contest and how to subscribe!
Watch new episodes of the Midday Minute and comment with #ENFMidday and a response to the question we pose on the show for a chance to win a $50 soft-credit donation to the ENF program of your choice.
Rest in peace to Debbie's dog, Jack. We're all thinking about Midday's star sidekick and her sidekick.

Jim's beloved dog, Fritz Otto von Bismarck O'Kelley—Fritz, for short—is laid to rest at Hinsdale Animal cemetery, where Debbie's pup Jack will be, too.

You can listen to Midday with the ENF here, on iTunes and now on Spotify!
Designating your gift to the program of your choice allows your dollars to be spent on top of the budgeted, spendable dollars.
See how your designated donation works here.
Since the inception of the CIP—the CIP-ception, if you will—in 2005, we have increased spending by 4,063%. The 2020-21 budget for the CIP will be $14.6 million, of which $14.3 million is specifically allocated for grants.
Beacon Grants will now be $3,000.
Lodges earn a $500 increase on their Gratitude Grants—bringing it from $2,000 to $2,500—just by meeting the GER's per-member giving goal. For 2020-21, we'll have a bonus bonus tied to the Gratitude Grant. Lodges that achieve 10% membership support, with 10% of supporting members belonging to the Fidelity Club, will earn an additional $500, bringing the Gratitude Grant to $3,000!
The Spotlight Grant is back! The Spotlight Grant will have new projects and more flexibility—Lodges can even use it to supersize their Beacon Grant.
Freedom Grants, administered by the Elks National Veterans Service Commission, will increase, and the Welcome Home Initiative will continue on for another year.
The Drug Awareness Program will send another speaker on the road in 2020-21.
The ENF will now be offering 350 Legacy Awards to the children and grandchildren of Elks.
The State Charities Grant and the Special Projects Grant pools are receiving a three percent increase. And, the "bonus grant" will be back!
Check out ENF in Your State to see how much your state receives in grants, scholarships, stipends and how much you've donated, and more!
See the complete Grants & Appropriations for FY2021 here.
Have an idea of potential topics you'd like to hear about at the Elks National Convention mini-seminars? Send them to the Midday Mailbag at enf@elks.org with the subject "Midday."
Jim and Debbie will be spending time in Wheeling, West Virginia for the Spring Elks Scholar Service Trip. There, they'll volunteer with the Wheeling Lodge's Impact Grant project alongside Elks scholars.
Stay tuned! The Winter Elks Scholar Service Trip films will premiere soon.
Thanks for tuning in!
---
Episode 63: January 2020 | Rocky Mountain High
Jim and Debbie head to the Colorado Elks Association's winter quarterly in Colorado Springs for the first Midday Road Show! Guests include a couple of independent filmmakers, the director of family programs for the Colorado National Guard, a member of the BackBoard, and a slew of Elks working hard to build stronger communities.
Show Notes
Here are the links to web pages and videos mentioned on the Midday Road Show.

That was John Amen, Colorado's state sponsor, who opened the show. We've now had TWO Past National Presidents on the big pod!
Watch the trailer for Oildale here.
Check out the website for Oildale and learn more about the film.
Learn more about the Elks National Veterans Service Commission here.
The Welcome Home Initiative helps veterans exit homelessness and establish their homes. Learn more here.
Freedom Grants allow Lodges to host projects that serve veterans and active-duty military members. Check out the five areas Freedom Grants focus on here.
The Colorado National Guard Family Program Office officially partnered with the Elks. Interested in starting a similar program in your state? Get in touch with Charlene Shields, the State Family Program Director!
Don't let your Lodge leave money on the table in the 2020-21 grant year! Learn more about the Community Investments Program grants available here before the new grant year begins on April 1.
Check out how much money comes back to your state in grants every year here.
Learn more about the ways you can use a Gratitude Grant here.
Unsure how to start your grant application, or exactly what your Lodge can do with a CIP grant? Check out the CIP Grant History Report to view grant applications and Final Reports from Lodges across the country.
Fox Maikovich served on the Hoop Shoot Alumni Advisory Board, also known as the BackBoard. Read a blog post Fox wrote about his experience as a 2010 Hoop Shoot National Finalist and as a member of the BackBoard here.
Keep up with all the latest ENF films—like the 2019 Griteo series—by subscribing to our YouTube channel.
Father and son sharpshooters Jacob and Wayne Bower were featured in the 2019 Griteo series. Watch their Griteo here, and read about why Jacob decided to join his local Lodge here.
The Colorado Elks boast a diverse number of passions, including supporting youth. The Colorado Elks support Laradon, an alternative school for individuals with developmental disabilities. And, the Golden, Colo., Lodge No. 2740 used part of their Gratitude Grant to support Sources of Strength, a peer-run program combatting youth suicide.
If you are experiencing suicidal thoughts or a mental health problem, including mental illness, and need help, call the National Suicide Prevention Lifeline at 1-800-273-8255.
Learn more about the Fidelity Club here.
Send us a question to the Midday Mailbag enf@elks.org
Thanks for tuning in, and thank you to the Colorado Elks for having us!
---
Archive