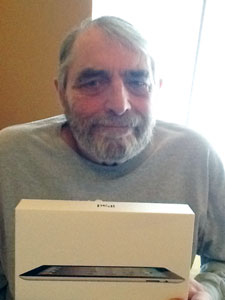 Jerry Goodale, long-time ENF Chair, is the ENF's raffle winner for the new iPad for earning his ENF Chair Certificate prior to October 15.
When asked what inspired him to become involved as the ENF chair, Goodale stated, "One day it dawned on me that I could donate here and there to various organizations and do a little bit of good, but donating to the ENF can do a lot of good in a lot of places."
He likes the fact that his money gets applied to a wide range of worthwhile causes. This is why he took on the ENF Chair position and has continued volunteering for so long.
Even though Goodale has been an ENF Chair for fourteen years, he still found value in the ENF Learning Center. "A lot of the information was review for me, but it was a good refresher," explained Goodale. "I even learned new information regarding the different ENF grants!"
When asked his thoughts on the ENF Learning Center in comparison to the old training disk, he said it was a very user-friendly program. "When I got into the Learning Center and saw that you could work for a half hour at a time, it was an enjoyable experience!" he stated.
Overall, Goodale felt the Learning Center was worthwhile and a great resource for new and returning ENF Chairs!
---
Back to top