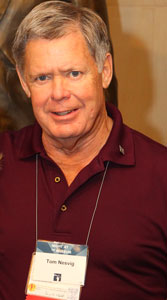 October 1, 2012
Serving as Lodge, District, and State ENF Chair this year, Tom Nesvig talks about his experiences during his eight years of volunteering for the ENF and his successes in fundraising.
About eight years ago, our Lodge decided to put more emphasis on ENF. We had been plugging along with an average annual donation of approximately $2 per member and thought we could do better. I took over the ENF Chairmanship in 2005 and started asking people at the lodge for just $10 a year on a $100 pledge. Very few people turned me down. By the end of the 2005-06 fiscal year, we had increased our per capita contribution to $7.10.
The next year, we included a line on our dues statements for ENF. This made it possible for our members to write one check for dues, ENF, and our state project. We do all the bookkeeping and get the money where it's intended. For the past four years, we've received enough contributions included with dues alone to make the Grand Exalted Ruler's goal by early April of each year.
Our per capita shot up to $14.70 in 2006-07, and we won the Chairman's Challenge contest for our division. In 2007-08, we hit $23.10 per capita and repeated as Chairman's Challenge winners, finishing third in the Per-Capita contest. We reached $27.08 last year, our highest per capita yet, and finished second in the Chairman's Challenge contest. This year, we're approaching $12.00 per capita after just six months.
We personally acknowledge every contribution with a letter. All the funds we have raised to date are direct contributions from members, which average more than 300 separate contributions each year.
I also write a monthly column for our newsletter that again, acknowledges each separate contribution and lets the membership know exactly how we are doing on a per-capita basis for ENF. In addition, I give a short presentation on ENF at new member orientation sessions.
We have an all you can eat fish dinner each October that is free to all ENF contributors. We have raised approximately $2800 on average for ENF at this dinner (again by direct contributions from members) each of the past three years.
We have an ENF Wall of Fame that lists all contributors by donor level. It is first class and was paid for by members at no cost to the Lodge. It is in a prominent location in the lounge and is seen by a lot of different people each day.
This all adds up to more than $115,175 raised for ENF over the past eight years, and it hasn't been that hard! We have the whole Lodge to thank for our success. These donations are individual contributions from the generous people in Owatonna––all we had to do was ask!