The Three Es of ENF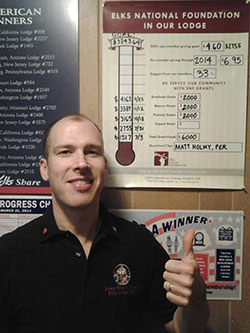 Education, efficiency and excitement—these are the three Es that Matthew Holmy, ENF Chair of Long Beach, Wash., Lodge No. 1937, lives by. With these priorities in mind, Holmy hit the ground running in his first year as ENF Chair.
Education
To take full advantage of all that the ENF has to offer, Holmy educates members about the opportunities for them to build a stronger community. From running youth sports clinics and backpack programs to hosting holiday dinners, the Long Beach Elks use Community Investments Program grants to help those in need.
"Members have been contributing more throughout the year," says Holmy. "It's because they recognize the ENF's value in our community."
Before educating members, Holmy learns all he can about the ENF. To start the year off on the right foot, Holmy registered as ENF Chair and earned his ENF Learning Center certificate right away. This way, he knows how to stay up-to-date on important dates and ENF reports throughout the year.
"The ENF Learning Center is a great resource," says Holmy. "So are the ENF reports—they're gold!"
Efficiency
Holmy's role as ENF Chair keeps him busy, so he uses online remittance forms to quickly and efficiently send in donations to the ENF.
"Online remittance forms are clearly the most efficient and accurate way to submit donations," explains Holmy. "They ensure the correct members receive proper recognition for their generosity."
Excitement
Holmy generates excitement to ensure members stay engaged with the ENF. To build interest, he frequently updates the Lodge's "ENF in Our Lodge" poster and schedules ENF fundraisers throughout the year.
"Members want to know how we are doing," says Holmy. "Keep something happening with the ENF so it stays fresh in people's minds."
What's Holmy's favorite way to get Lodge members excited about the ENF? A quick pep talk!
"A speech or quick presentation before any fundraising event," says Holmy. "It really helps to get members excited about the ENF!"
By following the three Es, Holmy can count on even more successes in his Lodge and community!