Who Are the Elks?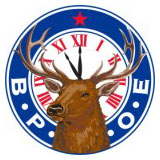 Elks Lodges bring so much more to their communities than just a building, golf course or pool. They are places where neighbors come together, families share meals, and children grow up.

Walsenburg (Colo.) Lodge Aims For New Home in 1924
The Home Committee of Walsenburg (Colo.) Lodge, No. 1086, recently submitted a report to the membership which was received with enthusiasm. More than $16,000 had already been subscribed to the Building Fund and on November 1 the Lodge owned unencumbered real estate to the value of $12,000. This excellent condition of Walsenburg Lodge would seem to make it certain that the Lodge's slogan "A Home in 1924" will be realized.