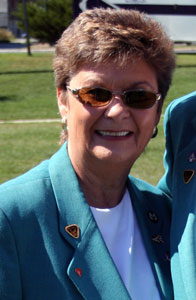 When the position of ENF Chair at Ticonderoga, N.Y., Lodge No. 1494 became available in 2009, Peggy Lamb offered to take it on. Armed with enthusiasm and good intentions, Lamb set out to learn all she could about the ENF and to inform her Lodge members. Little did she know that by the end of that year, she'd be recognized as an outstanding ENF volunteer within the ENF Chair Challenge, taking first place in her division!
In 2010-11, Lamb had the highest Chair Challenge score in the state of New York, and Ticonderoga Lodge's per capita was more than $10.00 and over $14.00 in 2011-12. How does she do it? We asked Peggy to describe her techniques for some of the Challenge categories in which her Lodge does particularly well.
On renewing donors: "To keep members donating every year, our secretary sends a letter to members requesting a donation to ENF with dues. Also, I make sure to send a personal thank you note to anyone who makes a gift to ENF during a special event."
On donation frequency: "We recently changed the format of our Lodge recognition board. We list every giving level, and people really pay attention to it. They all want to move up to the next level so badly, so they'll give multiple times in a year."
On her ENF Month fundraiser: "I just love planning this event. For the past few years, we've done a 50/50 raffle and held a big breakfast. These were a huge success! In addition to raffling off money, members donate theme baskets to the raffle which are very popular."
On reactivating lapsed donors: "I do approach people; I'm bold! I very nicely ask members who haven't given in a while if they'd like to get back on the recognition board. Often, they don't realize it's been so long since their last gift and they make a donation on the spot."
Lamb is sure to share the credit for her Lodge's success. "Our Lodge is a team," she says. "I have the firm support of all the officers and members. That makes my work a lot easier!"
With all that support, surely the Ticonderoga Lodge will finish 2012-13 strong!