Wanted: For Building Stronger Communities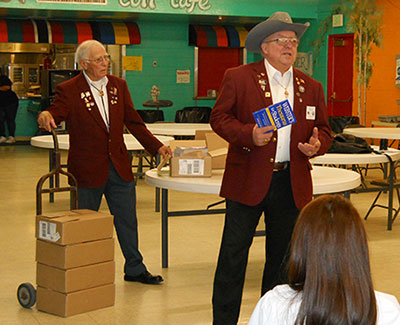 As an active member of Fallon, Nev., Lodge No. 2239, first-year Lodge ENF Chair LeRoy Olson knows the Elks National Foundation helps the Lodge build a strong, safe community. The Fallon Elks use Community Investments Program grants, partner with local organizations, and hold events for local youth in need. Even so, the community is full of outlaws, sharpshooters and train robbers.
Whodunit?
These characters are nothing Olson and the Fallon Elks can't handle! To celebrate ENF Month this October, Olson is holding a Wild West Murder Mystery Dinner at the Lodge. The fundraiser will bring the Elks and community members together to have a good time and help the ENF meet its October fundraising goal of $600,000.
Olson rounded up his posse to spread the news about the fundraiser through local newspapers, radio stations and community bulletin boards.
"This event took a lot of time to pull together. We had to prepare suspects, posters, tickets, advertising and a good meal," says Olson. "But we're looking forward to success with this dinner."
Spaghetti Western
An effective October fundraiser will only add to the success the Lodge has already seen this year, thanks to Olson's efforts as ENF Chair. Earlier this year, the Elks held a spaghetti dinner with a raffle and auctions to raise money for the ENF, increasing the Lodge's per-capita to more than $15.
"At the dinner, we raised more than $1,400," exclaims Olson. "That's a huge success for our small Lodge."
Schooling and Support
Olson's first year as ENF Chair has already seen many accomplishments, which he credits to the ENF's online training. After accepting the Chair position, Olson earned his Lodge Chair Certificate through the ENF Online Learning Center to get ideas on how to connect with the Elks and the community throughout the year.
"The Learning Center and ENF Chair webinars have been the greatest help for me as ENF Chair," says Olson. "I highly recommend all ENF Chairs get the training."
Olson knows that the Lodge's achievements this year were due to a group effort from active members.
"Without the help of fellow Elks," Olson recognizes, "it would not have been possible to attain the success of our Lodge's events."