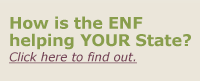 ---
"I am very excited to join the Elk community as an Elks Scholar! The Elks has meant so much to me throughout my childhood. Many of my childhood memories come from running around the Elks Lodge during the Elk's dinners and competing in the annual Elks Hoop-shoot. The Elks has been a huge part of my life and still is. I hope someday I can give back to it all that I have received!"

Michele Christnacht, Scholar


Midday with the ENF


Follow the 2015 Elks National Convention, live from Indy with daily episodes of Midday. Tune in to the July episodes of Midday!



Impact Grant-ness


Last year's Impact Grant results are now in, and they're impressive! Read all about the accomplishments of the Impact Grant Lodges here.

The 2016 Impact Grant applications are now available! For more information head over to the Impact Grant page.