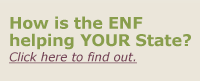 ---
"I am honored to be an Elks Scholar because the values that the Elks Foundation represents, knowledge, charity, community, and integrity are reflective of my own personal values."



2015-16 Grants and Appropriations


The Elks National Foundation is pleased to announce that the approved appropriations and distributions for the 2016 fiscal year equal a record total of $28.95 million. Click here for full details.



Midday with the ENF


Join the ENF for lunch! Listen to Midday with the ENF, the ENF's new monthly podcast, hosted by Director Jim O'Kelley and sidekick, Assistant Director Debbie Doles.

Tune in to hear exciting announcements about the upcoming fiscal year.