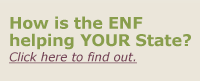 ---
"Thanks again to the Elks National Foundation for allowing us to provide veterans a few days of real enjoyment."

Clyde Butterbaugh, Project Manager



Get Your Beacon Grant!


Don't miss the opportunity to start or continue an ongoing, Elks-led charitable project with a $2,000 Community Investments Program Beacon Grant.

Applications are due online by March 31, 2015.



Donation Deadline


Help the ENF finish the 2014-15 fiscal year strong by getting in your final donations by March 31, 2015.

All mailed and online donations must be in the ENF office by 11:59 p.m. Central Time on March 31, 2015. Any donations received after March 31 will be counted toward the 2015-16 fiscal year. Click here to donate online today.