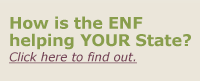 ---
"I'm going to Rose-Hulman Institute of Technology in Terre Haute, IN. I'm most looking forward to the rigorous engineering coursework, the new friendships I'll make, and the weather change from Florida. The MVS Scholarship will help me by allowing me to dive into my academic work at Rose-Hulman and run for the cross country team without the burden of a part-time job. I will also be able to continue my musical interests in my free time, so the MVS Scholarship will allow me to continue to pursue my passions in college without dire financial stress."



Midday with the ENF


Missed the Convention? Tune in to episodes 11 to 15 of Midday and you'll feel like you were there. Those episodes were recorded daily from the exhibit hall in Indy. Tune in!



Impact Grant-ness


Last year's Impact Grant results are now in, and they're impressive! Read all about the accomplishments of the Impact Grant Lodges here.

The 2016 Impact Grant applications are now available! For more information head over to the Impact Grant page.