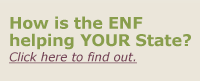 ---
"I truly appreciate all the Elks members who donated their money to this cause. I assure you it will not go to waste."



Midday with the ENF


This month's Midday with the ENF, a podcast about the Elks National Foundation, features a must-listen interview with 2003 top Most Valuable Student scholars Bryce Caswell and Sean Loosli. Check out Director Jim O'Kelley's May blog update to read more about engaging scholars like Bryce and Sean. Then, tune into the May episode of Midday!



Grab your Gratitude Grant!


Did your Lodge meet the National President's per-member-giving goal in 2014-15? Then you are eligible to apply for a $2,000 Community Investments Program Gratitude Grant to serve your community.

Don't miss this opportunity. Gratitude Grant applications are due online by May 31, 2015.