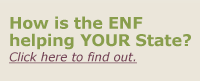 ---
"My educational pursuits would not be possible without generous support from scholarship sponsors like your organization. Thank you for enabling this opportunity for me to work toward my goals and give back to my community!"



25 Lodges in 25 Days


Join our countdown to the 2015 Impact Grant announcement on October 29! Each day until then, we'll feature a Lodge that has a built stronger community thanks to an ENF Impact Grant!

Hightstown, N.J., Lodge No. 1955 uses its Impact Grant to hold a book club for families with young children.

Click here to read the full story.



Show your ENF Spirit!


Click here to download the #ElksFamily pennant.

Then, print the pennant. Take a photo of Lodge members with the pennant at an Elks' event. Share your ENF pride this ENF Month by posting your photo on the ENF Facebook timeline!