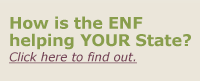 ---
"By awarding me the Emergency Educational Grant, I am able to concentrate on what is important for me, education. Your financial generosity has allowed me to be one step closer to my goal and has inspired me to help others by giving back to the community. I hope one day I will be able to help other students achieve their goal just as you have helped me."



Midday with the ENF


This month's Midday with the ENF, a podcast about the Elks National Foundation, features a convention preview as well as some hot tips about Indianapolis. Tune in to the June episode of Midday!



Impact Grant-ness


Last year's Impact Grant results are now in, and they're impressive! Read all about the accomplishments of the Impact Grant Lodges here.

The 2016 Impact Grant applications are now available! For more information head over to the Impact Grant page.