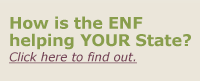 ---
"I understand how diligently Elks members across the country work to raise funds for these awards and I assure you that your investment in my future will be one you won't regret."



Top 10 Reasons 2014 was a Great Year!


As we ring in 2015, take a look back at 2014—an action-packed year for the Elks family! Click here to read some of the 2014 highlights of the ENF Scholarship Program.



Midday with the ENF


Join the ENF for lunch! Listen to Midday with the ENF, the ENF's new monthly podcast, hosted by Director Jim O'Kelley and sidekick, Assistant Director Debbie Doles.

Tune in to hear Jim and Debbie's year in review, and learn how you can get an on-air shout out.