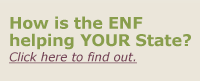 ---
"I am very excited to join the Elk community as an Elks Scholar! The Elks has meant so much to me throughout my childhood. Many of my childhood memories come from running around the Elks Lodge during the Elk's dinners and competing in the annual Elks Hoop-shoot. The Elks has been a huge part of my life and still is. I hope someday I can give back to it all that I have received!"

Michele Christnacht, Scholar


Midday with the ENF


Join the ENF for lunch! Listen to Midday with the ENF, the ENF's new monthly podcast—hosted by Director Jim O'Kelley and sidekick, Assistant Director Debbie Doles—features stories, jokes, and an inside look into ENF programs.

Click here to listen to the most recent episode about ENF Impact Grants!



No checks? No stamps? No problem!


Let donating to the ENF be as easy as possible by joining the ENF Fidelity Club. As a member of the Fidelity Club, the ENF will automatically debit your bank account or charge your credit card on a monthly basis for a set donation amount. With this safe, reliable program, you'll save checks, stamps and time!

Click here to learn all the benefits of the Fidelity Club and view the Fidelity Club honor roll.