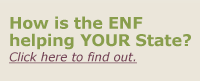 ---
"I know your kindness will not go unrewarded. The education I get from the scholarship you gave will help me to help others."



Midday with the ENF


Missed the Convention? Tune in to episodes 11 to 15 of Midday and you'll feel like you were there. Those episodes were recorded daily from the exhibit hall in Indy. Tune in!



Impact Grant-ness


Last year's Impact Grant results are now in, and they're impressive! Read all about the accomplishments of the Impact Grant Lodges here.

The 2016 Impact Grant applications are now available! For more information head over to the Impact Grant page.