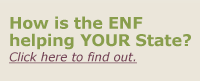 ---
"I feel incredibly privileged to be among a collection of such gifted and hardworking students that made up the pool of national applicants. I have great faith that all the applicants will help bring the world into a bright new future with all the help the Elks Foundation has provided them… I have found a new family in the Elks association that will be cheering me on through both college and the future I decide to create for myself after college. I could not have asked for a better opportunity to help me thorugh college and will never be able to show my appreciation enough."



ENF Film Fest


Congratulations to Rick Shipley of Hillsboro, Ore., Lodge No. 1862, our 2013-14 Community Investments Program Volunteer of the Year! Watch how Rick and the Hillsboro Lodge use ENF grants to serve their community.



Matching Gifts


Double your donation and your impact! Through the ENF's matching gift program, you have the perfect opportunity to give more!

Check out the complete list of companies with a matching gift program, then head to the ENF blog for an interview with Donor Services Associate Jon Flaherty about starting a matching gift with the ENF.