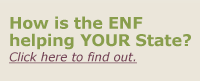 ---
"I hope one day I can be instrumental in finding a cure for some of mankind's ills whether through research or through patient care. Until my dreams are realized, I will use the scholarship as my inspiration to work harder and dream bigger in my academic pursuits in hopes of finding a meaningful way to better the lives of those I come in contact with and others around the world."



Elks Hoop Shoot Finals Results


Congratulations to all Elks Hoop Shoot National Finalists! Click here to see the official contest results.Then, click here to check out photos from the Finals.



A New Record!


Thank you to everyone who donated to the ENF in 2014-15. We received more than $6.2 million in donations, resulting in a nationwide per capita of $7.726. In total we raised a record $11.3 million—all to support stronger communities! Congratulations to the 2014-15 Per-Capita and Chair Challenge Contest winners! Click here to view the final contest results.