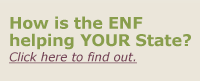 ---
"I have always defined the American Dream as the ability to present better opportunities for your children than you were offered. The Elks National Foundation has helped make this dream come true for my family. Thank you so much, Elks National Foundation, for your generous scholarship and endorsement of the American Dream."



Follow the Elks Hoop Shoot National Finals


The Elks Hoop Shoot National Finals are on April 18, starting at 9:45 a.m. Eastern Time. Follow the action all week on Facebook, Twitter and Instagram using #hoopshoot. When the contest begins, click here to follow live using the shot tracker.



A New Record!


Thank you to everyone who donated to the ENF in 2014-15. We received more than $6.2 million in donations, resulting in a nationwide per capita of $7.726. In total we raised a record $11.3 million—all to support stronger communities! Congratulations to the 2014-15 Per-Capita and Chair Challenge Contest winners! Click here to view the final contest results.