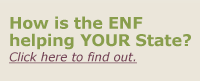 ---
"Thank you for your kindness and your foresight to recognize the needs of our students and fill those needs. I want you to know that our little corner of the world recognizes and appreciates it more than you will ever know."

Shannon Gilkerson, Special Ed teacher and grant recipient



Auf Wiedersehen…Swish


The Foundation lost two special friends last week, but their work continues. Read more.



Midday with the ENF


Join the ENF for lunch! Listen to Midday with the ENF, the ENF's new monthly podcast—hosted by Director Jim O'Kelley and sidekick, Assistant Director Debbie Doles—features stories, jokes, and an inside look into ENF programs.

Click here to listen to the first episode about the Hoop Shoot!