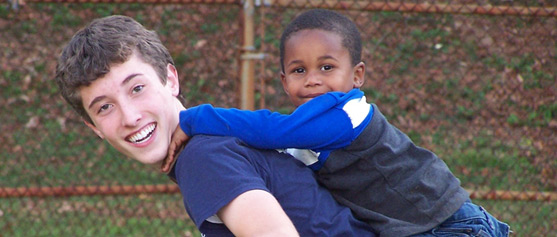 Foundation News
Just Keep Swimming: A Gratitude Grant Project
(posted 04/26/2017)
Learn how a Gratitude Grant empowered St. George Dixie, Utah, Lodge No. 1743 to create the Flying Fish program. The program provides children and adults with disabilities access to quality recreational programming while building necessary physical, social, communication and life skills. To learn more, click here!
Conquer It
(posted 03/09/2017)
Meet the 2017 Hoop Shoot National Finals Keynote Speaker. Click here to read more.
Listen to the new episode of Midday!
(posted 02/03/2017)
There's something not quite right about this episode, but never mind that. The show is filled with great Hoop Shoot stuff as Billy Donnelly joins Jim and Debbie to preview the upcoming Finals. To listen, click here!
2017 Legacy Awards Contest
(posted 12/19/2016)
Do you know a high school senior who is the child or grandchild of an Elks member? Encourage them to apply for the Legacy Awards contest. Applications are due online on February 3, 2017 at 11:59 a.m. Central Standard Time.
Working Hand in Hand
(posted 12/13/2016)
Meet Rick and Patti Baccus of Bristol County, R.I., Lodge No. 1860, who together help enhance the power of Lodges through their charitable support of the Elks National Foundation. Click here to read the full story.

Online Application Improves Access!
(posted 12/08/2016)

The new online Most Valuable Student application was a hit with scholarship seekers. Click here to read the full story.

Hot off the Press--Heartbeat: Fall 2016
(posted 11/10/2016)

Heartbeat: Fall 2016, the Elks National Foundation's quarterly newsletter, is now online! Catch up on the latest ENF news.

2017 Scholarship Contests are Under Way
(posted 09/02/2016)

The 2017 MVS and Legacy Awards scholarship applications are now available.

2016-17 Grants
(posted 06/30/2016)

All 2016-17 Community Investments Program grant applications are available online. Please note the Freedom Grant Deadline was July 31, 2016.

Click here to get started!

CIP Outgrew its Website!
(posted 06/10/2016)

The Community Investments Program webpages have been updated. Click here to see what's new.

Elks National Convention—ENF in Houston
(posted 05/31/2016)

Houston, we have an answer! Find out everything the ENF has planned for the Elks National Convention, click here to learn more.

Won't You Be My Neighbor?
(posted 05/11/2016)

The multi-talented Maryann Slater returns to the show to preview the Leadership Weekend, recap the Dallas service trip, talk about homelessness, and sing an original song. Jim, meanwhile, overbids at an auction. Click here to listen to the latest episode of the Midday podcast.

ENF in Your State
(posted 04/27/2016)

Each year, the ENF strives to give back more to each state than it received from that state in donations. Click here to see how the ENF is helping your state this year.

Get Social—Read the ENF Blog
(posted 04/27/2016)

Keep up with the ENF by reading first person stories from ENF volunteers, Elks scholars and ENF staffers. Click here to stay connected.

The Grateful Twenty!
(posted 04/01/2016)

Move over, Hateful Eight! It's time for the 20 Most Valuable Student finalists to shine.

Results from Chicago: 2016 Hoop Shoot National Finals
(posted 04/01/2016)

Click here to meet the 2016 Frank Hise National Champions.

Time is running out!
(posted 03/30/2016)

To donate before the 2016 fiscal year ends, click here! Online donations must be submitted by 11:59 p.m. Central on March 31 to count toward the 2015-16 fiscal year.

InstaGrants!
(posted 03/07/2016)

Beacon Grants offer Elks an opportunity to engage a local community by actively serving those in need. Check out the InstaGrants for easily adaptable and highly successful Lodge grant projects.

Don't miss the opportunity, applications are due online on March 31, 2016.

Featured Beacon Grant in Action
(posted 02/09/2016)

Morehead City-Beaufort, N.C., Lodge No. 1710 welcomes veterans and other individuals who are suffering from homelessness into transitional housing by preparing the homes to be lived in. Elks will use a Beacon Grant to purchase all household and furniture items on a case-by-case basis. Lodge members will also make small household repairs to ensure their new homes are as welcoming as possible.

Arm or Head?
(posted 02/04/2016)

Kevin Laue, the 2016 Hoop Shoot National Finals Keynote Speaker has shown grit from the start, having to battle for his life before he even entered the world. Kevin has played basketball his entire life overcoming many obstacles along the way, he found success on and off the court ultimately playing division one basketball at Manhattan College.

Scholars Shine on the Bay
(posted 01/15/2016)

Nineteen Elks scholars spent a week serving the Bay Area in the name of the Elks.

Website Makeover!
(posted 12/24/2015)

The ENF Website has been updated! View this article to read about all of the changes.

Former Hoop Shoot National Finalists have Shared the Court since '74
(posted 12/08/2015)

College basketball coaches Steve Alford and Chris Mullin have been sharing the court since the 1974 Hoop Shoot National Finals—see what happened when they met at the Maui Invitational.

Mentorship and Practice Lead to Success at Local Elks Hoop Shoot
(posted 11/30/2015)

Generous Neighbors Warm Homeless Vets and brighten the Elks Memorial Building
(posted 11/18/2015)
---
Back to top