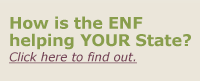 ---
"Thank you very much. I might not be in the financial position to go to college if it weren't for your help. The scholarship has given me the opportunity to do great things at the University of Wisconsin-Oshkosh."

Order ENF Supplies
If you'd like to use the materials listed here to promote the ENF in your Lodge, click here to order them, free of charge.
Promote the ENF
Looking for ways to promote the ENF to your Lodge or community? This page contains everything you need to talk about the ENF, from our brochures to our latest press releases.
News to Use
Use these articles in your Lodge newsletter to promote the ENF and these speaking points to talk about the ENF and the Elks.
ENF Video
Brief steaming video highlighting the ENF and its programs. Use at Orientation to introduce the ENF to new Elks members.
2012-13 ENF Annual Report
In the ENF's latest annual report, you'll read program highlights, find financial information and see lists of those who help us fulfill our mission in the Donor Honor Rolls.
Heartbeat
Heartbeat is the ENF's quarterly newsletter. It includes program, donor and volunteer features, as well as donor honor rolls. Read the latest issues online!
2014-15 Grants and Appropriations
A breakdown of our distributions. (PDF File)
ENF Brochures and Buckslips
Browse all of the brochures the ENF offers to find information on ENF programs, ways to give and recognition. Also, check out the buckslips that can be included in mailings to encourage members to donate to the ENF.
ENF Logos
Use these logos in your communications about the ENF.
Photo and Video Guidelines
Follow these guidelines to take engaging, high quality photos that tell your story. You could be profiled on the ENF website or in an ENF publication!
2014 Elks National Convention Presentations
Check out the ENF presentations given at the 2014 Elks National Convention in New Orleans.
ENF Programs and Membership
Watch this series of panels from past Conventions that demonstrate how Lodges can use ENF programs to both build stronger communities and encourage community members to join the Elks.
---
Back to top