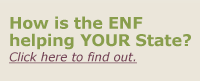 ---
"I'm going to Rose-Hulman Institute of Technology in Terre Haute, IN. I'm most looking forward to the rigorous engineering coursework, the new friendships I'll make, and the weather change from Florida. The MVS Scholarship will help me by allowing me to dive into my academic work at Rose-Hulman and run for the cross country team without the burden of a part-time job. I will also be able to continue my musical interests in my free time, so the MVS Scholarship will allow me to continue to pursue my passions in college without dire financial stress."

ENF Donor Bill of Rights
The Elks National Foundation considers philanthropy to be a voluntary action for the public good. It is this tradition of giving and sharing that drives and supports our work. To assure that our donors can have full confidence in the ENF and the programs we ask them to support, we declare that all of our donors have the following rights:
To be informed of the Elks National Foundation's mission, of the way we intend to use donated resources, and of our capacity to use donations effectively for their intended purpose.

To be assured their gifts will be used for the purposes for which they were given.

To receive appropriate acknowledgment and recognition.

To feel free to ask questions when making a donation and to receive prompt, truthful and forthright answers.

To be informed of the identity of those serving on the Elks National Foundation's governing board, and to expect the board to exercise prudent judgment in its stewardship responsibilities.

To have access to the Elks National Foundation's most recent financial statements.

To be assured that information about their donations is handled with respect and with confidentiality to the extent provided by the law.

To expect that all relationships with individuals representing the ENF will be professional in nature.

To be informed whether those seeking donations are volunteers, employees of the Elks National Foundation or hired solicitors.
---
Back to top