Midday with the ENF: 2017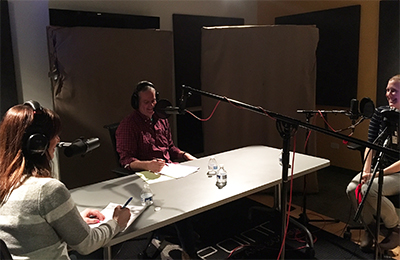 Join the ENF for lunch! Listen to the latest episodes of Midday with the ENF. The Elks National Foundation's monthly podcast--hosted by Jim O'Kelley and sidekick Debbie Doles--features stories, jokes, and an inside look at ENF programs.
Have a question or comment? Send it to the Midday Mailbag by emailing enf@elks.org with subject Midday.
On the go? You can also subscribe to Midday with the ENF through iTunes.
---
Episode 33: February 2017 | Won't You Be My Neighbor?
The multi-talented Maryann Slater returns to the show to preview the Leadership Weekend, recap the Dallas service trip, talk about homelessness, and sing an original song. Jim, meanwhile, overbids at an auction.
Show Notes
Here are the links to web pages and videos mentioned in the February episode of Midday.
Tribeca Flashpoint College. (This episode was produced by students Evan Ullrich and Matthew Ybarra.)
The Community Investments Program.
Legacy Awards for children and grandchildren of Elks.
An O'Kelley family staple. (Even though they keep dumping Jim's favorite dishes.)
Donate $100 to the Hoop Shoot by March 20; get your name in the program book for the National Finals.
The Elks Hoop Shoot.
Learn more about Meghan's gig at Girls in the Game.
It was the morning after a night out. Pete Rose, of course, is not a Hall of Famer.
Take your auction to the next level with Bidding for Good.
The Most Valuable Student scholarship program.
The Leadership Weekend.
A recap and reactions from the Dallas service trip, plus more info about the organization we served with. Links to related videos can be found here as soon as they're available.
Electronic copies of our quarterly Heartbeat newsletter.
Want to learn more about the Spring trip to New Orleans?
Want a scholar to speak at your event?
Details about the Summer service trip.
Check out what's in store for San Antonio!
Schedule of upcoming Regional Hoop Shoot contests.
Jim is normally pretty good at addition, but there are 16 Griteos, not 14.

---
Episode 32: January 2017 | We're Not Ogres
Colleen Muszynski joins Jim and Debbie for a final push to the 2017 grant season. Lots of great grant ideas in this episode.
Show Notes
Here are the links to web pages and videos mentioned in the January episode of Midday.
Tribeca Flashpoint College. (This episode was produced by students Evan Ullrich and Matthew Ybarra.)
The Community Investments Program.
Gratitude Grants.
Beacon Grants.
The Hoop Shoot program.
Meet the Regional Directors of the Hoop Shoot program.
A few short videos about engaging Elks scholars.
More info about specific scholar engagement initiatives.
See which Lodges in your state are taking advantage of CIP grants.
The Field Guide and other great CIP resources.
Instagrants: Beacon Grant ideas.
Instagrants: Gratitude Grant ideas.
Contact the CIP Ogres: 773/755-4730, ENFPrograms@elks.org

---
Archives:
---
Back to top