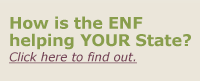 ---
"Thank you for your kindness and your foresight to recognize the needs of our students and fill those needs. I want you to know that our little corner of the world recognizes and appreciates it more than you will ever know."

Shannon Gilkerson, Special Ed teacher and grant recipient


ENF Scholarship Winner Testimonials
Performance for a Lifetime
Eric Ferring, a 2010 Most Valuable Student scholar, has a lifelong passion for music, which has led him to pursue a career as an opera singer.
Head and Heart
Anna Vande Velde, a 2013 Emergency Educational Grant recipient, is using her talents, and her ENF scholarship, to help those with cognitive disabilities.
A Life of Service
Join us in welcoming the 2014 Elks Alum of the Year—Kelly Ryan Murphy, who has dedicated her life to service through medicine. Read her story.
ENF Volunteer Testimonials
Fundraising Keys to Success
Are you looking for ways to improve your fundraising efforts in the upcoming fiscal year? Maybe you'd like some words of wisdom as you pass the fundraising torch in 2014-15. Read some advice from fellow ENF Fundraising Chairs!
Brian Lawrence
Westbrook, Conn., Lodge No. 1784
After seven years as Lodge ENF Fundraising Chair, Brian Lawrence knows that stronger communities start with a winning team. Read about his strategy.
Tom Conlon
Fullerton, Calif., Lodge No. 1993
State ENF Fundraising Chair Tom Conlon promotes the ENF Fidelity Club in his state. Read how he encourages members to sign up for this safe, reliable giving program.
ENF Donor Testimonials
What's in a Name?
Read how the MVS Named Scholarship Program enhances Elks scholars' experiences within the Elks family.
eBay and the ENF
Damon Lenk, a member of Bristol, Conn., Lodge No. 1010, sells American flags online to support the ENF. Read more to find out how!
Motivate, Move, Match
See how Cynthiana, Ky., Lodge No. 438 used a volunteer-hour matching program to raise more than $9,000 for the ENF.
---
Back to top