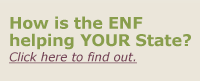 ---
"I just wanted to say how much I appreciate being awarded one of the Most Valuable Student scholarships. It will go a long way towards helping me obtain my education."


ENF Scholarship Winner Testimonials
SAB Spotlight: Jesse LeBeau
Read more about Jesse LeBeau, the 2013 Elks Alum of the Year and Scholar Advisory Board Member.
A Zeal for Wheels
Elks scholars have a knack for knowing how to strengthen their communities. Read about Emergency Educational Grant recipient Bryce Davis and how he shares his passion for bikes with others.
SAB Spotlight: Sean Pringle
Read about Sean Pringle, the senior representative on the Elks Scholar Advisory Board and a student at Cal Poly.
ENF Volunteer Testimonials
Brian Lawrence
Westbrook, Conn., Lodge No. 1784
After seven years as Lodge ENF Fundraising Chair, Brian Lawrence knows that stronger communities start with a winning team. Read about his strategy.
Tom Conlon
Fullerton, Calif., Lodge No. 1993
State ENF Fundraising Chair Tom Conlon promotes the ENF Fidelity Club in his state. Read how he encourages members to sign up for this safe, reliable giving program.
Susan Markle
Hesperia, Calif., Lodge No. 2646
To show members how donations to the ENF build stronger communities, Lodge ENF Chair Susan Markle champions Community Investments Program grants. Read her story.
ENF Donor Testimonials
What's in a Name?
Read how the MVS Named Scholarship Program enhances Elks scholars' experiences within the Elks family.
eBay and the ENF
Damon Lenk, a member of Bristol, Conn., Lodge No. 1010, sells American flags online to support the ENF. Read more to find out how!
Motivate, Move, Match
See how Cynthiana, Ky., Lodge No. 438 used a volunteer-hour matching program to raise more than $9,000 for the ENF.
---
Back to top