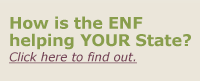 ---
"I have always defined the American Dream as the ability to present better opportunities for your children than you were offered. The Elks National Foundation has helped make this dream come true for my family. Thank you so much, Elks National Foundation, for your generous scholarship and endorsement of the American Dream."


ENF Scholarship Winner Testimonials
A Winning Smile
We're happy to announce that 2009 Legacy scholar Lauren Kuhn will be sharing her positive message with the 72 finalists and their families as the keynote speaker at the 2015 Hoop Shoot National Finals in Springfield, Massachusetts, this April.
Legacy Scholars Love Serving with their #ElksFamily
Check out this infographic of what Legacy scholars are saying about serving with the Elks.
Catching Up with the 2014 MVS Top Winners
We checked in with Eric Kim and Autumn Pack, the 2014 MVS Top Winners, to hear how their first semester at college went!
ENF Volunteer Testimonials
Recruit, Retain, Repeat
You recruited a new donor. The next step is to get this donor to give again. Easier said than done! Read Lodge ENF Fundraising Chairs Carolyn Coburn and Earl Schellman's top five tips on retaining donors.
Fundraising Keys to Success
Are you looking for ways to improve your fundraising efforts in the upcoming fiscal year? Maybe you'd like some words of wisdom as you pass the fundraising torch in 2014-15. Read some advice from fellow ENF Fundraising Chairs!
Brian Lawrence
Westbrook, Conn., Lodge No. 1784
After seven years as Lodge ENF Fundraising Chair, Brian Lawrence knows that stronger communities start with a winning team. Read about his strategy.
ENF Donor Testimonials
What's in a Name?
Read how the MVS Named Scholarship Program enhances Elks scholars' experiences within the Elks family.
eBay and the ENF
Damon Lenk, a member of Bristol, Conn., Lodge No. 1010, sells American flags online to support the ENF. Read more to find out how!
Motivate, Move, Match
See how Cynthiana, Ky., Lodge No. 438 used a volunteer-hour matching program to raise more than $9,000 for the ENF.
---
Back to top