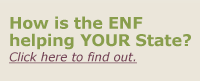 ---
"It is the generous donors like yourselves that allow so many young individuals to make their dreams come true. I feel extremely privileged to be selected as one of the recipients of the ENF Legacy awards."

Allyson Wehrheim, Scholar

ENF Scholarship Winner Testimonials
Serving from Coast to Coast
We are proud to announce Meagan Fuller as the 2015 Elks Scholar Alum of the Year! Read more about her.
2014 ENF Cornerstone Grants
In 2014-15, the Elks National Foundation awarded four $500 Cornerstone Grants to partner with Legacy scholars in service to their Lodge communities. Read how Legacy scholar Krystyna Farrell used her Cornerstone Grant to help build stronger communities.
Elks Scholars Hit Nothing But Net
Elks scholars recently attended the 2015 Elks Hoop Shoot National Finals. Read all about it!
ENF Volunteer Testimonials
Recruit, Retain, Repeat
You recruited a new donor. The next step is to get this donor to give again. Easier said than done! Read Lodge ENF Fundraising Chairs Carolyn Coburn and Earl Schellman's top five tips on retaining donors.
Fundraising Keys to Success
Are you looking for ways to improve your fundraising efforts in the upcoming fiscal year? Maybe you'd like some words of wisdom as you pass the fundraising torch in 2014-15. Read some advice from fellow ENF Fundraising Chairs!
Brian Lawrence
Westbrook, Conn., Lodge No. 1784
After seven years as Lodge ENF Fundraising Chair, Brian Lawrence knows that stronger communities start with a winning team. Read about his strategy.
ENF Donor Testimonials
What's in a Name?
Read how the MVS Named Scholarship Program enhances Elks scholars' experiences within the Elks family.
eBay and the ENF
Damon Lenk, a member of Bristol, Conn., Lodge No. 1010, sells American flags online to support the ENF. Read more to find out how!
Motivate, Move, Match
See how Cynthiana, Ky., Lodge No. 438 used a volunteer-hour matching program to raise more than $9,000 for the ENF.
---
Back to top