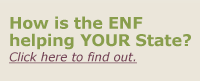 ---
"I would like to thank you for the Legacy Award scholarship I have been awarded. I am grateful for all the Elks do in helping young people like me pursue an education."


ENF Scholarship Winner Testimonials
SAB Spotlight: Olivia Valdes
Read all about Olivia Valdes, a sophomore at Yale University at the At Large representative on the Elks Scholar Advisory Board.
Meeting the Family
Family gatherings are full of laughter, food and good conversation. The same is true for Elks family gatherings! Elks scholars are getting together with their Elks family across the country and learning how Elks help build stronger communities. Read about two successful get-togethers.
It Is Easy Being Green
Would you grow algae under your bed in the name of science? 2013 MVS scholar Sara Volz wouldn't think twice about it! Read how she is conducting groundbreaking research in the hopes of using algae as an alternative fuel source.
ENF Volunteer Testimonials
Matthew Holmy
Long Beach, Wash., Lodge No. 1937
Knowing important ENF information, using ENF reports, and updating their ENF in Our Lodge poster help Lodge ENF Chair Matthew Holmy keep members excited in support of the ENF. Read more about Holmy's three keys to success.
Patricia Millinghausen
Mount Holly, N.J., Lodge No. 848
By educating and including new, lapsed and repeat ENF donors, Lodge ENF Chair Patricia Millinghausen has helped her Lodge meet many of its fundraising and service goals for the 2013-14 fiscal year. Read what else she attributes to this success.
LeRoy Olson
Fallon, Nev., Lodge No. 2239
Halfway through a successful first year as Lodge ENF Chair, Olson looks forward to his Lodge's October Murder Mystery Dinner fundraiser. Read about the fundraiser and Olson's plans for the Fallon Lodge.
ENF Donor Testimonials
What's in a Name?
Read how the MVS Named Scholarship Program enhances Elks scholars' experiences within the Elks family.
eBay and the ENF
Damon Lenk, a member of Bristol, Conn., Lodge No. 1010, sells American flags online to support the ENF. Read more to find out how!
Motivate, Move, Match
See how Cynthiana, Ky., Lodge No. 438 used a volunteer-hour matching program to raise more than $9,000 for the ENF.
---
Back to top