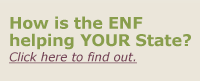 ---
"The generosity of your organization is incredible, and makes a huge difference in the lives of college-bound students like myself. Your mission, kindness, and dedication to the community are truly something to look up to."



Elks Hoop Shoot Finals Results


Congratulations to all Elks Hoop Shoot National Finalists! Click here to see the official contest results.Then, click here to check out photos from the Finals.



A New Record!


Thank you to everyone who donated to the ENF in 2014-15. We received more than $6.2 million in donations, resulting in a nationwide per capita of $7.726. In total we raised a record $11.3 million—all to support stronger communities! Congratulations to the 2014-15 Per-Capita and Chair Challenge Contest winners! Click here to view the final contest results.