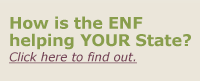 ---
"I want to thank you so very much for giving me this opportunity to experience college at such a wonderful institution. All of the help I have received from the Elks Foundation has helped me to be where I am today."



2013-14 Fiscal Year Totals


Thanks to our generous donors, the Elks National Foundation raised a record $7.459 per member in the 2013-14 fiscal year! Click here to view year-end totals for your Lodge, district and state.



Hoop Shoot Final Results


The 72 Hoop Shoot National Finalists hit nothing but net at the Hoop Shoot National Finals in Springfield, Massachusetts! Click here to view the final 2014 contest results.