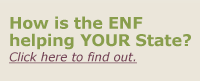 ---
"I am eager to get involved in the outstanding work of the Elks Foundation. As I entered the application process, I began to understand clearer what the Elks strive to achieve and the difference that the Foundation makes across the country, and even the world. I excitedly anticipate the Elks Month of Service, and connecting with the Elks members and scholars in the area of my college. I am an individual committed to academic excellence and community welfare. I care. I share. I am an Elks Scholar."



2015-16 Grants and Appropriations


The Elks National Foundation is pleased to announce that the approved appropriations and distributions for the 2016 fiscal year equal a record total of $28.95 million. Click here for full details.



Midday with the ENF


Join the ENF for lunch! Listen to Midday with the ENF, the ENF's new monthly podcast, hosted by Director Jim O'Kelley and sidekick, Assistant Director Debbie Doles.

Tune in to hear exciting announcements about the upcoming fiscal year.