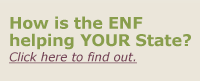 ---
"This scholarship means that I will be able to focus on my studies, participate in campus activities and engage in my new college community without having to worry about financing my college education. I have always been an active participant in my local community and this will allow me to continue my community involvement even as I begin my college career."



Midday with the ENF


Missed the Convention? Tune in to episodes 11 to 15 of Midday and you'll feel like you were there. Those episodes were recorded daily from the exhibit hall in Indy. Tune in!



Impact Grant-ness


Last year's Impact Grant results are now in, and they're impressive! Read all about the accomplishments of the Impact Grant Lodges here.

The 2016 Impact Grant applications are now available! For more information head over to the Impact Grant page.