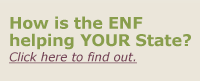 ---
"I received a scholarship from the Elks last year and I just wanted to say thanks again. I can not explain the amount of help this scholarship has given me."



Legacy Scholars Love Serving with their Elks Family


Elks scholars are committed to service and to their Elks family. Click here to see what Legacy Awards recipients are saying about serving with the Elks.



Midday with the ENF


Join the ENF for lunch! Listen to Midday with the ENF, the ENF's new monthly podcast, hosted by Director Jim O'Kelley and sidekick, Assistant Director Debbie Doles.

Tune in to hear Jim and Debbie's year in review, and learn how you can get an on-air shout out.