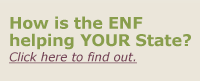 ---
"Thanks so much for enabling our Lodge to make a huge difference in the lives of 215 children and their families. I know our Lodge members also helped enormously. That is what Elkdome is all about."

Karen Gleason, Grants Coordinator



Midday with the ENF


Follow the 2015 Elks National Convention, live from Indy with daily episodes of Midday. Tune in to the July episodes of Midday!



Impact Grant-ness


Last year's Impact Grant results are now in, and they're impressive! Read all about the accomplishments of the Impact Grant Lodges here.

The 2016 Impact Grant applications are now available! For more information head over to the Impact Grant page.