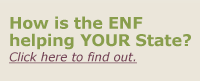 ---
"The Lodge is very proud of this project and has overwhelming support for its continuation. Elks in action, in our community helping kids and their families!"

Doug Schiefer, CIP Project Manager



Midday with the ENF


Join the ENF for lunch! Listen to Midday with the ENF, the ENF's new monthly podcast—hosted by Director Jim O'Kelley and sidekick, Assistant Director Debbie Doles—features stories, jokes, and an inside look into ENF programs.

Click here to listen to the most recent episode about ENF Impact Grants!



ENF Film Fest


Grab some popcorn. It's time for an ENF film fest! Click here to watch the digital versions of the six films found on the ENF Film Fest DVD your Lodge received in early November 2014.