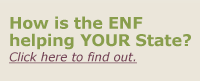 ---
"I am very honored to be a member of the Elks family and thankful to be a recipient of a scholarship to aid me in my pursuit of higher education."



Midday with the ENF


Join the ENF for lunch! Listen to Midday with the ENF, the ENF's new monthly podcast—hosted by Director Jim O'Kelley and sidekick, Assistant Director Debbie Doles—features stories, jokes, and an inside look into ENF programs.

Click here to listen to the most recent episode about ENF Impact Grants!



Show your ENF Spirit!


Click here to download the #ElksFamily pennant.

Then, print the pennant. Take a photo of Lodge members with the pennant at an Elks' event. Share your ENF pride this ENF Month by posting your photo on the ENF Facebook timeline!