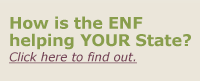 ---
"I'm simply planning on taking part in the great pursuit of knowledge of any subject that may pique my interest, no matter if it is history or science, nor if I am eighteen or eighty, and this scholarship is helping me pursue those aspirations."



25 Lodges in 25 Days


Join our countdown to the 2015 Impact Grant announcement on October 29! Each day until then, we'll feature a Lodge that has a built stronger community thanks to an ENF Impact Grant!

Mid-Westchester, N.Y., Lodge No. 535 uses its Impact Grant to take teens with disabilities out on the town.

Click here to read the full story.



Show your ENF Spirit!


Click here to download the #ElksFamily pennant.

Then, print the pennant. Take a photo of Lodge members with the pennant at an Elks' event. Share your ENF pride this ENF Month by posting your photo on the ENF Facebook timeline!