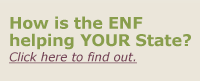 ---
"I am diving into studies that interest me, and I am reaching my goals and fulfilling dreams, and none of this would be possible without my friends through the Elks!"



Behind the Scenes


For a behind the scenes look at our #TrueGritTuesdays series, check out the ENF blog and hear from our director.



Midday with the ENF


In our 19th episode of Midday, Friend of the Show Mary Morgan, the director of the Elks National Veterans Service Commission, joins Jim and Debbie to talk about the Elks' commitment to help the Veterans Administration eliminate the scourge of homelessness. Tune in.