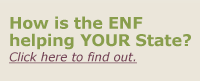 ---
"I am very thankful for your generous donation to my education."



ENF in Your State


Each year, the ENF strives to give back more to each state than it received from that state in donations. Click here to learn how the ENF is helping your state this year.



Apply for a Gratitude Grant


Did your Lodge meet the National President's per-member-giving goal in 2012-13? There is still time to apply for a Gratitude Grant! Applications are due online May 31. Click here to get started today.