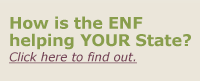 ---
"This scholarship is made possible by thousands of Elks from across the country, just like my grandfather. To me, this means the world, for it is not just one person taking a personal interest in my collegiate and lifelong success, but thousands. The Elks has always been a place of fond family memories for me, and I will do the best to uphold the morals and lessons I was taught growing up at the Elks."



Midday with the ENF


This month's Midday with the ENF, a podcast about the Elks National Foundation, features a convention preview as well as some hot tips about Indianapolis. Tune in to the June episode of Midday!



Impact Grant-ness


Last year's Impact Grant results are now in, and they're impressive! Read all about the accomplishments of the Impact Grant Lodges here.

The 2016 Impact Grant applications are now available! For more information head over to the Impact Grant page.