The BackBoard
The Hoop Shoot Alumni Advisory Board, a.k.a. the BackBoard is made up of past National Finalists. They will join us for the Hoop Shoot National Finals where they serve as volunteers, leaders, and role models to the 72 National Finalists.
Stay tuned to meet the 2024 BackBoard!
Additional Alumni Opportunities
Rebounders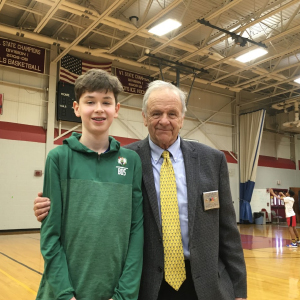 Too old to compete and too young to serve on the BackBoard?!
Rebounders
offer Hoop Shoot alumni the opportunity to stay involved by serving at their Lodge, District, State and Regional contests. For more information, please contact us at
hoopshoot@elks.org
.
Jacobi Lafferty, a 2017 Hoop Shoot National Champion and 2023 Legacy Awards scholar, volunteered at the Vermont State Contest as a Rebounder. Read Jacobi's blog, "Sometimes You Miss Your First Shot," on the Elks National Foundation Blog.
Contact the Hoop Shoot office at hoopshootd@elks.org if you have any questions or would like further information.
Back to top