We know Elks scholars are dedicated to service. Now, you have the opportunity to come together in service with your Elks scholar peers. In 2018-19, the Elks National Foundation will offer three Elks Scholar Service Trips for up to 20 Elks scholars each in the summer, winter and spring. These trips will offer you the opportunity to learn about societal issues, serve those in need in the name of the Elks, and connect with your Elks Family from across the country.
Upcoming Elks Scholar Service Trips

The Winter Elks Scholar Service Trip will take place in Biloxi, Miss. from January 6-12, 2019. We will be partnering with various organizations that serve the Mississippi Gulf Coast Region. We will be staying at a picturesque camp on the water and will engage in meaningful programming and reflection to help us process the week. Be sure to follow @ElksScholars on Instagram and Twitter and like the Elks National Foundation Scholars Facebook page to stay updated on your #ElksFamily as we take action in Biloxi.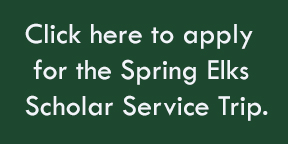 The Spring Elks Scholar Service Trip will take place in Portland, Ore. from March 10-16, 2019. In addition to serving the Portland community through various local organizations, we'll engage in meaningful programming and reflection each night to help us process the week. If you want to spend a week learning, serving and connecting with your #ElksFamily, join us as we head to the Pacific Northwest. The application will open November 5, 2018 and close January 14, 2019.
Eligibility requirements:
Any Elks scholar 18 and older by the start of the trip is eligible to apply.

You are responsible for planning, booking, and covering the cost of your travel to the trip location.

If selected, you must provide a $50 participation fee within seven days of acceptance to the trip. Other trip costs will be covered by the Elks National Foundation including housing and food.

You should expect to work from approximately 8:00 a.m. to 5:00 p.m. on work days. Detailed schedule to follow.

You must be available for the entire duration of the trip.
Additional Elks Scholar Service Trip Information
---
Back to top