"You have a need, talk to the Elks."
A Resilient Recovery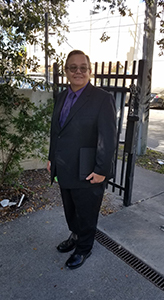 When Toby was a teenager, he tore several tendons in his left knee while sledding, leaving him with a zipper-like scar. Putting his injury behind him, he graduated from high school and, within 10 days, joined the Navy.
A passionate photographer, Toby had heard the Navy's photography school was second-best in the nation at the time. He planned to train as a Navy photographer and serve for five years, but he never made it to school. When Toby enlisted, no one questioned his medical records or knee injury, and all went well until a doctor noticed Toby's scar during a routine physical.
"He twisted my leg every which way but loose and said that I would be discharged," Toby said.
Learn how Toby carries on his passion here.
"You guys have enabled me to start even again."
Breaking the Cycle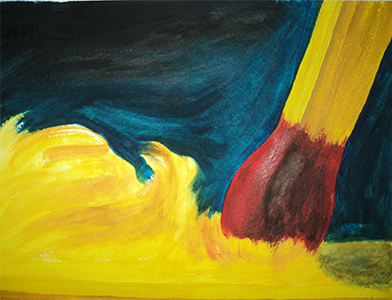 Some cycles are hard to break, especially the ones that are out of your control. After returning from the Marines in 1970, Thomas slipped into a comfortable life, but that changed just as he was preparing for retirement. Thomas had been living in Connecticut near his sister and had worked rehabbing and flipping houses before he decided to pack up and move to Florida to prepare for retirement. That is until he was diagnosed with Crohn's Disease.
Learn how Thomas broke the cycle here.
"The wake-up call hit."
Chasing Truth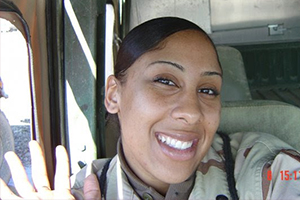 College. Four years of young adults indulging in mistakes, learning and discovery. Nicole couldn't afford college, so she joined the Army. She couldn't make mistakes. She learned more truths about the world than she was ready for, and she never had the chance to find herself.
"I spent my 21st birthday there," Nicole shares. "I saw a lot of things that made me grow up and realize what the world was about—not just where I'm from—and how people in other countries don't even have basic rights."
Two years after Nicole joined the Army, she was deployed for Operation Iraqi Freedom, a war that went on to take the lives of tens of thousands of people. Nicole summarizes the experience with one word: traumatic. While serving, Nicole earned her associate degree in human resources. After returning to the States, Nicole began living a life she didn't want.
Learn how Nicole re-routed her life to find her truth here.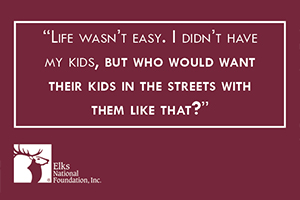 "I felt like I was failing."
A Mother's Purpose
Before she walked across the stage at her high school graduation, Yvette lost her role model. Losing a mom can be devastating for young women especially before an important milestone in life. After realizing she wasn't ready for community college, Yvette sensed she was floundering. She couldn't go to her mother for advice, so instead, she turned to a memory.
"My mom always wanted me to join the military," Yvette shares. "I joined to make her proud."
Read how Yvette, a single mother, found herself living in a hotel with her two children until she heard about the Elks' Emergency Assistance Fund here.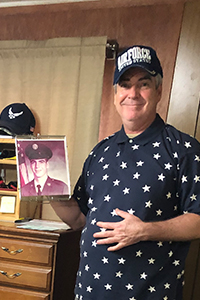 "I wasn't supposed to be here."
The Long Road Back
When Mike graduated high school, his father asked him a question: "Do you want to go to college, or do you want to join the military?
"And I said, 'Well, I already went to school for 13 years,'" Mike recalls.
Most of us take vivid memories like that for granted. Not Mike.
He enlisted the next day and served for two years as a computer operator at the Duluth Air National Guard Base. He left the service unscathed, but years later, while a civilian in Tampa, Florida, he wasn't so fortunate.
On January 3, 2017, Mike was attacked and nearly beaten to death. He was in a coma for more than two weeks, and then spent six months in a V.A. hospital. He had to relearn how to eat and swallow. He couldn't remember the people he loved. Not even his parents.
"I couldn't even tie my shoes," Mike says. "My mom had to buy me Velcro sneakers."
Click here to learn how Mike came back stronger than ever.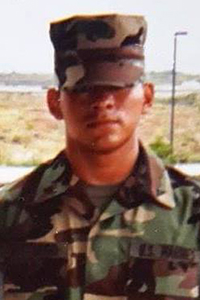 "I'm far from home."
Always Faithful
Daniel grew up in Baltimore, but the Marines took him to California. When he got out, he never left.
"Yeah, I'm far from home," he says in a statement that not so long ago would have been loaded with double meaning.
For a time, Daniel found himself camping out beside the Pacific Ocean with his six kids ranging in age from 5 to 14.
"The first week was good because we were right on the beach," chuckles Daniel, "but [the kids] got tired of it after a while. It was just kind of cramped up."
Read how Daniel's family left the beach and started building a life that's closer to home here.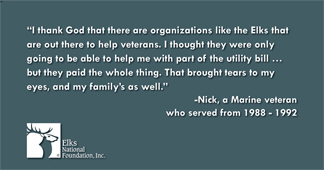 "The future looks bright again."
Badges of Honor
Like his father and grandfather before him, Nick served our country. But he was the first Marine in the family, and Nick wore that like a badge of honor.
Nick served from 1988 to 1992. During the first Gulf War, he earned another badge of honor—the Purple Heart.
The wound didn't stop Nick from serving an additional four years in the reserves. Meanwhile, back home in California, he started work as a security guard at his dad's office. The job paid the bills, but he kept his eyes open for something better. Eventually he landed a desk job as a data entry clerk for an insurance company.
Work was steady. Nick put down roots near Bakersfield. He got married, started a family. And then, after 10 years with the insurance company, he was laid off. By then, Nick had two kids.
"Things were getting tougher for our family," he says.
Read Nick's story here.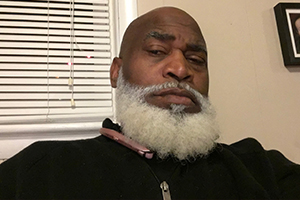 "I'm very, very happy."
Finding an Advocate
World War I veteran, journalist and award-winning novelist Ernest Hemingway said, "The world breaks everyone, and afterward, some are strong at the broken places."
Lionel is one of the stronger ones. An Army veteran who served in 1978, he's working to overcome strained relationships with his children by creating closer bonds with his grandchildren. He's also fighting through various hardships that have dogged him over the 40 years since he left the Army. Most recently, these hardships include recovery from two surgeries in 14 months. Through it all, he grows stronger.
"The greatest part about all this is I've been growing the entire time," says Lionel, who lives in Seattle. "If it wasn't for the V.A. and for this program, and other programs like yours, I wouldn't be lying in my bed right now in my warm apartment."
Read the rest of Lionel's story here to see what the Elks mean to him.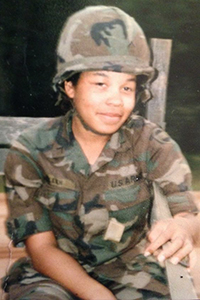 "All I needed was a month."
Right Place, Right Time
The uncertainty in Felicia's life began when the call center that she'd worked at for five years closed. Three decades after serving six years in the Army at bases as close to home as Fort Campbell, Kentucky and as far as Anchorage, Alaska, Felicia found herself unemployed, taking small jobs just to make ends meet.
"I exhausted my unemployment benefits," Felicia says. "It was the last straw."
The Elks helped Felicia recover. The emergency assistance helped pay her rent, she secured a job at a Navy base, and has "been great ever since." Now, she's focused on her new job and what's next. She plans to finish her final semester of classes to receive her bachelor's degree in social work. Then, she hopes to work for a nonprofit health agency.
"I just want to give back," Felicia says. "That's what I see for my big picture."
Read how the Elks saved Felicia's life here.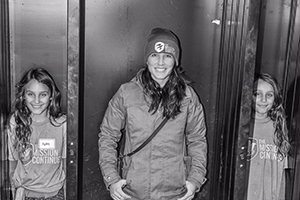 "I could live again."
New Beginnings
Rose loves being a mom to her 11-year-old twin daughters. Like most parents, Rose works day in, day out to keep the rent paid, the lights on and her children fed. Until there was one day when she couldn't.
"I've tried for so long to keep going," she says. "It finally just all caught up to me, and I wasn't able to make ends meet."
Rose served in the Marine Corps from 2003 to 2007. After completing her service, she studied at Gallaudet University in Washington, D.C., where she received a bachelor's degree in psychology. Rose was taking all the right steps in building a future for herself and her kids, all while fighting unshakable experiences from her past.
Read the rest of Rose's story here on how she overcame every setback with a little help from the Elks.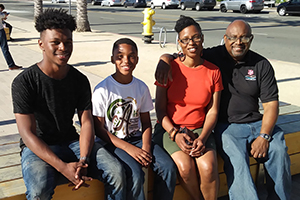 "People are that kind?"
Shining a Light
In the fall of 2018, Phil, a former airman in the U.S. Air Force at the Hill Air Force Base in Utah, confronted the possibility of being evicted. It would have forced him, his wife, Amy, and their two children to leave their home in San Diego, a city they'd grown to love over the past decade, and start over.
"I just didn't see a light at the end of the tunnel," Phil shares. "My wife and I, we were both concerned. … It felt bad. It did."
After Phil was laid off from his job, he started working for Uber to make ends meet and supplement his wife's full-time income. It was enough until a car accident cost him another job and pushed his family another step back. When his wife had a medical emergency that forced her out of work as well, the situation became dire.
Read Phil's entire story here to see how the Emergency Assistance Fund gave his family a new beginning.
Since July 2015, the Elks National Foundation has contributed $4 million to help end veteran homelessness. The money funds the Elks National Veterans Service Commission's Welcome Home initiative, which includes an Emergency Assistance Fund for veterans in eight metropolitan areas targeted by the V.A. for increased focus by the Elks. To date, the Elks have helped more than 1,350 veterans exit or avoid homelessness through emergency assistance. Learn more at enf.elks.org/WelcomeHome.