Be the Spark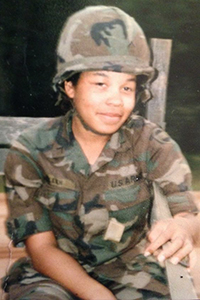 "All I needed was a month."
Right Place, Right Time
The uncertainty in Felicia's life began when the call center that she'd worked at for five years closed. Three decades after serving six years in the Army at bases as close to home as Fort Campbell, Kentucky and as far as Anchorage, Alaska, Felicia found herself unemployed, taking small jobs just to make ends meet.
"I exhausted my unemployment benefits," Felicia says. "It was the last straw."
The Elks helped Felicia recover. The emergency assistance helped pay her rent, she secured a job at a Navy base, and has "been great ever since." Now, she's focused on her new job and what's next. She plans to finish her final semester of classes to receive her bachelor's degree in social work. Then, she hopes to work for a nonprofit health agency.
"I just want to give back," Felicia says. "That's what I see for my big picture."
Read how the Elks saved Felicia's life here.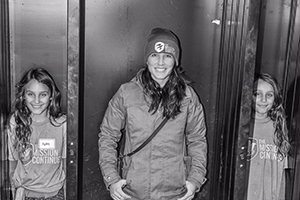 "I could live again."
New Beginnings
Rose loves being a mom to her 11-year-old twin daughters. Like most parents, Rose works day in, day out to keep the rent paid, the lights on and her children fed. Until there was one day when she couldn't.
"I've tried for so long to keep going," she says. "It finally just all caught up to me, and I wasn't able to make ends meet."
Rose served in the Marine Corps from 2003 to 2007. After completing her service, she studied at Gallaudet University in Washington, D.C., where she received a bachelor's degree in psychology. Rose was taking all the right steps in building a future for herself and her kids, all while fighting unshakable experiences from her past.
Read the rest of Rose's story here on how she overcame every setback with a little help from the Elks.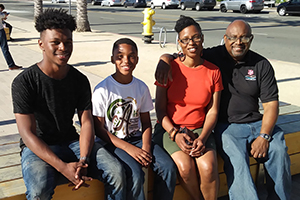 "People are that kind?"
Shining a Light
In the fall of 2018, Phil, a former airman in the U.S. Air Force at the Hill Air Force Base in Utah, confronted the possibility of being evicted. It would have forced him, his wife, Amy, and their two children to leave their home in San Diego, a city they'd grown to love over the past decade, and start over.
"I just didn't see a light at the end of the tunnel," Phil shares. "My wife and I, we were both concerned. … It felt bad. It did."
After Phil was laid off from his job, he started working for Uber to make ends meet and supplement his wife's full-time income. It was enough until a car accident cost him another job and pushed his family another step back. When his wife had a medical emergency that forced her out of work as well, the situation became dire.
Read Phil's entire story here to see how the Emergency Assistance Fund gave his family a new beginning.
Since July 2015, the Elks National Foundation has contributed $4 million to help end veteran homelessness. The money funds the Elks National Veterans Service Commission's Welcome Home initiative, which includes an Emergency Assistance Fund for veterans in eight metropolitan areas targeted by the V.A. for increased focus by the Elks. To date, the Elks have helped more than 1,350 veterans exit or avoid homelessness through emergency assistance. Learn more at enf.elks.org/WelcomeHome.
---
Back to top