Always Faithful
Daniel grew up in Baltimore, but the Marines took him to California. When he got out, he never left.
"Yeah, I'm far from home," he says in a statement that not so long ago would have been loaded with double meaning.
For a time, Daniel found himself camping out beside the Pacific Ocean with his six kids ranging in age from 5 to 14.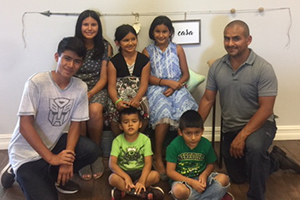 "The first week was good because we were right on the beach," chuckles Daniel, "but [the kids] got tired of it after a while. It was just kind of cramped up."
It wasn't the life he envisioned when, drawn by ads, he enlisted to follow in his brother's footsteps and help his parents pay the bills. He comes from a family with nine kids.
"It looked nice on TV," Daniel says. "The whole sense of pride."
Daniel served for five years, mostly at Camp Pendleton I Southern California. That's where he met his wife and started his own family. But his wife experienced depression, and eventually, they split up.
"[The kids] only see their mom once a week now," Daniel says.
Life was no day at the beach for the former Marine turned single parent, but he did what he could to get by.
"I have a good job, decent job," says Daniel, who works as an engineer for an internet satellite company. "I make enough to survive, but not enough to always make ends meet."
While his family was living near the coast, Daniel learned about HUD-VASH, a program that provides permanent supportive housing for eligible homeless veterans. The program helped him find affordable housing.
"It was a great relief and comfort," Daniel says. "It took some getting used to. It's so palatial compared with living in one room."
Stable housing addressed an immediate crisis, but Daniel was still struggling to keep up with bills. He was working 60 hours a week and trying to raise a family, too.
"They always have unexpected needs," Daniel says of his kids, "and there are things that I don't even think about until the last minute. When I talk to other single moms—there aren't as many single dads—they tell me how they look for the best bargain for things, but I don't have the time for all that."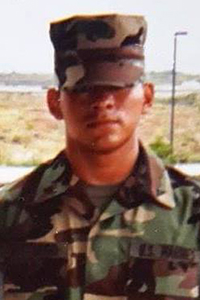 Daniel resisted the urge to work even longer hours—"There's plenty of opportunity for work."—so that he could be there for his children—for their school projects, to help with homework, to mentor and lead them. But eventually, the struggle bested him. Costly car repairs caused him to fall behind on rent. After all his hard work and effort, the family could face eviction. The outlook was gloomy.
Enter the Elks, like the bright California sunshine.
Daniel's social worker at the V.A. put him in touch with the Elks' Emergency Assistance Fund, which helps veterans living in the eight metropolitan areas targeted by the V.A. for increased focus by the Elks—Chicago, D.C., Loma Linda, Los Angeles, Miami, New York, San Diego and Seattle—exit or avoid homelessness.
The Elks paid Daniel's rent, providing much-needed stability at a critical moment.
"I work better alone than depending on someone else," Daniel offers. "As veterans, we do what we have to do, but it's nice when someone gives us a hand. It goes a long way."
Daniel is still fighting, but thanks to a timely intervention by the Elks, his efforts are paying off again. His kids are doing well in school. ("Their grades are progressively getting better," Daniel says.) They have their health.
And they have a dad who is teaching them to be responsible, to work hard, and to be faithful to one another always.
Daniel, meanwhile, hopes to continue his education and expand his opportunities. One day, he hopes to buy a house.
"I don't mind the struggle," he says. "[Veterans are] willing to work and do what we have to do. But getting help does make a difference."
And every day, Daniel gets a little closer to home.
Read more stories from the Be the Spark series about other veterans who've received assistance through the Emergency Assistance Fund here.
Since July 2015, the Elks National Foundation has contributed $4 million to help end veteran homelessness. The money funds the Elks National Veterans Service Commission's Welcome Home initiative, which includes an Emergency Assistance Fund for veterans in eight metropolitan areas targeted by the V.A. for increased focus by the Elks. To date, the Elks have helped more than 1,350 veterans exit or avoid homelessness through emergency assistance. Learn more at enf.elks.org/WelcomeHome.