"I felt like I was failing."
A Mother's Purpose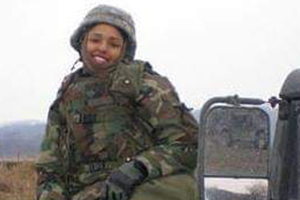 Before she walked across the stage at her high school graduation, Yvette lost her role model. Losing a mom can be devastating for young women especially before an important milestone in life. After realizing she wasn't ready for community college, Yvette sensed she was floundering. She couldn't go to her mother for advice, so instead, she turned to a memory.
"My mom always wanted me to join the military," Yvette shares. "I joined to make her proud."
Yvette served in the Army at Camp Casey in South Korea, then was transferred to Fort Benning before returning home to Chicago. When she stepped off the plane, she walked into a new life because, soon after, she learned she was pregnant with her first child. This moment marked the beginning of a world that revolved around her soon-to-be-born daughter.
Yvette started doing what she had to do to support her daughter as a single mother. She moved her family to Texas to become a certified medical assistant. After school, she and her daughter returned to Chicago, and Yvette started working full time. A few years later, she had her second child, a son. While Yvette rejoiced with her growing family, a new obstacle arose.
When she experienced homelessness for the first time, Yvette's main concern was the safety of her children. While her son stayed with his father, her daughter lived with a relative. During this time, Yvette was "staying here and there" while she worked on rebuilding her life.
"Life wasn't easy," Yvette shares, "I didn't have my kids, but who would want their kids in the streets with them like that?"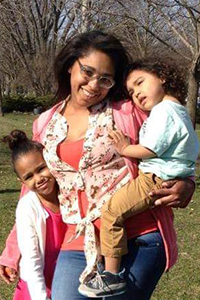 During their year of separation, Yvette shielded herself from her children because it was easier than saying goodbye every time she had to leave.
"I felt like I was failing," Yvette shares. "I thought they deserved better than me."
Once again, she turned to her mother's memory—to lean on for inspiration, and to guide her back to her kids. Yvette secured Section 8 housing through HUD-VASH and brought her kids home.
After a misunderstanding with her landlord, Yvette fell behind on rent and lost her housing again but refused to leave her kids.
"There was no way I was going to risk my kids not being with me this time," Yvette continues, "I had them with me when we were going through that."
Yvette moved her family into a hotel room. The full-time job she'd been working was enough to cover the room and food expenses, but she couldn't save to move out—she couldn't even pay her storage fees. She was stuck, until she heard about the Elks' Emergency Assistance Fund.
The emergency assistance helped Yvette move her family out of the hotel by paying the security deposit on an apartment she found through HUD-VASH. It finally seems like everything is falling into place for Yvette and for her kids.
"We're doing really good," Yvette says. "Everything is getting better in my life, and the kids are happier."
Yvette wants to keep moving up. She's fixing her credit, working toward buying a car, and hoping to save up enough money to buy her own home one day.
"I want somewhere that's always home for my kids to come back to," Yvette says.
When Yvette reflects on how the Elks' assistance changed her life, she can't help but get emotional. Yvette says Elks may not realize that "just a little bit can help."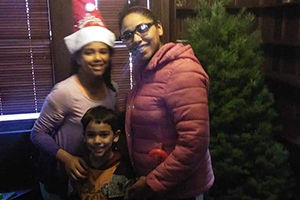 "You don't understand what it could do for somebody, how much the help can improve their lives," Yvette emphasizes, "and the joy it can bring."
Yvette is happy about where she is today and the life she's built around her family. She knows her mother would be, too.
"I know she's proud of me for overcoming a lot of the things I've dealt with," Yvette says.
Read more stories from the Be the Spark series about other veterans who've received assistance through the Emergency Assistance Fund here.
Since July 2015, the Elks National Foundation has contributed $4 million to help end veteran homelessness. The money funds the Elks National Veterans Service Commission's Welcome Home initiative, which includes an Emergency Assistance Fund for veterans in eight metropolitan areas targeted by the V.A. for increased focus by the Elks. To date, the Elks have helped more than 1,350 veterans exit or avoid homelessness through emergency assistance. Learn more at enf.elks.org/WelcomeHome.
---
Back to top