"I wasn't supposed to be here."
The Long Road Back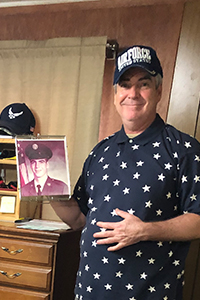 When Mike graduated high school, his father asked him a question: "Do you want to go to college, or do you want to join the military?
"And I said, 'Well, I already went to school for 13 years,'" Mike recalls.
Most of us take vivid memories like that for granted. Not Mike.
He enlisted the next day and served for two years as a computer operator at the Duluth Air National Guard Base. He left the service unscathed, but years later, while a civilian in Tampa, Florida, he wasn't so fortunate.
On January 3, 2017, Mike was attacked and nearly beaten to death. He was in a coma for more than two weeks, and then spent six months in a V.A. hospital. He had to relearn how to eat and swallow. He couldn't remember the people he loved. Not even his parents.
"I couldn't even tie my shoes," Mike says. "My mom had to buy me Velcro sneakers."
During those six grueling months, he celebrated his birthday from a hospital bed. One of his gifts was a sign that read, "Believe in Yourself."
Mike did, but he also found strength in all the people who helped him through his ordeal, which included a few months in a Domiciliary Residential Rehabilitation Treatment Program. While there, he kept a list of all of them: nurses, doctors, friends, family. Thanks to them, he can recite the list from memory now. "They were all there for me," Mike says.
While rehabbing, he met a person who features prominently on his list—a Tampa Elk named Rita Smith.
"She told me what the Elks are about," he says. It was information that soon would become very important.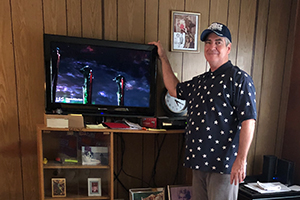 Mike eventually recovered, but his days of owning Mike Did It, a painting business, were over. Back then, he relied on word-of-mouth and grass-roots advertising to drum up business. He used to hand out cards with a caricature of himself in a painter's outfit and the slogan, "Who did it? Mike Did it."
"Because, you know," he explains, "I'm Mike."
He doesn't miss the old life. He likes who he has become even more than who he was. And now he can even joke about the attack, like when he says that he was rewired during the coma. Most of all, he's just happy to be alive.
"I wasn't supposed to be here," he says. "It was a long road back, but I'm here."
Here is a two-bedroom mobile home, housing that he was able to secure through HUD-VASH, a VA program that provides housing for homeless veterans. When he moved in, his new home was completely empty. But Rita Smith and the Elks fixed that.
"They helped me get everything," Mike says.
The Tampa Lodge gave Mike a Welcome Home Kit, turning the empty trailer into a home. The Elks brought a TV, kitchen necessities like a microwave and coffee pot, mirrors, decorations, and a Wal-Mart gift card so Mike could pick up anything he felt they missed.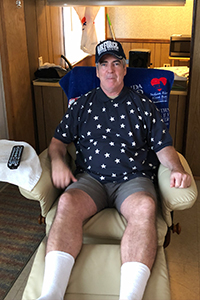 "Thank God for the Elks," he says, as he surveys the second bedroom, which he has turned into a workout room. "It's looking pretty good, and it's all because of the Elks."
In a couple of years, he hopes to move into a place with a pool and a gym and neighbors closer to his age. For now, he keeps himself busy by helping his elderly neighbors, painting his sister's house, visiting Tampa Lodge, and going to karaoke with his case manager from the VA and other veterans.
"I don't sing," he says. "I just go to hang out with my friends."
When he was back in that hospital bed, hanging out with friends seemed unimaginable.
"I'm feeling a lot better now," he says.
It was a long, hard road, but Mike did it.
Read more stories from the Be the Spark series about other veterans who've received assistance through the Emergency Assistance Fund here.
Since July 2015, the Elks National Foundation has contributed $4 million to help end veteran homelessness. The money funds the Elks National Veterans Service Commission's Welcome Home initiative, which includes an Emergency Assistance Fund for veterans in eight metropolitan areas targeted by the V.A. for increased focus by the Elks. To date, the Elks have helped more than 1,350 veterans exit or avoid homelessness through emergency assistance. Learn more at enf.elks.org/WelcomeHome.
---
Back to top