"You have a need, talk to the Elks."
A Resilient Recovery
When Toby was a teenager, he tore several tendons in his left knee while sledding, leaving him with a zipper-like scar. Putting his injury behind him, he graduated from high school and, within 10 days, joined the Navy.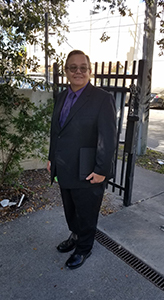 A passionate photographer, Toby had heard the Navy's photography school was second-best in the nation at the time. He planned to train as a Navy photographer and serve for five years, but he never made it to school. When Toby enlisted, no one questioned his medical records or knee injury, and all went well until a doctor noticed Toby's scar during a routine physical.
"He twisted my leg every which way but loose and said that I would be discharged," Toby said.
Toby was honorably discharged, and he took advantage of the Veteran's Education Assistance Program and earned his certificate in Addiction Studies. He lived in his hometown of St. Louis for several years, where he spent summer weekends boating on Mark Twain Lake—a small, man-made lake in Missouri—on a friend's 17-foot fishing boat.
"There's no beach-front housing, there's no this, there's no that, [but] in the fall it's really beautiful," Toby said.
But he struggled with addiction to drugs and alcohol. He received five DWIs; the fifth required five consecutive weekends of jail time.
"Shock time, they called it, and it was really shocking," Toby said.
He didn't want to miss summer weekends of boating, and he knew he wanted to photograph the beauty of Mark Twain Lake as fall settled upon it. He scheduled his shock time for the first five weekends after Labor Day.
"I just knew that the lake was going to be saving itself for me," Toby said. He thought the leaves would wait for him, but when he got up there, "the trees were naked … they didn't wait."
After missing the change of the season, Toby realized he needed to change. He didn't want his freedom taken away again. He attended AA meetings and is now more than 18 years sober.
Bu overcoming addiction was just the start. Toby relocated to Florida, and shortly after moving, he became homeless. He spent more than three months living in homeless shelters before he became involved with Miami's local V.A. Supported Housing program. He regained stability and started working for a temp service.
On the way to retrieve his paycheck last October, Toby tripped and fell, breaking his wrist. It didn't heal in the normal timeframe of eight weeks, and following the removal of his cast, Toby had to complete physical therapy. The injury and subsequent therapy left him out of work for four months, and he was unable to pay his bills. Though he applied for assistance from several organizations, he was ineligible because without medical clearance, he couldn't provide proof of employment.
"My wrist is in a cast; it was covering my forearm, [so] I couldn't work," Toby said. "And I had really no savings. The temp service job doesn't pay a whole lot, so there's not really a whole lot of chance to save a lot of money."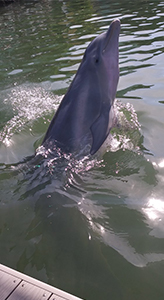 When Toby thought he had exhausted all his options, his case manager suggested he apply to the Elks Emergency Assistance Fund. She helped him file the paperwork and within two days, Toby received a call telling him he'd been approved; he now had enough to cover his rent and electric bill.
Toby said he felt "great relief" when he heard the Elks could help him. "I would've lost my power until I could've gotten back to work and paid the bill, because I tried everybody," he said. "You have a need, talk to the Elks. They've helped me. They kept my power on."
Now, Toby can focus on his future. He plans to train as a peer support specialist to help others struggling with addiction. He hopes to go back to school to finish his associate's degree, too.
And, although he didn't get the chance to attend the Navy's photography school, Toby continues to focus on his passion for photography. He still has his first camera, a Minolta SRT 201, and he photographs unique and eclectic Miami neighborhoods and the dolphins he swims with through his involvement with the local V.A.'s recreational therapy program.
The Elks National Foundation ensures our veterans are never forgotten. In 2019-20, the ENF will grant $3.3 million to serve veterans through the Elks National Veterans Service Commission, including $1.3 million to help end veteran homelessness. For more information about the Veterans Service Commission, visit elks.org/vets.
---
Back to top