"I'm really, really happy."
Finding an Advocate
World War I veteran, journalist and award-winning novelist Ernest Hemingway said, "The world breaks everyone, and afterward, some are strong at the broken places."
Lionel is one of the stronger ones. An Army veteran who served in 1978, he's working to overcome strained relationships with his children by creating closer bonds with his grandchildren. He's also fighting through various hardships that have dogged him over the 40 years since he left the Army. Most recently, these hardships include recovery from two surgeries in 14 months. Through it all, he grows stronger.
"The greatest part about all this is I've been growing the entire time," says Lionel, who lives in Seattle. "If it wasn't for the V.A. and for this program, and other programs like yours, I wouldn't be lying in my bed right now in my warm apartment."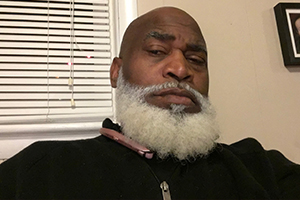 Had it not been for the Elks Emergency Assistance Fund, Lionel might have been lying in his car instead. That's where he had been living most recently, during his third stint of homelessness in three years. But this time, housing was so close he could taste it.
Lionel had landed a steady job and signed a lease for an apartment. Then came the second surgery. That kept him out of work for a few weeks, which meant no paycheck. Suddenly, he couldn't afford the security deposit required to move into his new place. Lionel felt like he had nowhere to turn. And then he learned about the Elks.
Through a V.A. social worker, he applied for help from the Elks Emergency Assistance Fund. The fund paid his security deposit, and Lionel no longer felt so alone.
"I feel like I have an advocate," Lionel says. "I'm really, really happy because this is the first time I feel like I found someone who's concerned about me as an individual, as a person and a human being. You did whatever you could do to help me."
For Lionel, a little assistance at the right time meant the difference between living in his car and lying in a warm bed. Now, he has housing and a stable job—he's working full time on the overnight shift. The security means he can start planning for his and his grandchildren's future. He hopes to start his own business one day.
"I want my grandchildren to be able to do the things I never got to do when I was growing up," Lionel says, "like going to the beach and going on holidays, because we didn't have enough funds."
Having found an advocate in the Elks, Lionel is moving forward now. And he's stronger in the broken places of his life.
Read more stories from the Be the Spark series about other veterans who've received assistance through the Emergency Assistance Fund here.
Since July 2015, the Elks National Foundation has contributed $4 million to help end veteran homelessness. The money funds the Elks National Veterans Service Commission's Welcome Home initiative, which includes an Emergency Assistance Fund for veterans in eight metropolitan areas targeted by the V.A. for increased focus by the Elks. To date, the Elks have helped more than 1,350 veterans exit or avoid homelessness through emergency assistance. Learn more at enf.elks.org/WelcomeHome.
---
Back to top