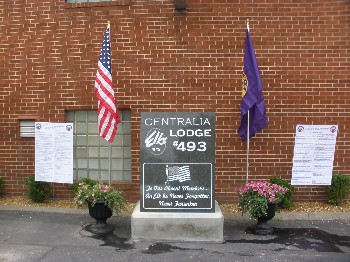 "An Elk is never forgotten, never forsaken. But awhile ago we gathered, friendship beaming in each eye, now the golden cord is severed, they have passed to realms on high." To Our Absent Brothers:
2015: Melvin Douglas "Doug" Wagner
2014: David R. Beavers, William Benhoff, Harold Bray, Orlando Cortelloni, William "Bill" Lee Culbreth, Arthur Ray Densmore, D. Bruce Geary, Thomas "Cotton" Heath, Jr., Joseph L. "Joe" McHenry, Ellis E. "Bud" McMillan*, Edwin R. "Ed" Wesner.
2013: Gerald Leland Holmes, Kenneth Duane Jones, Donald E. Lance, Orville F. Niehaus, Raymond 'Ray Ray' John Ray, & Stanley Wolff.
2012: Larry "Bub" Bates, Larry Besant, Roger W. Cox, Raymond Dodillet, Richard "Dick" Lapolice, William "Bill" Peterson, Jerry Prather, & Harvey Tyler.
2011: Raymond "Ray" Armstrong*, William E. Bradley, William J. "Bill" Butler, Robert "Bud" N. Erickson, James Owen Griffith, Raymond O. Hill, Roger Lewis Hill, Robert "Dutch" Klosterman, Betty Lou Orrell, Joseph "Mick" Scheriger, Berthold Stover, Jr., Elmer J. Sumner, & James B. "Jim" Wham.
2010: Lawrence J. Beal, Ermando Ugo "Mondo" Evischi, William J. Fox, Jr., Charles Gisler, Art F. Nitz, Carl A. Reed Jr., & Joseph A. "Joe" Seeburger.
2009: Robert "Bob" Brown, Harry E. Buehler, Eldon Copple, Arthur C. Harder, Buster "Joe" W. Keller, Jack Nollman, Wayne W. O'Dell, Donald Lee Rohner*, Gary "Shorty" Sill*, Jim "Tax" Taxman*, Carl Tippit, James E. Watwood P.E.R., Kenneth L. White, & Larry E. Williams.
2008: John W. Brashear*, Frank Cicigoi, John Dodillet, Rolland J. Kaney*, Fred Kesinger, A. C. Mainer, Clifton Neudecker, & Nelson Pries.
2007: Richard Duncan, William R. Ferguson, Duane Fouts, Clifton F. Garrison, Herbert Haker, James E. Hill, Don Kourdouvelis, John L. McCann P.E.R., Steve McIntire, Ray E. Miller, Dr. Walter P. Plassman, Larry D. Roeckeman P.D.D.G.E.R., Steve Shores, Lyle Skasick, Charles Vaccaro, Don W. Voss, & Gene D. White P.D.D.G.E.R.
2006: Donald Auxier, Elvin Copple, Merrill D. Harting, Ford Hickey, James E. Hudson, Scott Jones, Harold Koelling, Dr. K. J. "Jim" LeSeure P.E.R., Gene Martinelli, Charles J. Mitchell, Harold Monken, James A. Payne, David Salisbury, William H. Sligar, Kenneth Spicer, Harold D. Wesner, & Fred L. Wham Jr.
2005: Morris Ball, Gail Blair, Michael Bundy, John B. Dulumback, Leo Grasher, Albert Kuhn, Roy Nagel, Dale Nelms P.E.R., Charles R. Olland, Robert Prince, Carroll Roper, Roy Stinde, Paul G. Walton, & Kenneth J. White.
2004: Sam Alli, Delmar Berger, William R. Carr, Donald E. Copple, Bill Eilers, Vernon Frost, Bobby R. Griner P.E.R., Mike A. Guinzy Jr., Thomas Howard, Richard Salisbury P.E.R., Ronnie Schwartz, Ralph H. Sprehe, Dr. E. J. Veller, & Stanley O. Weigman.
2003: Ronald C. Beard, Roy G. Bradley, Dean V. Fortmeyer, Todd Gierten, Glenn L. Irwin, Anthony Kussin, Roger Norstrom, James D. Thornhill, & Mike Wiggins P.E.R.
2002: Bob Freels, Melvin L. Hart, Harold D. Heyduck, Avery T. McCrary, David N. Nichols, Dr. George Ross P.E.R., William Stark, Rick Waggoner, & Garr Warnock.
2001: William E. Cortelyou, Glen Francois, Robert J. Furlong, Joe Geilhausen, Howard E. "Bud" Goodman, John D. Heidler, Dudley J. Henry P.E.R., Vernon Weihe, Larry W. Wilson, & Donald Wittenbrink.
2000: Lewis Bain, Phil Betourne, Neil Carpenter, Darrel Chapman, Don Geary, John Ghent, Leon Hails, Earl Koelling, William Still Jr., Edward Swickard, & George West.
1999: Roy Hartwick, Bruce Liedel P.E.R., & Dan Rightnowar.
1998: Bill Bryan, John Copple, James Garrison, Harold "Bud" Kratzner, Charles Magoulias, Steve Shanafelt, Kenneth Swain, Jack Taylor, Dr. Wayne Terry, Jack Wilkerson, & Robert E. Wilson P.E.R.
1997: R. D. Bower, Brian Hanke, Duane Kessler, Lawrence Matousek, & Leroy Smith.
1996: James Conner, Gary Dersch, Dale Gehrke, Michael George Hutton, Vernon Kaney, Sydney Markham, Norman Martinelli, James Pierson, Wayne Scranton P.E.R., & George Straith.
1995: Sam Altadonna, Robert Carpenter, James Sanders, Ed Sieble Sr., Forrest Sprehe, Orel Telford, & Donald Woodard P.E.R.
1994: Duane Baumer, Oliver Ferguson, Tony Knuff, Clayton Martoccio, Ray McGuire, William Owen, Charles Wood, & Elvin Wood.
1993: James Cooksey, Ralph Depew Jr., Dwight P. Friedrich, Mike Hood*, Juel Knapp, Shelby Monaghan, Frank Moses, J. R. Nanny, John Shimkus, & Dr. E. F. Stephens Jr.
1992: F. D. Baumer, Howard Bell P.E.R., J. O. Bierman, Toby Davis, James Ford, Joel Guthrie, Raymond Hassebrock, J. O. Hays, Paul Maulding, Bob Schmidt, Paul Sensel, A. L. Spiller, Howard Queen, & John F. Wham.
1991: Roy Bradley, Owen Kurth, Donald Masar, Eric Nordstrom, Fred Seip, Raymond Smith, William C. Smith, Dr. Harold E. Snow P.E.R., & Stanton Pearce P.E.R.
1990: John Baal, Merlin Cofer, John Dunnill, Ferdinand Gansauer P.E.R., Michael Gold, Jonathan Hargis, W. C. Meyer, Joe J. Mondino, & John G. Wienken.
1989: John B. Allen, Carl Bryant, J. K. Frost, Angelo T. Guinzy Sr., Harold Lundborg, Charles Rude Jr. P.E.R., & Russell Wilson P.E.R.
1988: Kieth Bounds, George E. Hoyt, Edgar Kimball, & Leroy Plassman.
1987: Max Lamentavich, Donald W. Moore, & Paul Sprehe.
1986: Fred Branson, Howard Busse, Walter D. Chatterton, Ollie Clark, W. B. Frank, John S. Freeman, Ervin Honecker, Robert Ray, Richard A. Schwartz, & Ben Topper.
1985: Nick Babare Jr., Robert Crain, Aaron Karchmer, William Remacle, Robert O. Smith, Art Wallace Jr., & Thomas A. Wiggs.
1984: Lon Bartello, Roy Edmonds, H. J. Egger, Ira Garnier Jr., Bill Hamburg, Richard H. Johnston, Fred Shaw, & James E. Swinney.
1983: Clarence E. Alcorn, Fenton Fowler, Fred Fowler, Charles Gross, William E. Hall, John Hubert, Ben Kaelin P.E.R., Melvin Kaitchuck, T. M. McNamara, Frank Phee, Carroll Phelps P.E.R., Neil Puffer, O. M. Sanders, Dean E. Smith, & Robert Washburn.
1982: Russell Booth, Ray F. Denny, J. S. Goddard, Jess Kleber, Kenneth W. Miller, William Morgan, O. C. Pfeiffer, J. E. Sanders, Coulter Shafer, & William Weigel.
1981: Bernard Cohen, I. J. Edgar Jr., James R. Jones, R. G. Pettygrove, & John Steck.
1980: Robert F. Bozarth, Phillip T. Crow, A. N. Erskine, Jack D. Goodner, & James Wilson.
1979: John Berger, Ben Bumgardner, Leo Burtschi, Raymond Castellari, Howard English, Hugh Erwin, Elmer Gherardini, C. M. Givens Jr., F. A. Martoccio, Earl Smith, Thomas J. Pape Sr., H. H. Pennock, Merle Ray, & Carl A. Reed.
1978: Remus Biagi, C. M. Broughton, V. L. Didier, James M. Dorris, C. A. Finn, Ray Gaston, Byan Houser, Leo Jones, R. F. Jones, J. W. Kier, George Kurtz, Donald McClelland, J. H. Maxfield, Eugene Ritenour, Harold Stoafer, E. J. Stonecipher, & George Sutherland.
1977: F. L. Gough, Ben Hildes, B. A. Huffman, John Lester, E. G. McCance, George Thomas, John Tunks, & William Vogt.
1976: Sam Carrigan, R. B. Garnier, Bobby Hyde, Dr. H. J. Levine, James Mahkovtz, & George Stamer.
1975: G. H. Beckmeyer, A. B. Carlson, J. E. Gephart, Robert Haag, Carl E. Johnson, August Langenfeld, R. W. Mercer, Wayne Miles, Howard Morgan, F. P. Pfolsgrof, H. C. Scheppel, & Roy Sohn.
1974: J. Blythe, H. Earle, L. Ebbert, M. D. Frink P.E.R., J. Gerstenecker, C. Grathwohl, B. Gudder, L. Morgan, J. Sligar, E. Stanford, & C. W. Stonecipher P.E.R.
1973: R. Arning, C. Curtis, A. Hollern, G. Kalberkamp, A. C. Mann, J. Nelms, W. Schmid, & D. Shedelbower.
1972: Records Temporarily Lost.
1971: Allen Bostwick, L. D. Golay, Price Gray, Edwin Hugo, Dr. R. G. Keeley, Col. H. F. Muenter, Clyde Root, James F. Waggoner, & Dr. John J. Wood.
1970: Victor E. Burge, T. M. Conrey, Walter Cook, Luther Dickson, G. E. Halcomb, John Lynch, J. W. Malick, M. A. Marcum, George L. Nichols, Robert Reichel, William F. Seiglar, William C. Stephens, Alfred Tate, John E. Turner, & Donald I. Wiechert.
1969: Walter Bailey, Kenneth Jenkins, Charles N. Miller, Roy Mitchell, I. A. Pfeffer, & Fred Sticher.
1968: Arthur Berquist, S. E. Doolen, A. J. Hausman, Virgil Malone, William Malcolm, J. S. Martin, H. F. O'Neill, Charles H. Rude Sr., Milo Taxman, Frank Weichert, Clarence Zahner, & C. G. Hardin.
1967: Harold Bridges, August Buehler, William H. Erskine, Charles Geary, W. A. Gilmore, Ray, McGorkle, Harley Queen, C. A. Roberts, C. K. Stroube, & E. C. Zeitler.
1966: Lawrence Benedict, Gilbert Bennett, Tom Deason, Ira J. Garnier Sr., J. Hall Hunter, J. L. Kimmell, H. W. Rylander, Harry Rosenberger, Vernon Shoop, & W. W. Webster.
1965: D. D. Dixon P.E.R., E. G. Farthing P.E.R., N. E. Garrison P.E.R., E. E. Harmon, Lake Harris, Norman Hoffman P.E.R., Allen Jackson, A. W. Monroe, Spencer Paddock, E. W. Ross, Thad Skony, T. C. Teter, & Ben Tyler.
1964: L. H. Adams, S. S. Conner, C. C. Cummings, W. A. Denzler, John Easley, Ray Hoffman P.E.R., Verne E. Joy, L. M. Malone, C. C. Seats, Elmo Stark, & W. C. Tharp.
1963: M. M. Boggs, Harvey Brink, Ed Clement, Sam R. Hake, M. A. Hicks, Earl Jupin, J. W. Malick, W. B. Matthews, Jack Ross, Lease Ruddick, Max Schwartz, Maynard Taxman, & C. M. Yaw.
1962: J. C. Burtschi, Louis Heyer, Louis Keith, P. W. Layman, W. M. McGlasson, Frank Puffer, Farrell Robinson, H. N. Seely, Wyman Shingleton, W. E. White, George E. Williamson, & C. P. Wiseman.
1961: C. C. Jacobson, & F. L. H. Webb.
1960: D. M. Foster, Fred Johnson, William Lewis, W. J. McClosky P.E.R., M. O'Brien, T. H. Sligar, H. V. Spires, G. E. Tillman, & O. W. Wright.
1959: Levi Albert, Henry Campbell, George Heidler, W. J. Hines P.E.R., Thomas McGackle, & W. E. Tharp.
1958: T. W. Stevens, & H. A. Van Patten.
1957: Edward Buehler, Charles Carlyle, W. H. Nichols, Jack Reading, G. B. Scott, & A. S. Wyckoff.
1956: O. B. Kurth, William Paddock, F. E. Sachman, & Harry Weisman.
1955: Richard Bond, T. E. Kelley, R. Rettinghouse, H. G. Rouse Jr. & M. Weisman.
1954: A. E. Hammond, W. L. Holzhaus, Paul J. Krebs, H. B. Lambert, & Ben Reynolds.
1953: George Bozich, Arnold Keister, & R. E. McMillan.
1952: O. R. Frantz, Earl Nichols, & George Pittenger.
1951: John Besse, & J. A. Gilley.
1940: Otto B. Correll, T. J. Sandifer, & W. B. Wright.
1939: Harry Linville.
1937: Anton Kohout, Robert Rohl Sr., & Walter Vass.
1933: Robert George, Joseph Hefter, J. A. Van Patten, & Leo Reese.
1932: J. J. Brown, H. T. Coleman, H. E. Erwin, Mose Hoffman, Bert Smith, J. J. Reid, & Jasper Wilgus.
1930: U. G. Carter, G. F. Howie, F. E. Lederer, L. E. McDowell, W. M. Moreland, & F. R. Roemer.
1929: E. E. Fyke.
1924: R. H. Erskine, & J. P. Malone.
1921: C. N. Dunn.
1915: I. L. Perkins.
1910: A. H. Rainey
1908: J. E. Prather.
* Passed in December of that year and will be remembered in the next year Annual Memorial Service. Page last updated December 2014