Finalist of the Week - Bryn Kolberg
Congratulations to our 2015 National Finalists!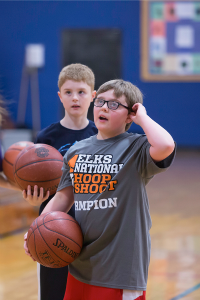 Bryn Kolberg
Age Group: Girls 8-9
Sponsoring Elks Lodge: Yankton, SD, Lodge No. 994
Height: 4'9"
National Finals Score: 18/25
Hobbies: Minecraft, Soccer, Football
Favorite Athlete: Alex Smith, Kansas City Chiefs and Michael Jordan, Chicago Bulls
Lucky Charm: Lucky orange shirt
Why does Bryn love the Hoop Shoot? "I love shooting hoops and it's really fun to meet other kids."
Results are in! Click here for complete results, as well as photos from the big contest!
---
Back to top