'15 Finals in the Books
'15 Finals in the Books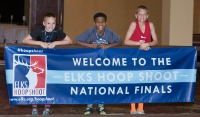 Standing at just 5'0", the average 2015 Hoop Shoot National Finalist sunk a remarkable 82 percent of free throws taken during the 2014-15 Hoop Shoot season. At 6'7", the average NBA player may tower over the average Hoop Shoot Finalist on the foul line, but in free throw completion, there's no contest; the average NBA player made only 75 percent of free throws taken during the same season.
Whirlwind Weekend
Small but mighty, 72 National Finalists stepped up to the line in Springfield, Massachusetts for the 2015 Elks Hoop Shoot National Finals on April 18. As is signature for any Hoop Shoot contest, the competition was fierce and fun.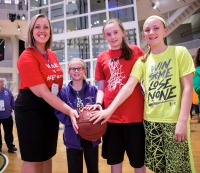 Before the big contest on Saturday, Finalists and their families had two action packed days—activities included taking in a movie night, swapping trading cards with new friends, playing games, including an educational Elks Drug Awareness Quiz Show in the Elks' Kids Zone, and completing a scavenger hunt at the Naismith Memorial Basketball Hall of Fame.

The morning of the big contest, the Finalists emerged from the Breakfast of Champions to a cheering crowd of fans and family poised to send them off to the gym at Western New England University. By that afternoon, 1,603 free throws were made and six Finalists secured a spot in the Basketball Hall of Fame.
In Their Own Words
The 2015 Hoop Shoot National Finals was a culmination of a season's worth of hard work, practice and dedication. Throughout the National Finals weekend—and throughout the Hoop Shoot season—National Finalists had the opportunity to engage in healthy competition, connect with their families and the Elks, and learn skills to help them succeed both on and off the court. But don't take our word for it! Read on to hear from National Finalists and their parents about their Hoop Shoot experience. Be sure to check out full results from the Finals, and relive all of the action through photos from the weekend.

"Last year, I was the California State Champion but lost at the regional contest by one shot. It was frustrating to be so close to going to nationals and not make it. This year I have worked extra hard going to the gym to shoot before school, after school, and in the evening after my homework is completed. My dad always tells me hard work pays off and I guess he was right - just don't let him know I said it!"—Boys 10-11 Finalist Luke Mathis, Redlands, Calif., Lodge No. 583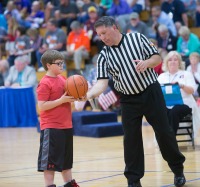 "This was my first year in the Elks Hoop Shoot. I have shot free throws in the gym, and in my front yard, but never really played competitively. I really like basketball, and want to continue to grow in that sport. I want to thank my mom and stepdad Paul, for always being there for me, and making the best person I can be! Competing at Nationals and meeting as many new faces as I can talk to was the best part of the weekend. Thank you for our local Elks #994, Yankton, SD for supporting me in this event!"—Girls 8-9 Finalist Bryn Kolberg, Yankton, S.D., Lodge No. 994
"My hoop shoot journey has lasted three years.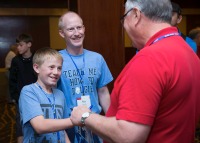 The first year, I had no idea what to expect. I entered the Carson City contest and won! I made it as far as the Nevada state contest and placed 2nd. I saw a previous state winner's jacket and said, "I want one of those!" This year, my third try, I finally broke through and won a Nevada state champion jacket! The Elks have been very giving to my family and me. Basketball is my favorite sport, I was super excited to visit the Hall of Fame. I practice shooting after school every day. I know that even if I don't win, I still had an experience of a lifetime!"—Boys 12-13 Finalist Dougie Hostler, Carson City, Nev., Lodge No. 2177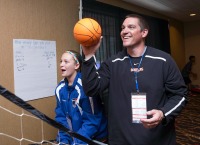 "The Elks and everyone involved made our daughter feel special and important. This journey has given her so much confidence not only in basketball, but in everything else she does that we hadn't seen in her before. Thank you for building confidence, creating friendships, showing hard work pays off, and creating life long memories!"—Parents of Girls 10-11 Finalist Riley Mello, Tahoe/Douglas, Nev., Lodge No. 2670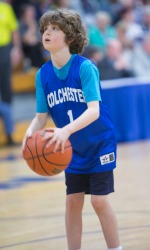 "National Finals weekend was an absolutely fantastic experience from start to finish. My son learned so much about setting goals, making a practice plan and following through. He learned sportsmanship, made new friends, and that he was capable of more things than he ever thought possible. All of these lessons will stay with him forever as he encounters future challenges."—Parents of Boys 8-9 Finalist Jacobi Lafferty, Burlington, Vt., Lodge No. 916
Through the Elks National Hoop Shoot Free Throw Program, the Elks National Foundation offers youth the opportunity to engage in healthy competition, connect with their families and community, and succeed both on and off the court. In 2015-16, the ENF allocated $924,070 to fund this program. Learn more at www.elks.org/hoopshoot.
---
Back to top