Hoop Shoot Heavyweight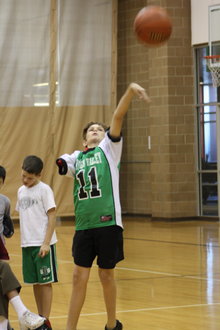 For any young athlete, moving on to a District Hoop Shoot contest requires talent and tenacity. But winning a Lodge contest and moving on to Districts while shooting one-handed requires a little extra determination. That's exactly what 11-year-old Matt Boyd possessed as he stepped up to the free-throw line at Mesquite, Nev., Lodge No. 2811's Hoop Shoot contest. Matt, who lost his right hand at the age of seven in a car accident, won the Boys 11-12 division by sinking 13 baskets.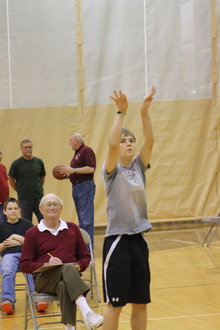 Inspiring Athletes
Matt, who also plays tackle football in a local youth league, dribbled and shot the ball using only his left arm. Even more impressive, Matt won the division with the most athletes participating.
With his win at the Mesquite Lodge contest, Matt moves on to the South Nevada District Hoop Shoot contest in Boulder City, Nev., later this month. Making the trip with him will be five-time Nevada Hoop Shoot State champion Jayson Brooks, who won the Boys 12-13 division with 19 out of 25 baskets at the Mesquite contest.
The Hoop Shoot encourages youth to work hard and persevere during competition, and talented kids are rising above obstacles at contests across the country. Matt's already remarkable Hoop Shoot journey is one of the many to keep an eye on.
Through the Elks National Hoop Shoot Free Throw Program, the Elks National Foundation teaches kids the values of hard work and good sportsmanship. In 2013-14, the ENF allocated $692,750 to fund this program. For more information on the Hoop Shoot, visit www.elks.org/hoopshoot.
---
Back to top