Hoop Shoot: The Journey to National Finals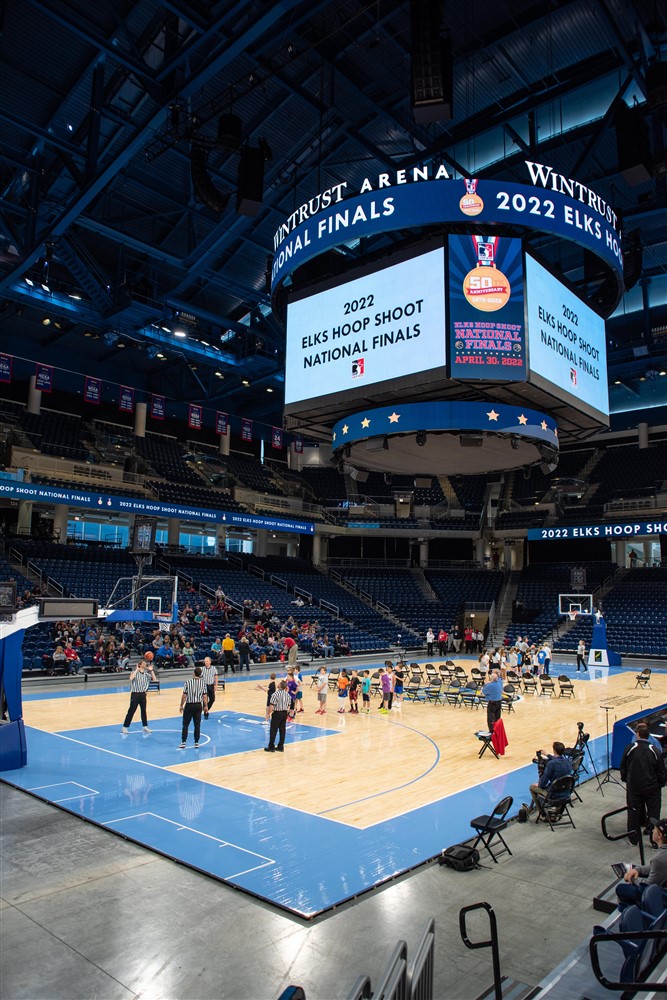 Hoop Shoot volunteers stood in two lines, hands extended for high fives, at the edge of the same court where the WNBA's Chicago Sky won their 2021 championship game. A rumbling voice echoed through the Wintrust Arena as images of the Hoop Shoot National Finalists scrolled on the jumbotron and spotlights danced across the floor.
This year's contest marked the 50th anniversary of the Hoop Shoot as a national program, and the Elks hosted a gold-medal National Finals for the golden anniversary.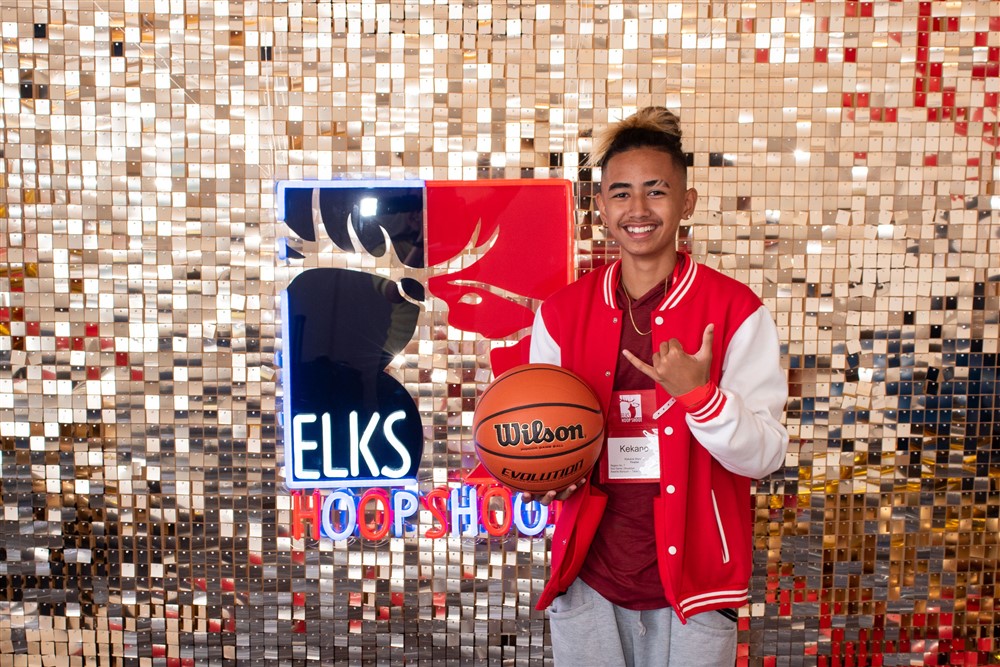 As the Finalists and their families arrived in Chicago, their first stop was to check in at the Elks FanZone. The FanZone allows Finalists and their families to interact with one another and Elks volunteers, snap selfies at the Hoop Shoot photo wall, play board games, swap National Finals trading cards, and give back through Hoop Shoot Assists. -
Hoop Shoot Assists emphasizes the importance of service, providing a place where families can drop off items for a veterans supply drive and write cards to veterans.
"I think it's important to volunteer because it's a win-win situation," said #IAmElksHoopShoot winner Alexis Wong, who won a trip to the 2022 National Finals by submitting a video explaining what the Hoop Shoot meant to her. Alexis competed in the 8-9 girls division in the 2020 virtual National Finals. "One, you can help the community and two, you can have more responsibilities in life early on."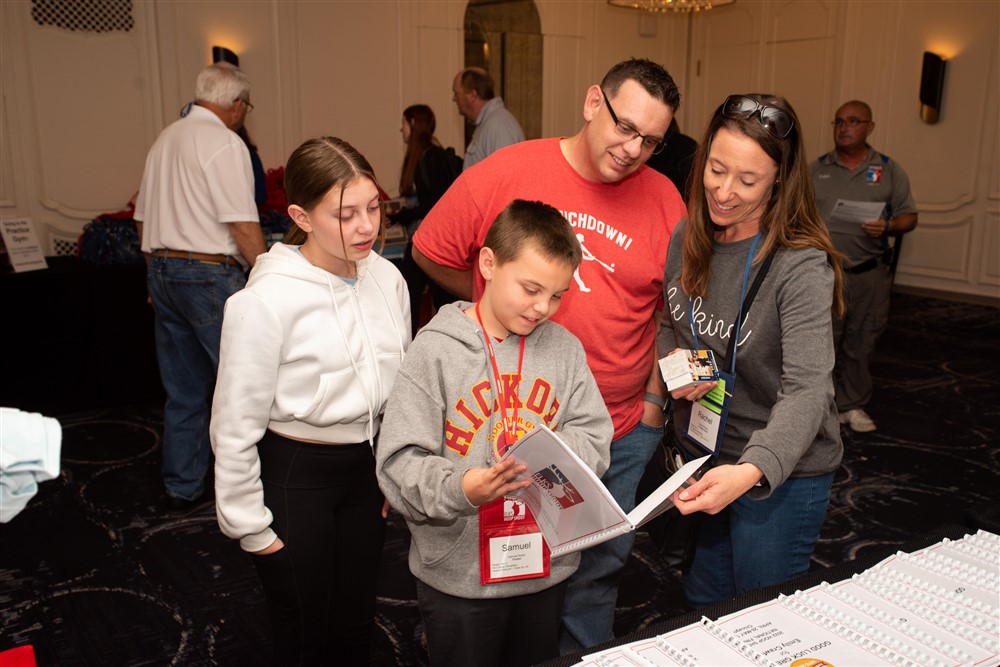 Another tenet of the Hoop Shoot is the importance of practice, and many Finalists used the practice gym on Friday to prepare for the competition. Samuel Nolan, a competitor in the 8-9 boys division who was sponsored by New Albany, Ind., Lodge No. 270, and his father, Matt, agree that their favorite part of the Hoop Shoot is practicing and spending time together.
"I've been able to bond with him," said Matt. "Going to the gym with him twice a week, I've become even closer with my son. That's been my favorite part of it so far."
That night, Finalists and their families took a break from free throws and headed to Guaranteed Rate Field to catch a White Sox game, enjoying one last night of food and fun before the big day.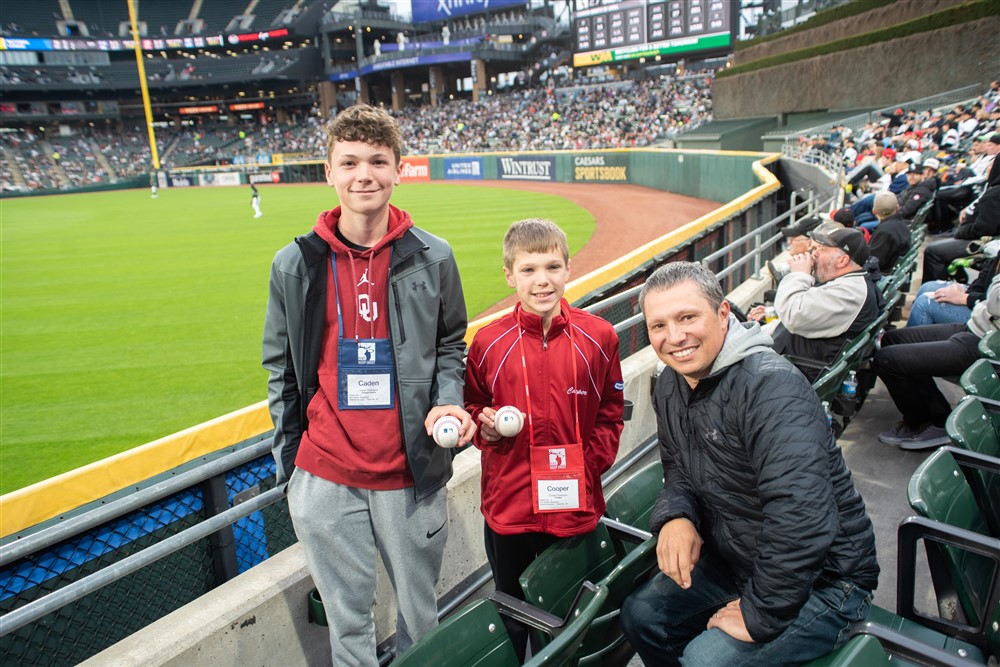 "When I step up to the line for the Finals on Saturday, I'll be thinking that my dad and I are practicing," said Samuel.
The Finalist's families offered a few last words of encouragement, reminding their competitor to breathe, focus and do their best before they stepped up to the line. Then, it was time for the Finalists to take their shot.
"I feel excited," said Croix Kendall, a Finalist in the 8-9 boys division. "I think I'm gonna win. I don't know, I might. I really wanna go to Disney World."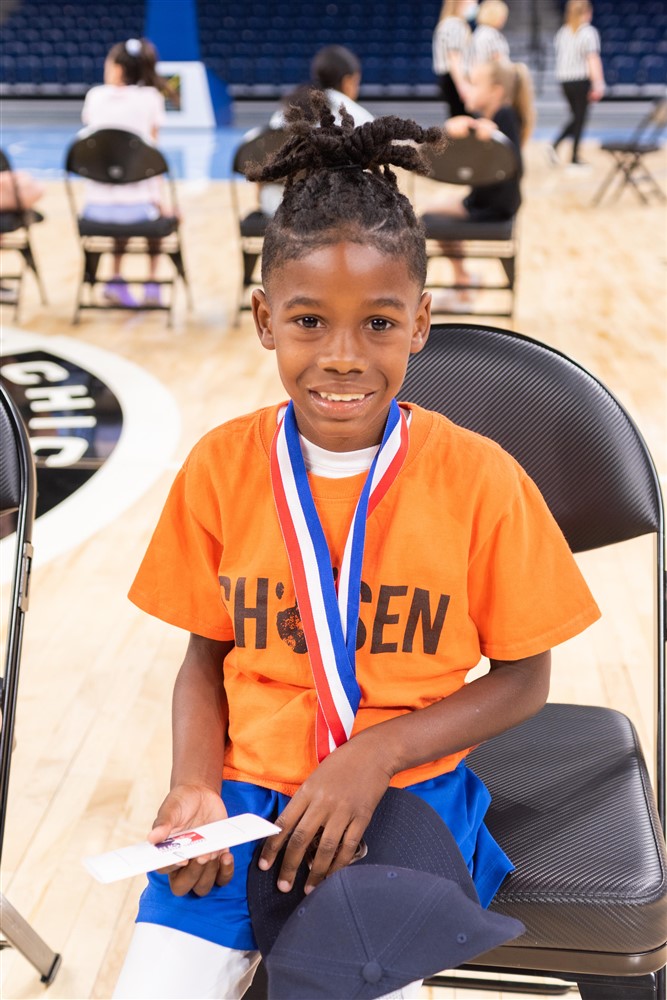 Croix's mother, Kim, wasn't sure where he got the idea that winning the Hoop Shoot National Finals would also win him a trip to Disney World, but that idea drove him to shoot his best. Croix sank 24 out of 25 shots, tying with Samuel Nolan for first place. In the epic seven-round shoot-off that followed, Samuel sank 32 of 35, but Croix hit 33 to take home the win.
"I've learned that you're not supposed to brag," said Croix. "Just do what you can and focus on shooting. If somebody acts like 'I'm better than you,' just say, 'okay.' Because if you don't have good sportsmanship, then no one would want to be on your team."
Arriving at the National Finals, the competitors are undefeated; they won at the Lodge, District, State and Regional levels, but most of the Finalists lost on Saturday.
"I think it's a great life lesson too, that you're not going to win at everything you do," said Jason Tithof, father of 8-9 girls Finalist Conley Tithof, sponsored by Elmhurst, Ill., Lodge No. 1531. "It's an opportunity for you to get better, to build character, to work harder for next time, and you still have a lot to be proud of."
Conley hit 20 out of 25 baskets, placing fifth.
"She didn't win the championship, but she learned what it means to be a competitor, a supporter, and a positive role model for other girls her age," said Jason. "While winning is the goal, it's not the only goal. The journey provides so much more."
Frank Hise National Champions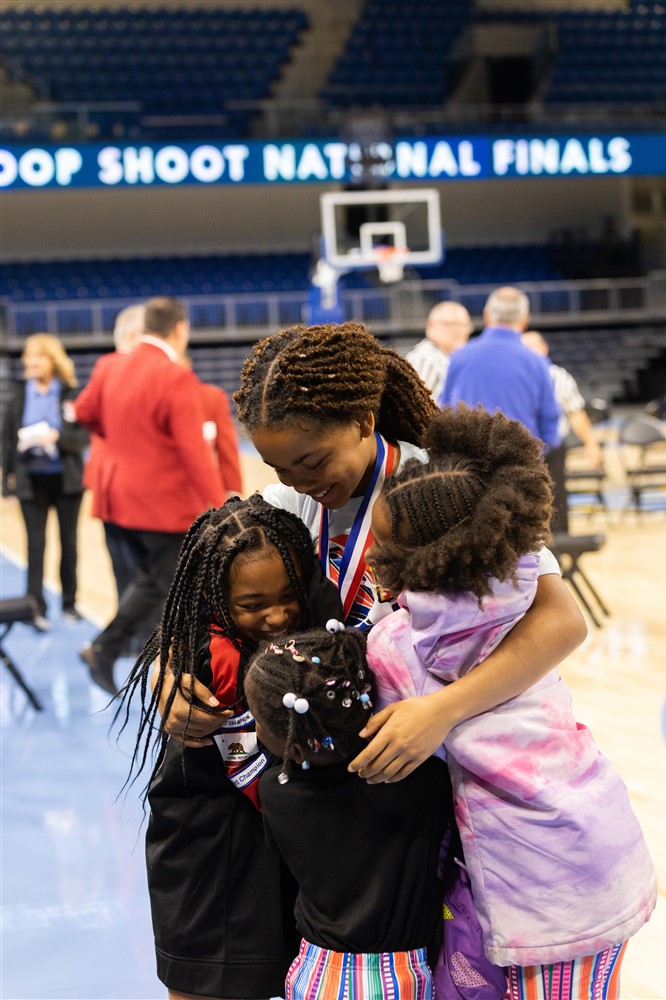 Winners: Six Frank Hise National Champions were crowned at the 2022 Hoop Shoot National Finals on April 30, at Wintrust Arena in Chicago. Their names will be displayed in a digital exhibit at the Naismith Memorial Basketball Hall of Fame. The champions are:
Emersyn Hess, Girls 8-9, 24/25, Vincennes, Ind., Lodge No. 291
Kyla Lea, Girls 10-11, 22/25, Riverside, Calif., Lodge No. 643
Bree Besonen*, Girls 12-13, 24/25, Copper Country, Mich., Lodge No. 404
Croix Kendall, Boys 8-9, 24/25, 33/35, Delray Beach, Fla., Lodge No. 1770
Madox Hodges, Boys 10-11, 24/25, Greater Spokane, Wash., Lodge No. 228
Brendan Smith*, Boys 12-13, 25/25, Marietta, Ga., Lodge No. 1657
*Getty Powell Award winners.
To learn more about the Finalists, Champions, and Elks Hoop Shoot Hall of Fame, visit
The Elks have been developing gritty kids through the Hoop Shoot program for 50 years. In 2022-23, including the 50th anniversary celebration of the Hoop Shoot as a national program, the Elks National Foundation allocated more than $1.4 million to fund the program. For more coverage from the Finals, click here.