The Golden Ticket to the 2022 Hoop Shoot National Finals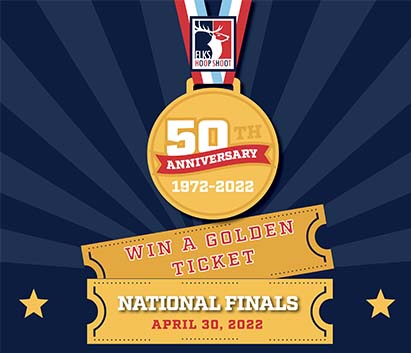 The Golden Ticket: A $50 donation to the Hoop Shoot program could be your ticket to the 50th anniversary National Finals. #hoopshoot50
2022 will be a brand-new and bigger-than-ever year for the Hoop Shoot. It marks the Hoop Shoot's 50th anniversary as a national program, and the Elks intend to deliver a gold-medal National Finals for a golden anniversary.
On April 30, 2022, 72 National Finalists will toe the line at Wintrust Arena, a new state-of-the-art, 10,000-seat facility in downtown Chicago that's home to the 2021 WNBA Champion Chicago Sky and DePaul University's Blue Demons. The 2022 Finalists will step up to the same line as some of basketball's best.
In celebration of this Golden Anniversary, five lucky donors will be selected to win a Golden Ticket—a trip for two to the 2022 Elks Hoop Shoot National Finals.
Donate $50 or more to the Hoop Shoot fund this fiscal year for a shot at a Golden Ticket—round-trip airfare for two to Chicago, onsite ground transportation, a two-night stay at the Hilton Chicago, and two complimentary registrations for all public events at the 2022 National Finals.
One winner will be selected each month from December to April. Donors not selected in a drawing will be eligible for the next drawing(s), so donate early to maximize your opportunity to win. The winners will be announced on Facebook Live. The Golden Tickets are non-transferable. If the winner is unable to attend, the Elks National Foundation staff will select a new recipient of the Golden Ticket.
Draw 1: December 1—embedded below.
Draw 2: January 3
Draw 3: February 1
Draw 4: March 1
Draw 5: April 1
Planning to attend the Finals regardless of a Golden Ticket? Registration opens on November 1 with discounted early bird packages, and standard registration opens February 1. If you are selected for a Golden Ticket after registering, your expenses will be reimbursed.
---
Back to top