2020 Morgan Wootten Award Winners Announced!
The Elks Hoop Shoot is the proud new sponsor of the Naismith Memorial Basketball Hall of Fame's annual Morgan Wootten Lifetime Achievement Award. The sponsorship is the latest collaboration between the Hoop Shoot and the Hall of Fame, a partnership that has endured for more than 35 years.
The Hall of Fame awards two Wootten Awards annually to boys and girls high school coaches who have dedicated their lives to the betterment of student athletes. The award is named for Morgan Wootten, a legendary high school basketball coach enshrined at the Hall of Fame.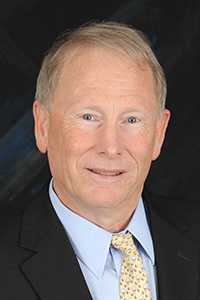 The 2020 Wootten Award recipients are boys' basketball coach Freddy Johnson from Greensboro Day School in North Carolina and girls' basketball coach Jill Prudden from Oak Ridge High School in Tennessee.
Johnson became the head coach at Greensboro Day School in 1977. Since then, he's won 1,080 games, been named the USA Today 2015 North Carolina Coach of the Year and the BallisLife.com 2017 National Coach of the Year and has been enshrined in four Hall of Fames.
Prudden coached the Oak Ridge High School girls' basketball team for 31 years before retiring with 908 wins. Enshrined in three Hall of Fames, Prudden was a three-time Tennessee Coach of the Year, six-time East Tennessee Coach of the Year, the 1997 Women's Basketball Coaches Association District IX Coach of the Year, and was selected as the head coach for the 1998 World Youth Games in Moscow, Russia.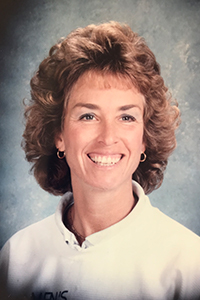 "We're proud to sponsor the Morgan Wootten Lifetime Achievement Award," said Debbie Doles, assistant director of the Elks National Foundation. "Like the Elks, high school basketball coaches are pillars of their communities. They work to prepare their players for life, which the Elks Hoop Shoot strives to achieve."
The Hoop Shoot has been a vehicle for strengthening the values of hard work, perseverance and goal setting for 48 years; Wootten did the same for nearly as long—he coached for 46 years.
Every year, six of 72 Finalists win a National Championship, and their names are inscribed at the Hall of Fame. The rest go on to try again—bouncing back from the defeat. But, every Finalist—Champion or not—leaves the contest with a stronger sense of resilience and grit, traits that will serve them on and off the court for the rest of their lives.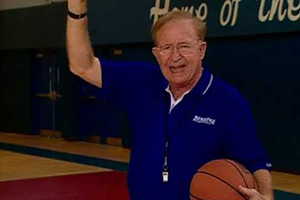 "It's often been said that you learn more from losing than you do from winning," Wootten said. "I think, if you're wise, you learn from both. You learn a lot from a loss. You learn what is it that we're not doing to get to where we want to go. It really gets your attention, and it really motivates the work ethic of your team when you're not doing well."
Learn more about our sponsorship here.
---
Back to top