Bailey Finn Shooting Star in High School Basketball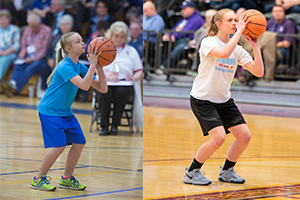 Two-time #HoopShoot National Champion, Bailey Finn, finds success in first year of high school basketball. She's averaging 16.6 points per game and shooting 82 percent from the free-throw line. Her focus and determination were evident throughout her time in the Hoop Shoot, making it to National Finals four times and taking home two National Championships. She's carried these characteristics to her high school basketball career. Read more about her experience here.
Bailey and the Finns have been featured in Griteos and Hoop Shoot films. Check them out!
Deja Finn
2018 Getty Powell Winner: Bailey Finn
Elks Hoop Shoot | Lessons Learned
2014 Elks Hoop Shoot National Finals
---
Back to top