Fellowship, Free Throws, and the 2019 Hoop Shoot National Finals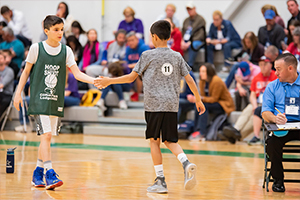 Aiden Karo raced up the stairs at Roosevelt University's Goodman Center, site of the 2019 Hoop Shoot National Finals on April 27, and then back down. His father cheered him on as he turned and did it again. And again.
Sponsored by Clifton Park, N.Y., No. 2466, Aiden was filled with nervous energy. The 10- to 11-year-old boys contest was about to begin, and he had worked so hard to get back to Chicago.
In last year's Finals for the 8- to 9-year-old boys, Aiden missed only one shot to finish in a three-way tie for first … only to lose the shoot-off and place third. Now, he was back. But so was the boy who beat him—Anthony Thompson.
Up the stairs. Down the stairs. Dad cheering.
An hour and a half later, Anthony was making the winner's rounds while Aiden and his father were back in the stairwell. His father knelt and gently cupped Aiden's face in his hands while Aiden fought back tears. He had missed three shots and finished in a tie for sixth.
"It's okay," his father said. "You did your best, and I'm proud of you."
This is how the Hoop Shoot season ends for most Finalists. The number of 8- to 13-year-old kids from across the nation who compete in the Hoop Shoot contests dwindles from more than 200,000 to 72. Everyone wants to become a champion at the National Finals. And during their six years of eligibility, many Finalists, like Aiden, return year-after-year for one more shot at the title.
For all but six of the hundreds of thousands of kids who compete in the Hoop Shoot each year, that's how the tournament ends.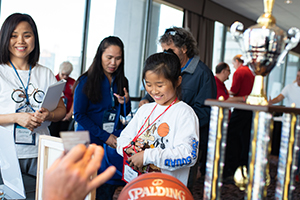 The Road to Gold
While the main event is the National Finals, the weekend offers so much more for the Finalists and their families. They begin arriving on Thursday, so that they'll have plenty of time to acclimate to, and get to know, Chicago.
The headquarters for the event was the Holiday Inn Mart Plaza in downtown Chicago, and upon arrival, the families were greeted by the excellent Hoop Shoot team, a winning mix of volunteers and Elks staff.
At registration, each Finalist receives a pack of their very own trading cards.
"It's cool to learn everyone's story from their trading cards," says Hope Drake, who finished ninth and is sponsored by Loudoun, VA, No. 2406. "I've gotten to know almost everyone."
On Thursday night, the Elks encouraged the families to help them do what Elks do best—give back to the community. At Hoop Shoot Assists, the Finalists and their families tied 100 no-sew blankets, which were then donated to V.A. medical centers in Chicago. They'll be distributed to homeless veterans next winter to help keep them warm.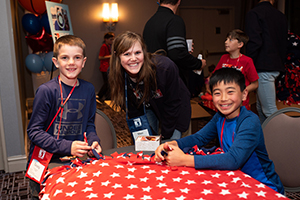 "This is a great community service project," says Alex Rivas, whose son Ethan was sponsored by Glendive, Mont., Lodge No. 1324 and placed eighth in the Boys 10–11 Division. "It's important to show these kids that they should always give back and help their community."
Friday morning, the focus returned to basketball. Each region was assigned an hour-long practice slot at the Goodman Center, sharing the floor with one other region.
After a good workout and some sight-seeing, the Finalists and their families gathered for the annual Friday night Fun Fest. This year, the Hoop Shooters enjoyed America's other pastime—they watched the Chicago White Sox take on the Detroit Tigers at Guaranteed Rate Field.
Two-time national champion Camden Cowgill, who was sponsored by San Antonio, Texas, Lodge No. 216, even had the honor of going onto the field to call "Play ball." His voice echoed across the stadium in a moment he says he'll never forget.
More than four hours later, when Tim Anderson set off the exploding scoreboard with a walk-off homer—the Sox had battled back from a seven-run deficit only to cough up the lead an inning after grabbing it—most Hoop Shooters were back in bed at the Holiday Inn. After all, they had dreams of making their own fireworks the next day.
The next day began with an early breakfast, and then the 8-9 contest at 9 a.m. The 10-11 contest followed at 11:30, and then the 12-13 at 2 p.m.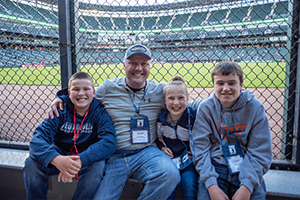 For the first time in Hoop Shoot history, the National Finals were live-streamed on the Elks National Foundation's Facebook pages. Fans who couldn't make it to Chicago were able to cheer on their favorite players from their living room or Lodge.
The contests were thrilling. Each needed at least one shoot-off to sort out the podium. There were nine shoot-offs total. In two cases, Finalists had to be better than perfect to win. In both the Boys 8-9 and 10-11 contests, two Finalists sank all 25 shots.
Like Aiden Karo, every Finalist entered the Goodman Center hoping to walk out with one of the six gold medals. Three of the Finalists—Camden Cowgill, Samantha Griebel and Anthony Thompson—had won before. Aiden and 14 others had fallen short and were back to try again.
A couple of Finalists were hoping to follow in their parents' footsteps. Paula Corder won a national championship in 1991; Jacob Bower, in 1997. Now, they were back with their children, Kaylee King and Wayne Bower.
"The Elks Hoop Shoot was like religion in my family," says Jacob, who, like Wayne, was sponsored by Nampa, Idaho, Lodge No. 1389. "All of my brothers did it and they attribute the Hoop Shoot as the best thing they ever did to prepare for when they played basketball in college."
Wayne placed seventh in the Boys 8–9 Division, but as past Hoop Shooters have shown, there's always next year.
The emotional rollercoaster continued at the Awards Banquet, which opened with an exceptional performance of the National Anthem by the Chicago Blackhawks' official "Anthem Singer," the renowned Jim Cornelison. It was a tough act to follow, but two-time Olympic medalist Kendall Coyne-Schofield stepped up to the podium to tell her life story.
Kendall played hockey throughout her childhood in a Chicago suburb. Her passion for the sport alienated her and made for some difficult teenage years. Hockey was a boys sport, and she was a girl. It didn't matter that she was often the best player on the ice.
But Kendall kept working hard and continued to dominate on the ice. Eventually, she was asked to join Team USA's U-18 team. She went on to secure three medals with the team, the first of many in Kendall's hockey career, and she has been breaking the glass ceiling for other girls who love "boys" sports ever since.
"You can't be what you can't see," Kendall shared.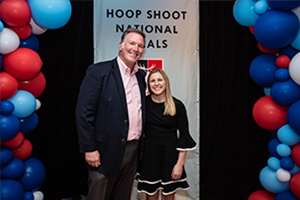 Today, Kendall is proud to be one of the girls on the ice. When she's not playing for the U.S. Olympic Hockey Team or professionally with the Minnesota Whitecaps, Kendall and her husband, Michael, run the Schofield Family Foundation, a nonprofit that provides funding, support and awareness to improve the lives of veterans, first responders, youth, and families in need. The Elks National Foundation donated $1,595 to the Schofield Family Foundation, representing $1 for each basket made during the Finals.
After the Awards Banquet, Kendall took pictures with Finalists and their families. Robert Chan, whose daughter, Jenna, sponsored by Walnut Creek, Calif., Lodge No. 1811 and a National Finalist in the Girls 8–9 Division, called it one of the highlights of his weekend. From start to finish, the National Finals weekend provides an unforgettable weekend for Finalists, their families, and the Elks volunteers who make it happen.
Winner's Circle
For most Finalists, the worst part of the weekend is losing. But instead of returning to their hometowns dejected, most learn from the loss. They practice harder and come out stronger the next year, a lesson that can be applied to the Hoop Shoot and beyond. That experience has been shared by many Finalists, including the six members of the BackBoard, which is the Hoop Shoot Alumni Advisory Board composed of past National Finalists.
During the Awards Banquet, Backboard member Madigan Moore of South Dakota, a 2006 Finalist, put it best: "The opportunity to confront the fear of failure—and failure itself—is the Hoop Shoot program's greatest gift."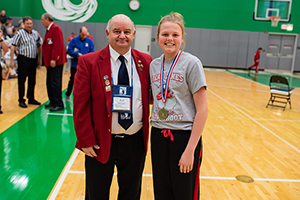 Jamisyn Stinson, who was sponsored by New Lexington, Ohio, Lodge No. 509, is one Finalist who won't receive that gift. In her final year of eligibility, which was also her first year in the program, she won the National Championship.
But most of the Finalists have stories like Tajianna Roberts'. She was sponsored by El Cajon, Calif., Lodge No. 1812, and has competed in the program for five years.
After a devastating loss in 2017, she pushed herself to work harder.
"I kept on practicing and practiced more than I did before," Tajianna says, "I was more determined."
She spent the past year shooting at least 500 free throws per day. She fought through each round of competition and, in her final year of eligibility, made it back to Chicago.
Tajianna and Jamisyn were two of the 12 Finalists honored at the Awards Banquet during the annual Rite of Passage for players aging out of the program.
Camden Cowgill, who was sponsored by San Antonio, Texas, Lodge No. 216, still has one more year left. In his fourth straight National Finals, he hoped to keep alive his dream of matching his Uncle C.J.'s record four national championships.
Camden sank 24 shots but lost to Cameron Elwer's perfect score. So, Camden settled for his second silver medal in three years and now has two of those go along with the gold medals he captured in 2016 and 2018. Family bragging rights, though, will remain with Uncle C.J.
Cameron, meanwhile, was sponsored by Lima, Ohio, Lodge No. 54 and was competing in his first year of eligibility. It's likely he didn't even know who he had beaten.
And that's another thing about the Hoop Shoot—you never know what's going to happen.
8- to 9-Year-Old Division
Blake Whitley, sponsored by Richmond, VA, Lodge No. 45
Bree Besonen, sponsored by Copper Country, MI, Lodge No. 404
10- to 11-Year-Old Division
Anthony Thompson, sponsored by Lebanon, OH, Lodge No. 422
Yinuo Wang, sponsored by Boca Raton, FL, Lodge No. 2166
12- to 13-Year-Old Division
Cameron Elwer sponsored by Lima, OH, Lodge No. 54
Jamisyn Stinson, sponsored by New Lexington, OH, Lodge No. 509
In addition to the trophies and medals up for grabs for first-, second-, and third-place Finalists, Hoop Shooters can win three additional awards.
The Getty Powell Award, named after the Hoop Shoot's first National Director, is given to the highest scoring boy and girl of the day. This year, the prestigious award was won by Jamisyn Stinson, sponsored by New Lexington, Ohio, Lodge No. 509, and Anthony Thompson, sponsored by Lebanon, Ohio, Lodge No. 422.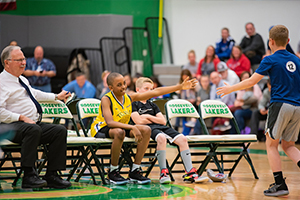 After winning a shoot-off for the Boys 10–11 Division, Anthony had to square off with Blake and Cameron, who also won their divisions with perfect scores (and a shoot-off in Blake's case). He prevailed and became the first Finalist in Hoop Shoot history to win back-to-back Getty Powell Awards. We look forward to seeing him and Jamisyn in St. Louis for the Elks National Convention.
Another award up for grabs is the Emile Brady Award, which is named after the program's second National Director. It goes to every Finalist who scores a perfect 25 out of 25 baskets. Five Finalists took home this award: Blake Whitley; Owen Crawford, sponsored by Rogers-Bentonville, Ark., Lodge No. 2144; Anthony Thompson; Jonah Roehrig, sponsored by Kaukauna, Wis., Lodge No. 962; and Cameron Elwer.
Last but not least is the Cam and Linda Cronk Award, a team award given to the region whose team sinks the most regulation baskets.
In his 12th and final year as a Hoop Shoot Regional Director, Don Fassnacht's team took the award back to Region 4, consisting of Indiana, Michigan and Ohio. Their six Finalists made a total of 136 regulation baskets. Region 4 also took home four of the six national championships, closing Fassnacht's Hoop Shoot career in epic fashion.
The Cam and Linda Cronk Award is named after the Hoop Shoot's immediate past leaders. Cam served as the Hoop Shoot's National Director from 1997 until 2012, the year he and Linda hung up their jerseys. The Cronk team award is a fitting tribute to the way they ran the program.
The Journey is the Destination
Most of the 72 Finalists went home empty-handed on Sunday. But all of them—those who won and those who didn't, those with eligibility remaining and those who have aged out—with a fierce determination to do better next year.
The end is just the beginning of another journey, and every fall season is a chance to start over.
Up the stairs, down the stairs. And again.
---
Back to top