A Family Affair
Family dynasties in basketball are a rarity, so getting to watch one unfold in real-time can be as thrilling as the game. While the NBA has the Rivers, Barry and Curry dynasties, the Elks Hoop Shoot has a few of its own, including the Finns, Cowgills, and, most recently, the Besonens.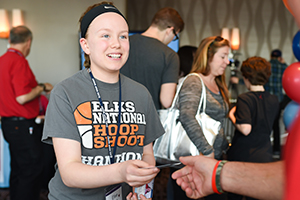 It started a generation ago when Brad and Jaclyn Besonen, parents to Elise, Christian, Emma and Bree, and Mariann, their cousin Annabelle's mom, competed in the Hoop Shoot as kids.
"We knew about the Hoop Shoot because as children, both Brad and I competed in the competition," Jaclyn shares. "I was a local champion and Brad was a state champion."
Now, both sets of parents are gleefully passing on the experience to their children.
"It's been awesome watching our children compete in the Hoop Shoot and advance to the next level," Jaclyn and Brad share. "The Elks do an exceptional job organizing the event and making it memorable and special for the children. The trips have turned into family events for us."
First up in the Hoop Shoot was their oldest daughter, Elise, sponsored by Copper Country, Mich., Lodge No. 404. In 2015, she shot her way to the Hoop Shoot National Finals, returning to compete in both 2016 and 2017. Elise took home second-, third- and sixth-place consecutively, as well as a ton of memories.
"During my first year at the National Finals, my age-group hadn't shot yet, and we got together to eat lunch," Elise shares. "We weren't worried about shooting, or the outcome of the competition; we were just having fun talking to different girls our age from all over the country."
All three of Elise's younger siblings have gone on to follow in her Hoop Shoot footsteps. Her youngest sister, Bree, shares that her favorite Hoop Shoot memory thus far has been "watching Elise win all the time and traveling to Chicago," but this year, she's one of two Besonens leading the charge to Chicago.
It's Bree's first year competing in the Hoop Shoot, and she's made it to the 2019 National Finals. Her sister, Emma, is returning for the second year in a row. Together, they're sending their family to Chicago again.
"Practice really does pay off!" Bree says.
Not only do the Besonen siblings have one another to lean on, they also have their cousin, Annabelle, who's been competing alongside them in Michigan's Hoop Shoot contests.
"It's fun knowing they're going to be there and that I won't be alone," Annabelle says.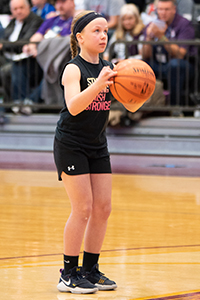 The entire Besonen family seems to lean on each other throughout the contests. They each shared how it's easier for them to shoot after they watch their sister, brother or cousin sink their free throws.
"It takes the pressure off me knowing that they're shooting too," Christian says.
Besonen Hoop Shooters keep coming—they have younger cousins in Wisconsin who might compete in the future—and so do the lessons.
"You can definitely see how the Hoop Shoot has taught the kids how to manage their mental strength," Mariann, Annabelle's mom, shares. "We've seen our daughter's dedication to practicing greatly improve; she's focusing more on self-improvement than just winning."
Next stop: Chicago. The Besonen Hoop Shoot dynasty will continue for years to come, or at least until Bree ages out of the competition in a few years. Until then, they're going to keep stepping up to the line and making new memories.
"It's a great program that's given our family so many memorable moments," Brad and Jaclyn say.
The Elks have been developing gritty kids through the Hoop Shoot program for nearly 50 years. For 2019-20, the Elks National Foundation allocated $1.1 million to fund the program.
---
Back to top