Hard Work and Humility, Two Sides of the Same Coyne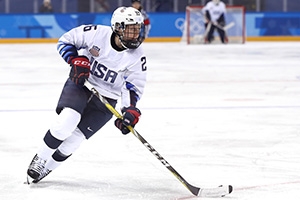 Anything boys can do, Kendall Coyne can probably do better, especially when it comes to hockey. When Kendall put on her first pair of skates and started playing ice hockey in her hometown of Palos Heights, Illinois, her friends found it odd that she was a girl playing a sport they knew nothing about. That never bothered Kendall.
Kendall didn't care that she was the only girl on the ice, she just wanted to be good at the game she loved. Luckily, her parents supported her every step of the way. When she asked to try out for an elite travel hockey team, they said yes. When she didn't make the team, Kendall practiced harder and became more determined to be the best, and her parents were right beside her.
The next year, Kendall tried out again. This time, she made an even more competitive boys travel team. The boys were a year older than her, but that never intimidated Kendall. She worked harder and came out stronger and faster than ever before—nothing and no one was going to stand between her and hockey now.
When she was 15 years old, Kendall the call of a lifetime from the USA Hockey Team asking her if she's like to join. She became the youngest member of Team USA's U-18 team and helped them win one silver and two gold medals, the first of many in Kendall's hockey career.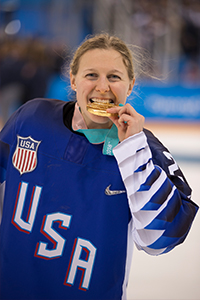 During her senior year of high school, Kendall was approached again. This time, to try out for the 2010 U.S. Olympic Team. But like the first time she tried out for travel hockey, Kendall was cut. Again, she met rejection with determination.
One year later, just like before, Kendall came back stronger. She made the Senior National Team and played in her first World Championship. That same year, Kendall also committed to Northeastern College, an NCAA Division I school, to play for the Northeastern Huskies women's ice hockey program. When she wasn't playing hockey or studying for her bachelor's degree in communications, Kendall was preparing to compete with Team USA at the 2014 Olympic Winter Games in Sochi. She would go on to be the leading scorer for the team, helping them take home a silver medal.
When she graduated from Northeastern in 2016, Kendall was awarded the esteemed Patty Kazmaier Award given to the top female college ice hockey player in the nation. The next year, Kendall added the NCAA Today's Top 10 Award to her list of accolades, an honor given to the 10 outstanding senior student-athletes from the previous year.
It's obvious that no goal has ever been too far for Kendall. She has gone from being a talented athlete from a suburb of Chicago to an internationally known hockey superstar. Her teammates on the U.S. Olympic Hockey Team call her "the fastest woman in hockey." She's currently signed with the Minnesota Whitecaps and competed with them during their first season in the National Women's Hockey League.
Two-thousand eighteen was another big year for Kendall. She was the first woman to play in the Chicago Professional Hockey League against N.H.L. players; she played with Team USA and won the gold medal at the 2018 Olympic Winter Games in South Korea; and she married Michael Schofield, an NFL player for the Los Angeles Chargers.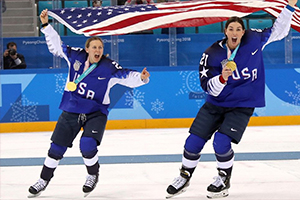 Today, Kendall lives back home near Chicago. Being that they're from the same hometown, Kendall and Michael share a passion for giving back to the community that launched their careers. Together, they created the Schofield Family Foundation, which provides funding, support and awareness to improve the lives of veterans, first responders, youth, and families in need. Kendall also hosts an annual Kendall Coyne Hockey Camp for girls at the same rink she grew up playing in. She's as a good of a person as she is a hockey player.
We're honored to welcome Kendall to the 2019 Hoop Shoot National Finals, where she will share her story with the Finalists and their families at the Awards Banquet in Chicago on April 27.
---
Back to top