Feeling the MoJoe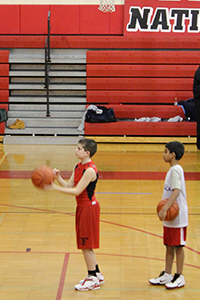 Before the high school championships, broken records and scholarship offers, it was just Joe Girard III and his father, shooting free throws while practicing for the Elks Hoop Shoot. Between shots, they spent time talking about school and their family, and building the close bond they still share today.
"During those five years, it became much more than a basketball competition for us," says the father. "It was great father-son time that we both looked forward to."
Joe competed in Hoop Shoot for the first time when he was 9 years old in 2009, which introduced his parents to the Elks. The Girards were so impressed by the program and the people, they joined Glens Falls, N.Y., Lodge No. 81 that same year.
"I got involved because meeting the other members of the Elks, seeing the Lodge, and feeling the sense of community and pride, it just made you want to be a part of it," says Girard. "You also wanted to give back for all that [the Elks] were doing with the Hoop Shoot, and when you get involved, you see the numerous other programs as well."
Girard continues to volunteer his time with the Hoop Shoot program because he wants to pass on to other parents the opportunity to spend time with their kids. He also wants them to feel the pride he felt watching his son compete.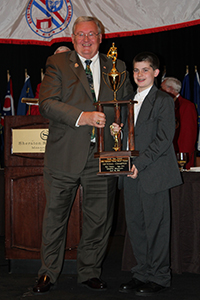 "Volunteering makes you feel good because you're giving back," he says. "I'm able to give what my child had to someone else's child, and I want them to feel the way I did as a parent."
Girard is grateful the Hoop Shoot brought him to the Elks and taught his son about determination. He's glad Joe learned the hard way because learning to bounce back from failure is the key to developing grit. Joe came up short in his first two competitions before winning a Hoop Shoot National Championship and the Getty Powell Award in 2012. But the lessons didn't stop there.
"When you do win, I think it teaches the other side—being humble and humility—so that people will still like you and want to be around you when you have success," says Girard.
Joe won't be graduating from Glens Falls High School until 2019, but he already has an impressive high school basketball career. He has scored over 2,000 varsity points and was selected as a first-team player on the all-state boys basketball team in New York both his freshman and sophomore years. And although 16 universities have offered a scholarship to Joe, his focus remains on the game.
"I'm proud to say I'm an Elks National Hoop Shoot Champion," says Joe. "I find myself on the foul line during my competitive high school and Amateur Athletic Union games and I know my team and coaches have confidence that I will make the clutch shots—and I have confidence in myself."
Girard appreciates the work the Elks have done not only for his son, but for other youth, veterans and those in need. He believes organizations like the Elks are necessary to help individuals and "show them they're wanted and welcomed."
"I'm proud to be a member of the Elks, and to be included in a society and organization that does so much good work," says Girard. "I'm thankful."
The Elks have been developing gritty kids through the Hoop Shoot program for more than 40 years. In 2017-18, the Elks National Foundation allocated $974,880 to fund the program.
---
Back to top