Hoop Shooting Across Generations
Like the basketball Brad Baine bounced to his son Isaac, the memories he made with his father 30 years earlier—while practicing for the same Hoop Shoot—bounced back to him.
Brad recalls sitting next to his parents on a plane to Indianapolis for the 1987 Hoop Shoot National Finals. He was 10 years old, and the anticipation was building. Flying was a luxury for his family. They didn't have a lot of money, and that's why Brad and his brother gravitated toward inexpensive activities like basketball.
"The primary source of opportunities and enjoyment for my family came from sports," says Brad. "One opportunity that stands out from the rest is the Hoop Shoot."
After spending hours practicing free throws in gyms and outdoor basketball courts with his father and brother, his family made their way to the Market Square Arena, an arena Brad had previously only seen on television.
Brad had worked tirelessly toward this goal—to compete in the Hoop Shoot National Finals. Although he finished eighth, he will cherish his Hoop Shoot experience forever.
"As grateful as I am for the activities during the Hoop Shoot, the time I spent in the gym with my father and brother to prepare for it is priceless," says Brad.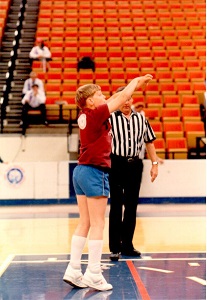 Now, Brad gets to share those experiences with his son. Brad was persistent and determined throughout high school and college, where he played basketball on a full scholarship at Williams Baptist College. And he knows that the work ethic Isaac is developing in the gym will stick with him.
Brad went on to receive his Doctorate of Education from the University of Arkansas. Today, he's the Vice President of Academic Affairs at his alma mater, Williams Baptist College. The Hoop Shoot played "a significant role in my professional accomplishments," Brad says.
"Thank you to the Jonesboro Lodge #498, and all the men and women who sacrifice their time and resources to make a difference in the lives of children and families," says Brad. "I am confident the Hoop Shoot will continue to make a positive impact on everyone that participates in the event, like it did for me."
Just like his father, Isaac has been practicing his free-throws diligently in hopes of becoming a Hoop Shoot National Finalist. Next stop—the Hoop Shoot state contest in Arkansas.
The Elks have been developing gritty kids through the Hoop Shoot program for more than 45 years. In 2017-18, the Elks National Foundation allocated $974,880 to fund the program.
---
Back to top