Catch Her in Chicago
When she was in the seventh grade, Tamika Catchings posted one goal on her mirror: Play for the NBA and follow in the footsteps of her father. She wrote it before the professional women's basketball league existed, but from that day forward, nothing stood in her way. Today, she's considered one of the best WNBA players of all time.
Catchings' success didn't come without setbacks. She was born with a hearing deficiency and wore hearing aids, which led to endless teasing from her peers. One afternoon, while walking home from school in tears, Catchings tore off the aids and threw them in a field.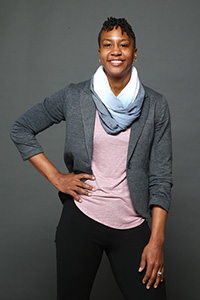 Without her hearing aids, Catchings was forced to work harder in school and basketball. The hard work paid off. She became the first player to record a quintuple-double in a game, which is when a player posts double-digits in five statistical categories—points, assists, rebounds, blocks and steals.
Catchings' record-breaking high school career caught the attention of coaching legend Pat Summitt, who recruited Childings to play at the University of Tennessee. It was Coach Summitt and the team trainer who encouraged Catchings to put her hearing aids back in.
"They sat down with me and showed me how much I could impact the world and change lives just by being able to hear, continuing to be the best that I could be and being able to share my differences with other people," says Catchings. "So, ever since then, I've embraced that deficiency, and I try to help kids who maybe felt the same as I did."
After college, Catchings was drafted third overall by the Indiana Fever. She retired from basketball after 16 seasons with the Fever and four Olympic gold medals with Team USA. She's a 10-time WNBA All-Star and five-time WNBA Defensive Player of the Year. She also won a championship with the Fever. Off the court, Catchings is just as accomplished.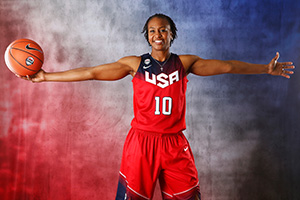 In 2004, Catchings founded Catch the Stars, a non-profit organization that provides fitness, literacy and mentoring programs for youth. She wants children to know that no matter who they are, if they work hard, they can achieve their dreams.
"My advice to any young person looking to make it into professional sports would be to always believe that you can do it," says Catchings. "But, realize that you are going to have to make some sacrifices and put in a lot of extra work."
Catchings will share her story of perseverance with the 2018 Hoop Shoot National Finalists at the Awards Banquet in Chicago on April 21.
---
Back to top