Getting Technical with the Tabors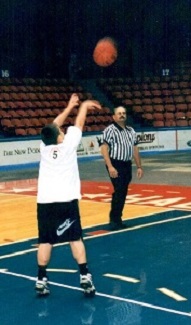 What started as a "neat idea" became a new chapter in Dan Tabor and his family's lives. While his son, Adam, was shooting free throws during the 1994 Hoop Shoot, Tabor was shaking hands with members of his soon-to-be #ElksFamily. After the local contest, Tabor and his family were invited back to Bradenton, Fla., Lodge No. 1511 for dinner and a tour, and the rest is history.
As soon as Tabor joined the Elks, his Lodge was as invested in Adam's advancement through the Hoop Shoot competition as his family.
"I used to have to call them on Saturdays when we were at State and Regional to give them the progress of what Adam had done that day," says Tabor.
In 1996, Adam was a Hoop Shoot National Finalist. The Tabor family and Lodge No. 1511 were elated. Visit Adam's Hoop Shoot page to see how well he did.
After spending time with the Elks, Tabor became more involved after an Exalted Ruler asked him to help with a Sunday cookout at the Lodge. He quickly became an active member in the Elks community. Tabor worked his way through the ranks to become an Exalted Ruler, District Vice President, District Deputy, and the 2015 State President of the Florida State Elks Association. Tabor continues to serve the Elks as an advisor for the Hoop Shoot program in Florida.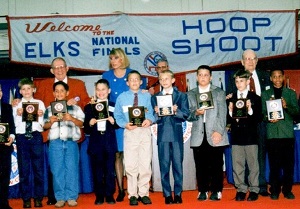 "I just believe in Elkdom and what we do for our communities—not just with this program, but with others," says Tabor. "We make the difference."
While reflecting on the five years of bonding time Tabor was able to share with his son because of Hoop Shoot, he adds that the program is a great opportunity to bring families closer together. It also instills admirable values that its young participants can carry with them as they grow older.
"I hope the kids learn that winning isn't everything," says Tabor. "It's just a competition, and you need to learn to be a graceful loser, as well as a graceful winner."
The Elks have been developing gritty kids through the Hoop Shoot program for more than 40 years. In 2017-18, the Elks National Foundation allocated $974,880 to fund the program. For videos, news from the court, and more information about the Hoop Shoot, visit elks.org/hoopshoot.
---
Back to top