Small Sneakers, Big Footprint
Watching a child outgrow a pair of perfectly good shoes can be a frustrating experience. Michael Kerin, the Hoop Shoot director of Newburgh, N.Y., Lodge No. 247, turned this frustration into a community activity.
"I asked families to bring gently used sneakers to our Lodge during the Hoop Shoot contest," says Kerin. "It was a perfect opportunity to engage the community."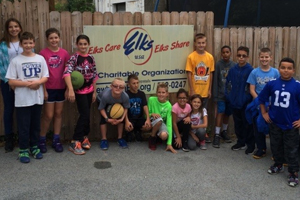 Past District Deputy Matt Intrieri named the sneaker drive "Leave a Big Footprint." In its early stages in 2015, Leave a Big Footprint started small.
"The first year, I collected 18 pairs of sneakers and donated them, to Big Brothers Big Sisters," Kerin says.
Last year, the Lodge teamed up with Big Brothers Big Sisters to promote the event. This time, they collected 101 pairs of sneakers and 72 pairs of other footwear!
Kerin hopes that the drive will become an annual tradition and spread to other Lodges. Furthermore, between the Hoop Shoot and Leave a Big Footprint, Kerin's Lodge has seen an increase in membership. Multiple parents who attended the Hoop Shoot have joined the Lodge!
"As big as the Hoop Shoot is nationally, I think it is a great opportunity for a local Lodge to involve the community and have a chance to make a difference where direct monetary donations are not required," advices Kerin. "Since it's a free event, most people are willing to make a donation."
Michael Kerin and his fellow Elks in Newburgh Lodge are building stronger communities and leaving a big footprint.
The Elks have been developing gritty kids through the Hoop Shoot program for more than 40 years. In 2016-17, the Elks National Foundation allocated $952,760 to fund the program. For videos, news from the court, and more information about the Hoop Shoot, visit elks.org/hoopshoot.
---
Back to top