Featured Director - Mike Rittenhouse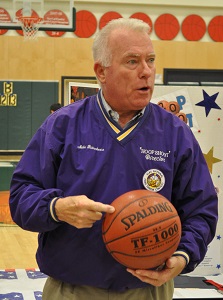 According to the 2016 Lodge Contest Report Form, almost 11,000 people volunteered in Hoop Shoot contests across the nation. The 12 Regional Directors and their spouses continually display the qualities of great leaders. The 49 State Directors are always a reliable support system. The 244 District Directors put their boots on the ground and, more than 1,000 Lodge Directors put the ball in motion every fall to tip-off the start of the road to the National Finals in Chicago.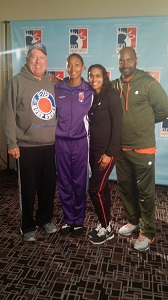 All Hoop Shoot volunteers are imperative to the success of the program. Some have even made helping the youth in their community through basketball their life's work. Coach Mike Rittenhouse started the Hoop Shoot at the Walnut Creek, CA, Lodge No. 1811 in 1986. He understood that there is so much that can be learned from the Hoop Shoot, and that because basketball is fun, the kids don't even know they are learning!
Coach Rittenhouse is a perfect example of the difference a volunteer can make with the Hoop Shoot. His focus, hard work and dedication to service represent the values that we hope to instill in all Hoop Shoot contestants. The connections he makes with the contestants, parents, and members of the community speak wonders about his character and passion for the youth in his community. It is no surprise that Coach Rittenhouse reaps what he sows, welcoming more than 250 contestants to his Lodge Contest every year. Furthermore, his willingness to go the extra mile is shown through his results.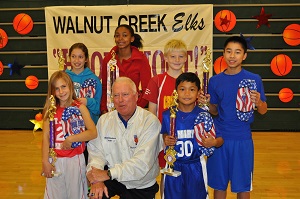 This year will be Coach Rittenhouse's 31st consecutive year as Lodge Director. In that amount of time, he has had a lot of success, including seven California-Hawaii Elks Association State Champions during the past four years, and multiple National Finalists, including 2016 National Finalist Daylee Dunn.
Keep up the great work Coach Rittenhouse and all Hoop Shoot Directors. Whether this year is your first Lodge Contest, or your 31st, thank you Hoop Shoot volunteers, for helping kids develop grit by allowing them to compete, connect and succeed.
The Elks have been developing gritty kids through the Hoop Shoot program for more than 40 years. In 2016-17, the Elks National Foundation allocated $952,760 to fund the program. For videos, news from the court, and more information about the Hoop Shoot, visit elks.org/hoopshoot.
---
Back to top