Community
Elks care. Elks share. And, so do Elks Hoop Shoot contestants! Armed with a big heart and an accurate free throw shot, Hoop Shoot contestants find creative ways to make a meaningful difference in their communities.
The Charity Stripe
Watch the video below to witness firsthand, the inspiring stories of Mitchell and Lauren. After watching, read below to learn even more specifics about how they turned the Hoop Shoot into a charitable experience.
---
Hoopster with a Halo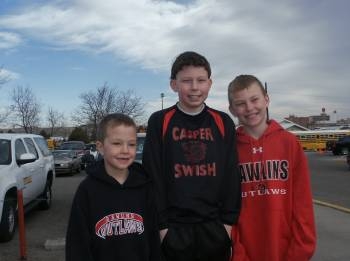 Mitchell (right) poses with Zach (middle)
and his brother, Jaxson (left).
For most contestants, competing in this year's Elks Hoop Shoot National Finals meant a chance to win a permanent place in the Basketball Hall of Fame and a very large trophy. For finalist Mitchell Allard, the contest meant much more—a chance to help a friend with leukemia.
A Cause is Born
While competing at his State Hoop Shoot, nine- year-old Mitchell, sponsored by Rawlins, Wyo., Lodge No. 609, took notice when a fellow contestant, Zach, mentioned that he had to go to chemotherapy after the contest.
"I asked what chemo was and Zach told me it treats his leukemia," says Mitchell. "I asked what leukemia was and he said cancer. Then, I asked if there was a cure and he said no."
After winning at State, Mitchell felt compelled to do something to help Zach. Together, the Allard family brainstormed an extraordinary plan. Mitchell would seek pledges from the community to do what he does best—sink free throws! For every free throw made during a Hoop Shoot contest, Mitchell would earn money to help Zach's family pay for his medical expenses.
A Penny Saved
Mitchell's community rallied to support his cause. His school even hosted a penny-war to entice rival classes to compete against each other in raising funds. The penny-war resulted in a whopping $980.00 for Zach—that's a lot of pennies!
Meanwhile, Mitchell collected outside pledges and prepared for his next Hoop Shoot Contest—Regionals.
"He practiced every day," says Mitchell's mom, Benita Allard. "We would leave for school early so he could use the gym."
Mitchell's dedication paid in more ways than one! He sank 23 of 25 free throws at his Regional Hoop Shoot, winning the contest and setting his community's pledges into motion.
"I couldn't believe how many people sent me pledges," says Mitchell. "My principal, teachers, relatives, and people I don't even know contributed."
Zach's Angel
Mitchell sank another 20 free throws at the Hoop Shoot National Finals in Springfield, Mass. Since then, fulfilled pledges continue to show up in the Allard mailbox. Today, Mitchell has raised more than $8,500 for Zach and his family, who now refer to Mitchell as "Zach's Angel".
Hoop Shoot Hero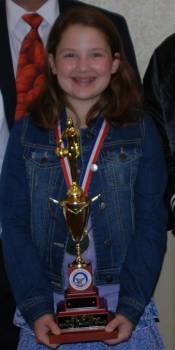 As the Hoop Shoot finalists toe the free throw line, many thoughts fly through their heads. "Did I practice enough?" "Will I be on my game?" For 8-year-old Lauren Thompson, one thought stands out. "This shot is for my friend."
Lauren, sponsored by Dothan, Ala., Lodge No. 1887, is shooting for a cause—to help schoolmate, Trinitie, pay for cancer treatment.
Taking the Pledge
After Trinitie, a fifth grader at Lauren's school, was diagnosed with a brain tumor, Lauren knew she had to help.
"I just wanted to do something," says Lauren.
It was then that she and her family came up with the perfect plan—to use Lauren's free throw sinking skills to raise money for Trinitie's medical expenses. Members of their church and community pledged dollars for every basket Lauren could sink during her next competition. Talk about motivation!
A few weeks later, Lauren headed to her state Hoop Shoot in Birmingham, Ala. This time, she wasn't just shooting for a win— she was shooting for Trinitie.
Shooting for a Cause
Lauren sank 23 of 25 free throws at state and advanced to regionals. In doing so, she raised more than $5,000 for Trinitie's family.
"It felt good to know that I was doing something good for someone else," comments Lauren. "I couldn't believe we raised that much money!"
Today, Lauren has raised a total of $7,320 through Hoop Shoot pledges, all of which will aid Trinitie's family in paying for her treatment.
Lauren says she's learned a lot from her Hoop Shoot experience. Although she is excited to ride in a plane to finals, her favorite part of this experience has been helping her friend.
---
Back to top