When Santa needs help building toys and preparing his sleigh for Christmas, he counts on his elves. When people in need can't afford Christmas gifts or aren't able to visit their families, they count on the Elks.
Elks across the country show their Christmas spirit by using Elks National Foundation Community Investments Program grants to brighten the holidays for those in need. Read how three Lodges used ENF grants to build stronger communities this past Christmas.
Smooth Sailing into Christmas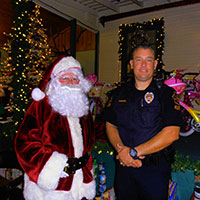 Using a Gratitude Grant, Grapevine, Texas, Lodge No. 2483 helped the police department's Cops for Santa project provide Christmas presents for youth in need. The Elks loaded up their sleigh with 18 bikes and helmets and more than 200 new toys. To spread the Christmas spirit, Elks invited local families to the Lodge to sing carols and open Christmas stockings.
"This project allowed us to help less fortunate children have a Merry Christmas," says CIP Project Manager Janet Rose. "Every Elk experienced the joy that comes with giving to others."
Here Comes Santa Claus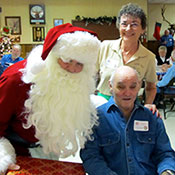 The Elks at Vernal, Utah, Lodge No. 2375 used a Beacon Grant to serve Christmas lunch to local veterans from an assisted living home. As some Elks prepared and served the meal at the Lodge, others provided food and fellowship for veterans living at a local rehab center. After lunch, Santa came down the chimney to give a gift to each delighted guest.
"More than 80 people were served at our luncheon," says CIP Project Manager Ruth Humphries. "They enjoyed being able to visit with the Elks and with friends they hadn't seen in a while."
Happy Holidays from Holiday Isles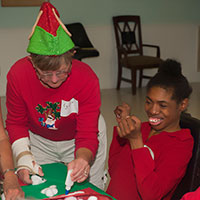 Holiday Isles, Fla., Lodge No. 1912 may not have a white Christmas, but that doesn't stop the Elks from sharing the Christmas spirit. Using a Promise Grant, Elks held a holiday party for children with special needs. Elks served food, helped with crafts and provided face painting. After singing and dancing to Christmas carols, each guest left with a present from Santa.
"The Elks had a wonderful time sharing the true meaning of Christmas," says CIP Project Manager Debbie Fritz. "The warmth we all felt from being able to provide a good time for our guests was truly indescribable."
Community Investments Program grants are the gifts that keep giving. Thanks to CIP grants, Elks build stronger communities, spreading the spirit of giving throughout the year.
The Elks National Foundation will help Lodges meet local needs by investing up to $8.5 million this year in Elks communities through Beacon, Gratitude, Promise and Impact Grants. These grants offer Lodges opportunities to serve the community in ways that will raise the Lodge's profile, energize the membership, encourage former members to return to the fold, and gain the notice of people who want to be part of an organization that's doing great things. To learn more about the Community Investments Program, please visit www.elks.org/enf/community.