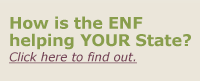 ---
"I know my grandfather is proud to be a member of the Elks, and I hope to make both him and you proud with my studies and effort. Let me say thank you again to all of the Elks members who have made this scholarship possible for me and my fellow recipients."


Every Lodge is eligible to apply for a Beacon Grant—don't miss out on this opportunity! Join in, and help your Lodge become a beacon of hope to the community. Beacon Grants are worth $2,000!
---
"Thanks to our project, the schools, students, parents and community members view the Lewisburg Elks Lodge as an organization that is active in the community and not just a 'country club.'"

- Bernice Bracken
Project Manager at
Lewisburg, W. Va., Lodge No. 1758
---
With Beacon Grants, we're looking for five things.
New: Ideally, Lodges will use their Beacon Grant for the same successful, ongoing project each year. If your Lodge received a Beacon Grant previously, it should use a 2014-15 grant to build upon that project. If your Lodge did not receive a Beacon Grant in a previous year, it must use the Beacon Grant to start a new charitable project.
Ongoing: Something the Lodge is committed to—for example, monthly dinners at a soup kitchen, or an annual Veterans Stand Down activity. Beacon Grants can't be split between two projects.

Elks-led: Elks must be involved, and the project should be something identifiable as an Elks project.

Charitable: Grants must be focused on helping those in need, and addressing local issues. The project cannot benefit only the Lodge or Lodge members.

Project: Beacon Grants cannot be used for donations of funds and supplies. Elks should be actively serving the community. If people see Elks doing good things, they'll be inspired to join!
Here's a look at what doesn't qualify, and what would be a great qualifying project.
| | |
| --- | --- |
| Not a Beacon Grant project | Great Beacon Grant project |
| Dictionary Project | Youth & Elks Reading Fair |
| Donation to Wounded Warriors | Bi-annual wounded Warrior outings |
| Little League sponsorship | Baseball clinic for at-risk youth |
| Purchase equipment for scouts | Partner with scouts on quarterly service projects |
| Donation to D.A.R.E. | Monthly drug-free events for teens |
| Appreciation dinner for Elks who are veterans | Monthly activities for local VA hospital residents |
ENF Grants should always be used for charitable purposes. Keep the following six broad categories (defined as charitable by the IRS) in mind when planning a grant project; relieve the poor, distressed or underprivileged; advance education or science, but not through scholarships; lessen the burdens of government; lessen neighborhood tensions; eliminate prejudice and discrimination; combat juvenile delinquency.
The Elks' Turn to Serve
If your Lodge is using a Beacon Grant to serve veterans and military members in need, it must focus on one of these five areas of increased need.
Employment
Homelessness and Housing
Military Families
Health
Educational Support
Visit our veterans webpage for more information.
2014-15 Dates:
2014-15 Beacon Grant applications will be available online July 1 and due March 31, 2015. Applications must be submitted and approved before the grant is used. Funds must be spent by July 31, 2015. Final Report Forms are due August 31, 2015.
How to apply:
The Lodge Secretary or
ENF Grants Coordinator
is able to access, complete and submit the online application. For detailed instructions on the application process,
click here
.
Updated Guidelines: Grants cannot be used to fund scholarships, Hoop Shoot events, youth awards ceremonies, poster and/or essay contests, appreciation dinners, or fundraisers.

Process: Upon approval of a Lodge's online application, the ENF will mail an approval letter, a grant check and a Final Report Form to the Lodge address. A Lodge can use its $2,000 Beacon Grant in conjunction with a $2,000 Gratitude Grant and/or a $2,000 Promise Grant, to maximize the ongoing project. Applications must be submitted separately.

Final Report Forms: After the grant has been used, mail in the Final Report Form, along with all grant-related receipts, and photos. Lodges that do not complete this required form will not be eligible for any ENF grants the following year.
Click here to view a sample Final Report Form.
Click here to download an editable copy of the 2014-15 Beacon Grant Final Report Form.